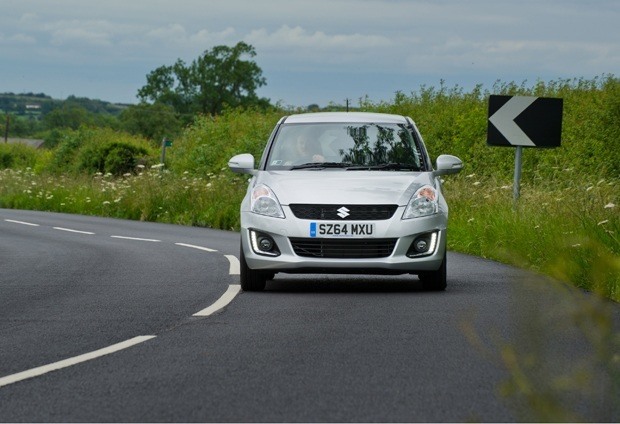 The Suzuki Swift is the first model in the Suzuki range to benefit from a new 1.2-litre petrol engine into which Suzuki have introduced technology that utilises twin fuel injectors for improved fuel economy.

The technology is called Dualjet.
THE TECHNOLOGY
What Dualjet technology does is position the
fuel injectors
as close as possible to the engine inlet valves which allows for a finer fuel atomisation (or mixture.) This then provides a more effective transfer into the cylinder. (There have also been other internal modifications to the engine including the use of a new type of inlet port and combustion chamber - along with other mechanical parts that have also been modified – in an effort to reduce frictional losses and make for smoother running.)
Inside the engine, the
piston crowns
have also been modified to create a slight bowl shape so that the engine is able to achieve higher air turbulence inside the cylinder; and they also have cooling oil jets so that the internal temperatures are kept at an optimum workable level.
On top of all this, Suzuki have installed a new type of
Exhaust Gas Recirculation
(EGR) system which is used to help avoid abnormal combustion or 'knocking', resulting in a higher compression ratio of 12.0:1 as against the current engine's 11.0:1; there is also a small change to the
gear ratios
to allow greater flexibility on the road for the Suzuki swift; and
Engine Auto Stop Start
(EASS) has also been included.
THE RESULT
Thanks to Dualjet technology, the Suzuki Swift is able to boast 65.7mpg on the EC Combined fuel consumption cycle – which is actually a very impressive 16% improvement over the existing petrol engine (or 9.2mpg if you need cold hard facts and figures.)
And that's not all; because another benefit of Dualjet technology is that CO2 emissions are reduced to 99g/km, meaning that all Suzuki Swift models that feature this engine are now exempt from any Vehicle Excise Duty as well as saving on fuel - an estimated £175 per year for an average mileage owner.
When it comes to power there is a slight decrease in the maximum power output to 90PS from the current engine's 94PS but a slightly increased torque figure of 120Nm at 4,400rpm versus 118Nm at 4,800rpm.
Suzuki hope that the new Dualjet technology in the Swift will help global sales of Swift have now passed the four million mark that they have enjoyed since its launch in 2004 go even further away; and certainly in the UK where Suzuki have sold more than 90,000 Swifts since the May 2005 launch.