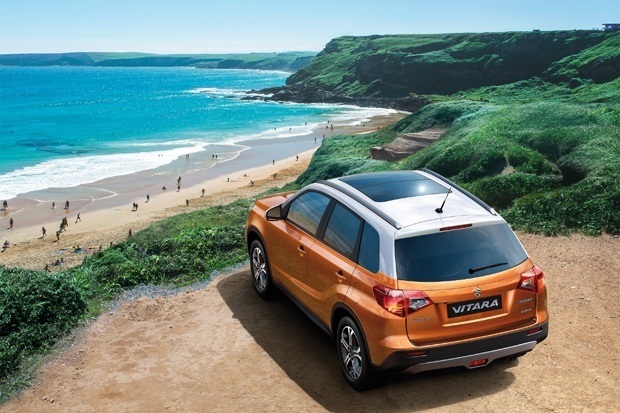 Originally launched (way) back in 1988, the Suzuki Vitara series has quite rightly earned mucho acclaim for being a stylish, city-oriented, compact, easy to manage, comfortable car when it comes to on-road performance, and a genuine contender for off-road capability. And over the years, the Vitara Series has changed and evolved with tweaks in both body size and powertrain.

So now, after more than 25 years on the roads and ranges of the UK's terrain, Suzuki have now revealed what could well be the ultimate version of the Vitara heritage embodied in a fresh sport utility vehicle incarnation, complete with smaller dimensions, Suzuki's cutting-edge ALLGRIP four wheel drive system and advanced safety and connectivity equipment, all set to meet the contemporary needs of today's customers.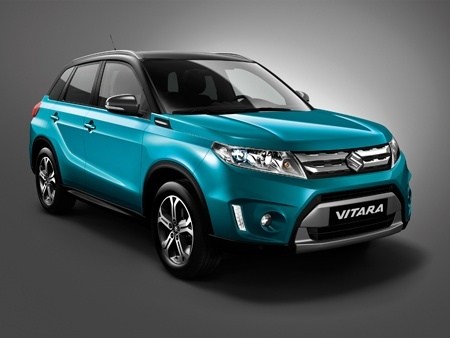 YOU GOT THE LOOK

Instantly recognisable as a Suzuki SUV, the new Vitara inherits the styling of both its series and the Jimny series, but brought up to date in a brand new exterior design that undoubtedly expresses Suzuki's SUV styling heritage.

The Vitara hallmark is still there with the clamshell bonnet, giving the front end a solid look that is emphasised by the trapezoid motif front bumper. The solid nature of the car is then added to as you travel around the car exterior with kicked-up body-side character lines, bonnet-side air outlets, and shoulder lines running the entire length of the body all having their own contribution.

That's not to say that the new Vitara isn't aerodynamic; optimally designed bumper openings, a roof line that slopes smoothly downward toward the rear, flat underbody surfaces, and in specially shaped side mirrors and front bumper edges have their own take on that statement with proof ready and waiting in the results of airflow analysis.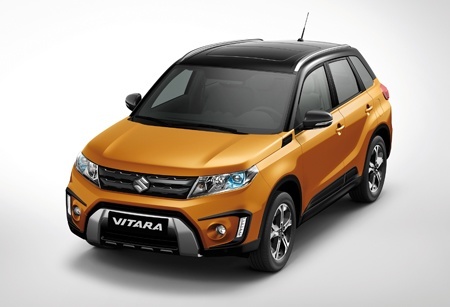 And looking cool isn't a problem either with LED headlamps with blue projector covers not only an attribute to energy saving but also to the trendy factor.

Inside, the SUV toughness is indicated by a boldly shaped instrument panel garnish and a U-shape design around the shift lever, while the youthful and sporty side of the bargain is created by Grand Vitara motifs; a round clock and air outlets.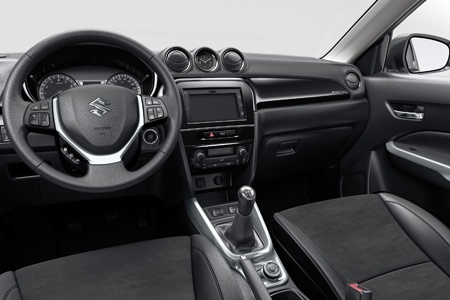 But when it comes to the look of the new Vitara, perhaps the greatest and latest Suzuki achievement is the fact that, right from the initial development stage, the model was designed with personalisation in mind – and this has been achieved with a set of diverse exterior colours (15 body colour possibilities that include three new colours and several two tone options) and a range of design details that enable owners to express their individual personalities.

The three new colours - Atlantis Turquoise Pearl Metallic, Horizon Orange Metallic and Savannah Ivory Metallic – are there to enlarge the individuality options, and these are added to via further personalisation in the front grille (available in white or black), fender garnishes (also white or black), instrument panel ornament (available in a choice of turquoise, orange, white, or piano black), louvre rings (also turquoise, orange, white, or piano black) and the centrally located clock (Carbon or Kanji options).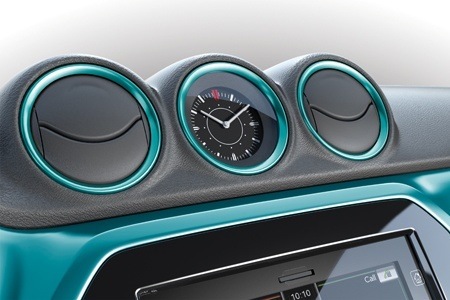 And it doesn't end there because there are two accessory packages available with the new Suzuki Vitara: an urban package that consists of chrome-plated fog lamp bezels, body-side mouldings, and a roof spoiler to add some sort of sophistication; and a rugged package to do what it says on the tin which consists of a front and rear skidplate, fog lamp bezels, body-side mouldings, and a loading edge protection.

YOU GOT THE PERFORMANCE

The new Suzuki Vitara delivers a driving experience that reflects all of Suzuki's performance knowhow with a great on-road performance t combines with the hallmark off-road capability.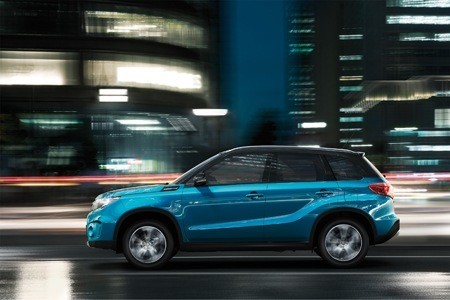 All this comes courtesy of a powertrain that is able to deliver superior levels of performance and fuel economy; in fact some of the lowest CO2 emissions of any compact SUV.

That powertrain is either a M16 1.6-litre petrol engine or a D16AA 1.6-litre diesel engine (depending on choice). It's all down to a reduction in friction combining with weight savings when it comes to the petrol engine fuel economy savings, high output and torque; and in the case of the diesel engine, a new EGR system and an electronically controlled VGT help to achieve powerful, torque performance, low emissions and superior fuel economy.

For the more petrol and diesel-headed amongst our readers, we are talking an maximum output of 88kw/6,000rpm in the petrol engine (88kW/3,750rpm diesel) and a maximum torque of 156Nm/4,400rpm (320Nm/1,750rpm diesel).

Both manual and automatic transmissions have been updated and improved to aid fuel economy and shift feel, and to reduce noise and vibration.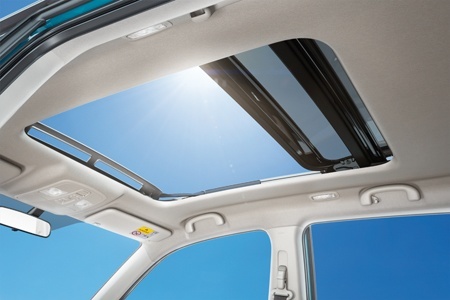 Manually there's a five-speed for the 1.6-litre petrol engine, and a six-speed for the 1.6-litre diesel engine, and each of them have been are optimised to make sure that both performance and fuel economy are optimised, with measures such as a shift lever counterweight giving a smooth, positive shift action that makes for enjoyable driving.

Automatically there is a six-speed transmission available for the 1.6-litre petrol engine where a wide gear ratio range allows precise control over gear ratios - to allow a superior response at low vehicle speeds – and an expanded lockup range aids acceleration, fuel economy, and quietness.

CO2 emissions on the new Vitara are as we alluded to earlier, low thanks to the use of high tensile steel and other weight saving measures in the body, and an Engine Auto Stop Start system which shuts down the engine when the car stops (for instance, at traffic lights). Targeted CO2 emissions of 123g/km with the petrol engine, two-wheel drive, and five-speed manual transmission and 127g/km with the petrol engine, two-wheel drive, and the six-speed automatic transmission are certainly achievable.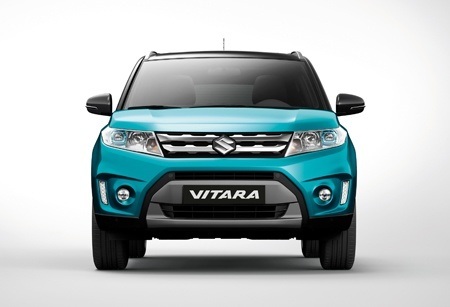 And all this despite the fact that four-wheel drive is typically seen as detrimental to fuel economy and emissions performance. BUT!!!! Suzuki's ALLGRIP system can achieve CO2 emissions that are remarkably low for a four-wheel drive SUV – in fact 134g/km with the five-speed manual transmission and 138g/km with the six-speed automatic transmission.

Even with the diesel engine, the new Vitara targets 106g/km with two-wheel drive and the six-speed manual transmission and 111g/km with four-wheel drive and the six-speed manual transmission.

Suzuki's ALLGRIP system with four driver-selectable modes allows safe, enjoyable driving on a number of diverse surfaces, and has earned itself a great reputation in the years since it made its debt in the Suzuki SX4 S-CROSS. Now, with the addition of a feed forward function that sends more torque to the rear wheels if it detects and predicts front wheelspin risks from the road surface condition, accelerator pedal position, and steering angle.

The system's four driver-selectable modes are; auto mode that prioritises fuel economy in typical driving conditions, using two-wheel drive by default and switching to four-wheel drive if it detects wheelspin; sport mode, primarily for twisty roads, using four-wheel drive in accordance with accelerator inputs; snow mode that is optimal for snowy, unpaved, and other slippery surfaces, using four-wheel drive by default and optimising it in accordance with steering and accelerator inputs to promote traction and stability on low friction surfaces; and finally, lock mode for getting the car out of mud, snow or sand with a limited slip differential that helps brake any slipping wheel and transfer torque to the gripping wheels.

Updated and improved suspension and brakes ensure that all working parts work together in perfect harmony to give a stable and comfortable drive with great stability that works in accordance with a comprehensive range of active and passive safety equipment that includes a Radar Brake Support system, a speed limiter; ESP® * (Electronic Stability Program), tyre pressure monitoring system, adaptive cruise control and a more impact-absorbent body structure.

The new Vitara will go into production at the Magyar Suzuki plant in Hungary in early 2015, and will then make its market debut across Europe. It will later be exported around the world as Suzuki's global compact SUV.