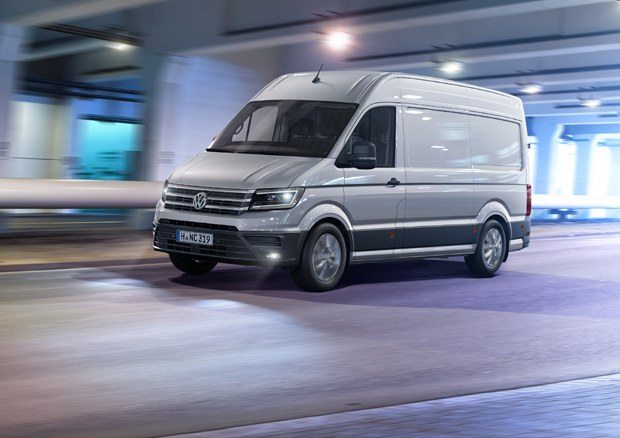 Volkswagen have added to their existing van range with the new Crafter, produced at a specially-built production facility in Wrzesnia, Poland. With the new plant occupying an area of around 540 acres, and employing 3,000 people, it is a long-term investment for Volkswagen, who have high hopes for their new van in a UK market dominated by the Ford Transit Custom and the Vauxhall Vivaro.
Having undertaken a whole raft of consumer research groups to find out just what it is that the van drivers were looking for, the new Volkswagen Crafter has been designed and engineered to offer high economy and low total cost of ownership with class-leading performance.
A design developed around the customer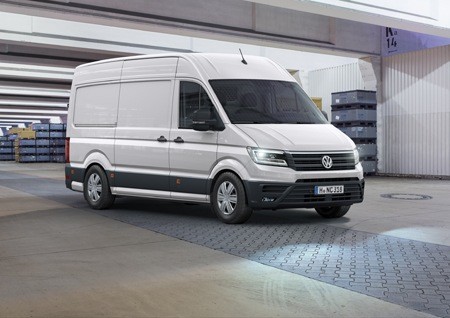 Part of the research into what was required involved Volkswagen engineers actually going out with users of commercial vehicles such as couriers, construction workers and long distance drivers to gain an understanding as to what was involved with the differing jobs. By doing this they could "identify the genuine needs of these drivers and fleets" and thereby produce a vehicle that they could not only use, but one that met their requirements.
Asking such questions as "What systems help when driving in inner-city traffic?"; "How can accidents caused by tiredness be reduced?"; and "What makes manoeuvring easy on a muddy building site?", they have produced a vehicle that offers innovative, practical and electronic solutions to meet a whole plethora of individual challenges - The Volkswagen Crafter.
Engines built around economy and environmental compatibility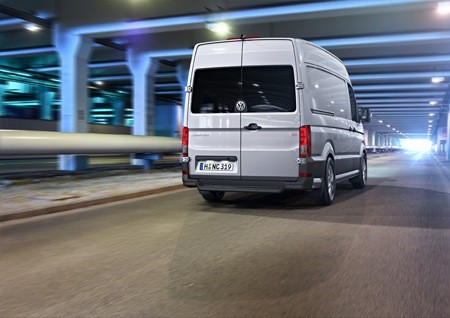 The Crafter features all-new EU 6 engines, and working in conjunction with the new exterior design, they give the new model the lowest possible consumption and emission figures. Designed for both short and long-distance driving, the new Crafter offers an extremely wide range of derivatives, with the new "EA 288Nutz" 2.0-litre TDI engine (having been developed especially for the Crafter) available with four power outputs: 102 PS, 122 PS and 140 PS, plus a bi-turbo TDI with 177 PS.
Along with the choice of engines, drivers have a choice of drive systems between front, rear and all-wheel drive (4MOTION), as well as the option of a manual or automatic gearbox - a range never been seen before in this segment.
And when it comes to maintenance costs and repair costs, the new Crafter's robustness ensures that these are as low and infrequent as possible.
Practicality, functionality, safety and everyday utility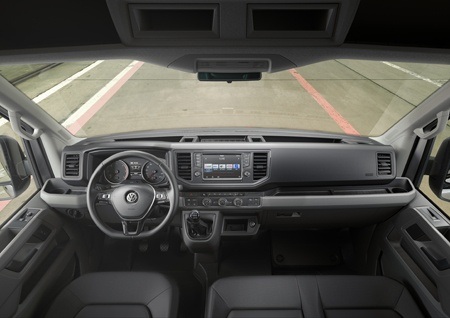 Volkswagen has made sure that the optimal dimensions of the new Crafter ensure maximum practicality and ease in everyday situations, combining extensive cargo capacity with minimal external dimensions. By doing this they have made the Crafter extremely manoeuvrable yet available to carry different payloads with ease with solid handling.
Customers are able to configure their own Crafter to their needs with up to three different vehicle lengths and three different roof heights (on the closed body variants) available, meaning that specific requirements can be met with the right combination of engine, gearbox, drive system, vehicle length and roof height.
Helping out with the new Crafter are some driver assistance systems that set new standards in the large van sector, helping to ensure not only comfort and practicality, but also optimal occupant protection regardless of payload.
These include:
An electro-mechanical steering system
ESP with trailer stabilisation
ACC Adaptive Cruise Control
Post-collision braking system
Side wind compensation system
Trailer manoeuvring assistant system
Front, side and head airbags for the driver and passengers
Reversing camera
Parking distance monitor
Rear Traffic Alert system
LED headlights
Cornering lights
Light Assist
The new Crafter also comes with online services that are tailored to the specific needs of customers.
To speak to one of our Customer Service Representatives about the new Volkswagen Crafter, and other Van Leasing models and options, contact Nationwide Vehicle Contracts.
Our van lease deals may be more affordable than an outright purchase thanks to fixed monthly rentals and various benefits included in your van lease.