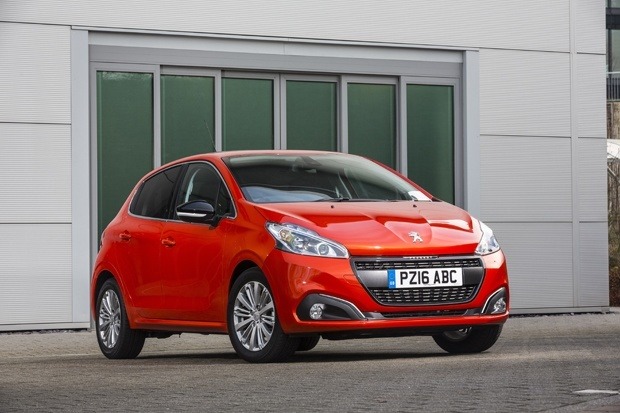 The new PEUGEOT 208 range already offers a wide choice of efficient petrol and diesel engines but now the range is even more efficient with the announcement of a new 79 g/km low-emission model - the best-performing non-hybrid vehicle on the market.
The revised engine line-up
By using sophisticated BlueHDi technology, all versions of the PEUGEOT 208 now meet the stringent Euro 6 emissions standards, with every diesel version of the new 208 below 95g/km of CO2 - meaning, of course, zero VED and zero Road Tax.
In both the Active and Allure trim levels, and in both 3 and 5 doors, there are two 79g/km models powered by the 1.6-litre BlueHDi 75hp with Stop & Start (S&S) technology. Besides the obvious low emissions, the cars are capable of achieving 94.2mpg (Combined Drive Cycle), and can reach a top speed of 106mph.
There are three power level choices available that use the same 1.6-litre BlueHDi engines - 75hp, 75hp S&S, 100hp and 120hp S&S - with the 75hp, 75hp S&S and 100hp S&S coupled with a five-speed manual gearbox, and the 120hp S&S mated to a six-speed manual gearbox, producing just 94g/km of CO2. The 75hp and 100hp achieve 80.7mpg, while the 75hp S&S has economy of 94.2mpg – a record for its particular segment.
Mark Pickles, Marketing Director at PEUGEOT UK, explained: "We pride ourselves in producing engines that reduce emissions without compromising performance and driver enjoyment, while optimising fuel consumption. The new 208 79g/km is the industry class leader and reinforces the Brand's commitment in continually pushing the boundaries of technology for both petrol and diesel engines."
Peugeot and BlueHDi
By implementing the 3-cylinder PureTech petrol and BlueHDi diesel engines as quick as possible, as well as the new 1.6-litre THP engines and EAT6 six-speed automatic transmission, Peugeot is rapidly reducing the CO2 emissions of all of its vehicles. This can be seen with 20 Peugeot vehicles - five PureTech, three 1.6-litre THP and twelve BlueHDi - considered to be class-leading in their power class for CO2 emissions.
By combining SCR (Selective Catalytic Reduction) and an additive particle filter in a unique way, the BlueHDi technology shows with great effect that is considered to be the most efficient and effective diesel emissions control system commercially available, and with the other 8 vehicles, the 12 BlueHDi engines form part of Peugeot's aim to develop more environmentally friendly engines, with a particular target of making engines that are cleaner and produce less CO2.
This aim seems to be working with the PSA Peugeot Citroen Group holding top spot in the 2014 Europe CO2 tables with average CO2 emissions on their vehicles of 110.3g/km; a great performance in a European market where the average is at 123.7g/km. Peugeot itself has a product average of 109.5g/km.
Showing off the new Peugeot 208 low emissions model
Back in May 2015, over at running time period of 38 hours, a production 1.6-litre BlueHDi 100 S&S New Peugeot 208 with a 5-speed manual gearbox set a new long-distance fuel consumption record for a standard production vehicle by covering an impressive 1,337.19miles on just 9.45 gallons (43 litres) of diesel - an average fuel consumption of an amazing 141.2mpg.
In October 2015, taking part in the 2015 MPG Marathon, a brand-new 208 diesel 5-door hatchback won the top prize by achieving an average fuel economy of 104.5mpg in real-world driving conditions over 385 miles. Not only was this it the highest MPG figure of any car taking part in the event, it was also the 'Best Percentage Improvement' with a 29% improvement over official Combined Drive Cycle economy figures produced under EU Directive 80/1268/EEC.
Take a look at Nationwide Vehicle Contracts' latest lease offers on the Peugeot 208 3-Door and the 5-Door.