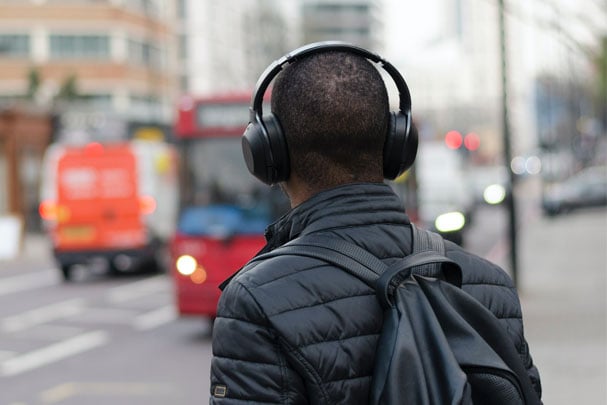 Nationwide Vehicle Contracts explores a variety of podcast genres that will enhance your daily commute.

After a while, your daily commute can get quite boring. The same journey, up to five times a week, often in the dark. Yeah, not the most exciting thing in the world.
With the rise of podcasts, your commute provides the perfect opportunity to turn your travel time into an engaging experience. Whether you're looking to stay informed or be entertained, there's a podcast for you.
In this blog, Nationwide Vehicle Contracts explores a variety of genres and their best podcasts that can make your daily commute enjoyable.
Note: In the article, we'll be talking about podcasts that are popular in the UK.
Comedy
Commuting can be very mundane, so why not have a laugh on your journey with a comedy podcast? There are various podcasts that specialise in comedy and light-hearted banter; whether that's stand-up or humorous storytelling, they're bound to put a smile on your face.
For a laugh on your commute, consider the following:
Rob Beckett and Josh Widdicombe's Parenting Hell

Sh**ged Married Annoyed – Chris and Rosie Ramsey

Off Menu with Ed Gamble and James Acaster
News and Politics
If you want to stay up to date with the latest news, consider listening to a news and politics podcast while on your commute. Often hosted by journalists or former members of parliament, news and politics podcasts cover a range of topics from local and national news all the way to international relations.
To stay up to date, listen to:
The Rest is Politics – Alastair Campbell and Rory Stewart

The News Agents – Emily Maitlis, Jon Sopel, and Lewis Goodall
Education
Why not use your commute to learn something new or enhance your lifestyle? Educational podcasts come in all different shapes and sizes and delve into various topics such as history, science, psychology, and personal development.
These podcasts will turn your commute into a valuable learning experience:
The Rest is History – Tom Holland and Dominic Sandbrook

The Infinite Monkey Cage – Brian Cox and Robin Ince

Philosophise This! – Stephen West
Storytelling and True Crime
Engaging in narratives and gripping stories can make your commute fly by. Like reading a good book, you'll find yourself not being able to stop listening to the podcast, and you'll begin to look forward to your commute.
Whether true crime, fictional dramas, or mystery stories are your favourite, go on your podcast platform and find a story that hooks you in. Audiobooks are also great for this and have often been broken up into four segments which are perfect for a commute!
There are simply too many to choose from for this category, so we'll leave it up to you to find one that suits your preference.
Interviews and Conversations
Podcasts featuring insightful interviews and thought-provoking conversations can be entertaining and enlightening. Whether looking to listen to A-list celebrities or your ordinary person, there's plenty to choose from.
Consider the following:
The Diary of a CEO – Stephen Bartlett

Anything goes with Emma Chamberlain

Desert Island Discs – BBC Radio 4
Language Learning
If you're looking to learn a new language or improve your skills, your commute provides spare time to dedicate to it. There's a range of podcasts that can provide you with valuable language lessons, such as:
Something Rhymes with Purple – Susie Dent and Gyles Brandreth

Duolingo (various languages available)

Coffee Break Languages (various languages available)
Find this guide helpful. Nationwide Vehicle Contracts has produced various blogs to help enhance your commute, such as The Cost of Commuting by Car vs Public Transportation and How to Create a Calming Environment in Your Car.
We are also one of the UK's largest car leasing brokers, offering various deals to suit your every need. For more information, check out our leasing deals or call one of our experts on 0345 811 9595.