From pop-up shops to virtual reality, we take a look at how modern car manufacturers are trying to attract customers back into their showrooms
Mention the word 'car dealership' and what do you think of? Pushy salesmen, crafty selling tactics and daunting forecourts? Or beautiful boutiques, Italian coffee and even a beauty salon? For most, it's the former but the dodgy dealer reputation could soon become a thing of the past as automotive manufacturers try a new range of tactics to attract customers into their showrooms.
Over the next 10 to 15 years, the traditional car dealership as we know it is set to dramatically change as automotive brands shun large outer city forecourts and intimidating showrooms for inner-city boutique-style stores, experience-based spaces and virtual reality to entice the modern customer.
Coffee and a Car?
In America, automotive dealers are already going out of their way to do more than simply provide a waiting room for customers with some sites offering in-dealership restaurants, cafes, espresso bars, hair salons and even a putting green to capture the attention of the customer.
Rick Case Honda, a six-story dealership in Davie, Florida is one dealership currently pushing the bar. Alongside offerings of cheap fuel and unlimited car washes, customers visiting the dealership can get their haircut at the on-site barbers or even get married! Yes, this dealership has its own wedding chapel.
Speaking to Edmunds, the owner Rick Case said the idea was to "offer amenities that other dealers won't" by turning the space into somewhat of a town square. In an attempt to drive traffic, Case has allowed other service providers to 'set up shop' rent-free inside the building. Alongside two barbers offering $10 haircuts, there is an on-site café, a fuel station and even a government office where customers can pay for parking tickets, renew their driver's licences or even obtain a marriage licence to get married - possibly at the dealership's chapel.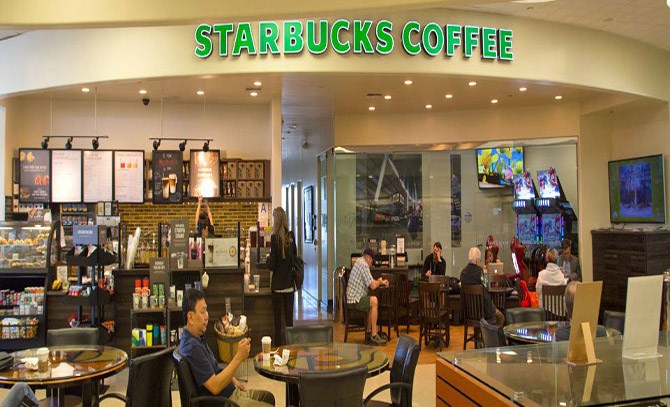 Meanwhile, over in Los Angeles, Galpin Aston Martin is making their mark by offering the world's first full-service Starbucks located within an automotive dealership facility. Here, customers relax with their favourite Starbucks drink while making the most of the free Wi-Fi as they shop the forecourt or wait for their car to be serviced. There's even a children's play area with video games to keep the little ones happy.
But it isn't just in America where changes are happening. Here in the UK, one Audi has taken luxury to a new level with the opening of an in-showroom gym and beauty salon exclusively for customers. Schön Beauty & Relaxation at Poole Audi offers a full array of beauty services to help customers relax, refresh and rejuvenate with free 15-minute manicure, facial and massage taster sessions while their customers wait for their car to be serviced.
Speaking to Real Business, David Kelly, MD of Ocean Automotive, said he came up with the idea when relocating the Poole Audi showroom and workshop. "I wanted something really special for our customers" explained Kelly. "Just imagine if we could offer a therapeutic massage, manicure or professional shave while one's car is being serviced?"
Virtual Reality
But it isn't just coffee and collagen lifts that are being used to give customers that "wow" moment. While some manufacturers are opting for experience-based brand spaces, others are turning to virtual reality to drive customer experience.
In 2017, Audi made automotive headlines when they launched a fully functional virtual reality application at their dealerships in Germany, the UK and Spain. The virtual reality headset allows to prospective buyers to experience their configured vehicle in 360 degree form, complete with light and sound effects, all combining to give a true-to-life experience of the vehicle.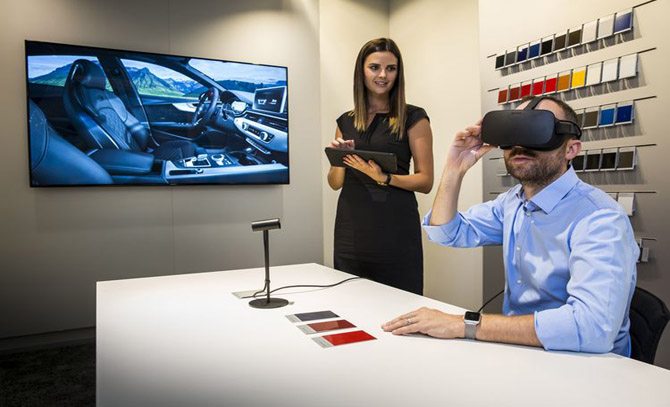 The VR headset also offers customers the chance to experience special Audi moments – an expectation that more and more customers now associate when buying a car. Racing fans can immerse themselves virtually in the atmosphere of the Le Mans 24 Hours race, getting up-close with the crew mechanics during a pit stop.
Elsewhere, manufacturers like Fiat Chrysler Automobiles are taking virtual reality a step by creating live virtual showrooms so customers don't have to leave the comfort of their own home to experience the latest models.
Using live video streaming from fixed and portable cameras in a purpose built showroom, customers can 'take a seat' in the new Jeep Renegade, as their allocated sales rep – who is wearing smart glasses such as Google Glass or a camera on a smartphone – walks them around the car, takes a seat inside and even runs his hands across the dashboard.
Of course, these types of digital experiences are nothing new. In the automotive industry, experts predict that by 2020, almost 60-70% of car sales leads will come from digital channels as the number of visits made to dealerships prior to purchase radically drops.
So does this mark the end for the traditional car dealership? Perhaps not.
Pop-Up Experiences
One trend looked set to grow over the coming years is the increase in pop-up and smaller boutique-style dealerships. Opening in shopping malls, art spaces and high streets across the country, these scaled-down dealerships open in vacant retail spaces for short period of times to attract passing trade and swoon the modern consumer, with Mercedes-Benz welcoming more than one million visitors to its pop-up sites across the UK in 2017. But even here, it takes something special to stand out from the crowd.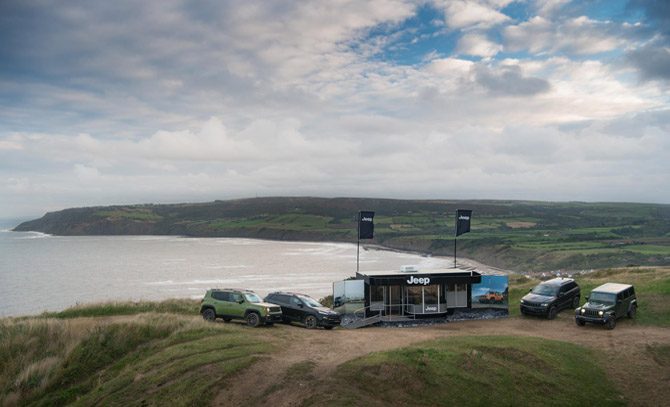 Jeep took the idea of the pop-up space to an extreme when it opened a temporary showroom at Robin Hood's Bay in North Yorkshire. The dealership – which opened for just three days and was installed on the edge of the famous cliffs, looking out over the North Sea - was only accessible via a car fitted with 4x4 off-road capability, emphasising the ruggedness of the brand's model line-up.
"In our 75th year, a landmark moment, it seems fitting that we've demonstrated that our vehicles really do go anywhere and can do anything by creating the world's first pop-up dealership which you can only get to in a 4x4" commented Damien Dally, Head of Brand at Jeep UK.
Of course, the only passing trade here were walkers, ramblers and mountain bikers - exactly the sort of people interested in an SUV with excellent off-road credentials – who were welcomed into the dealership to discover more about Jeep's famed 4x4 credentials.
Over in France, Honda took pop-up dealerships to a new level when they turned home owners' residential driveways and garages into mini Honda dealerships. As part of the innovative #HondaNextDoor campaign, 10 Honda customers had their garages converted into dealerships with official logo placed above the garage door and branded dealership flags on the driveway. With a limited number of physical dealerships in France, Honda said the idea was to bring the dealership to the people and utilise the brand's best salespeople: its fans.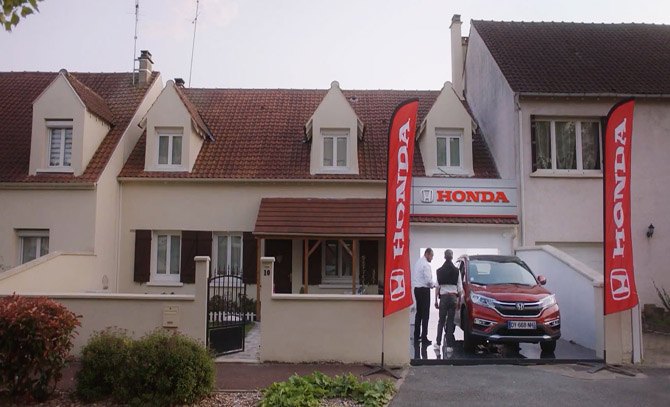 Whatever methods dealerships use to try and intice, most manufacturers agree that the way customers buy cars is changing. Gone are the days when the whole family would travel out to a dealership to spend the afternoon in a showroom, trying out the latest people carrier, with digital experiences and alternative routes to funding, such as car leasing, becoming more and more popular. But will these new tactics actually get customers into the dealerships? I guess only time will tell…