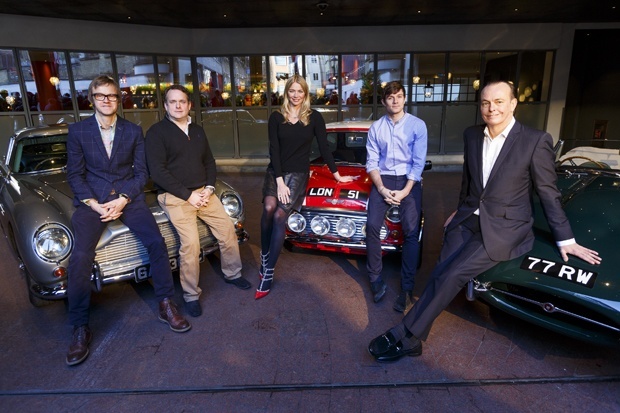 The launch of the all-new global TV series, The Classic Car Show, has taken place in central London with hosts Quentin Willson and Jodie Kidd on hand to promote the new show that starts on Channel 5 this Thursday at 7pm.
Presented from a studio at the Brooklands racing circuit in Weybridge, Surrey, The Classic Car Show has been produced by Jim Wiseman and Stephanie Fox from Top Gear and Top Gear Live , and is the start of a proposed run of 13 on-hour episodes that will be putting the spotlight on prestigious historic cars with contributions from A-list celebrities, as well as advising viewers on what cars they need to be buying NOW before their values go through the roof.
And there are some serious players involved in the programme, in front as well as behind the camera.
For starters, Aston Martin will be offering an Aston Martin V8 Vantage for one lucky viewer to have the opportunity to own - but not just any Aston Martin V8 Vantage. This particular bespoke model is the work of Aston Martin's expert design team, led by Chief Creative Officer Marek Reichman, and will be built over the weeks that the programme is on, with viewers able to watch it happening via a series of short films shot at Aston Martin's home in Gaydon, Warwickshire. Ad then, at the end of the series, on seriously lucky viewer will be the proud owner of what is, to all intents and purposes, a piece of automotive art.
With more details of this being revealed on the very first episode, Marek Reichman commented: "Aston Martin's rich heritage of world-class sports cars is clearly a great subject for this exciting new series, and I'm sure the lucky recipient of the V8 Vantage – whoever he or she may be – will be thrilled to join our select band of sports car owners worldwide."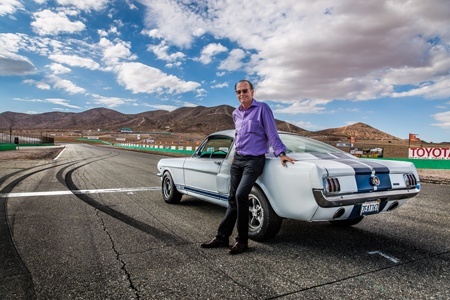 Also involved in The Classic Car Show are Jaguar Heritage and the world's leading retailer of pre-owned fine watches, Watchfinder & Co, something that Presenter and Executive Producer Quentin Willson is delighted with: "To have Aston Martin, Jaguar Heritage and Watchfinder collaborating on our first series of The Classic Car Show is a dream line-up. They are amongst the most revered and powerful brands in the world with one lucky viewer experiencing a life-changing moment, when they take the keys to a future classic Aston Martin. We will be revealing full details in the first episode.
"Like our partners, The Classic Car Show does things differently. No-one has done a TV show like this ever before. We've got gorgeous cars, passionate stories, an extraordinary filming budget and endless enthusiasm.The Classic Car Show is an amazing, insightful series without a socket set in sight."
So what does the first episode have in store for us?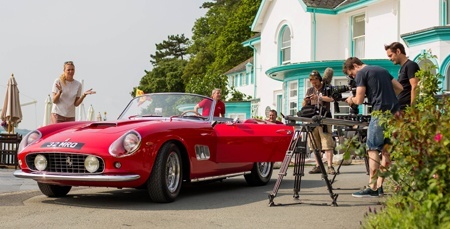 In the first episode, we follow Quentin Willson as he heads to California to celebrate the Ford Mustang's 50th birthday, while co-presenter Jodie Kidd falls in love with a Ferrari 250 GT California Spyder that is now worth in excess £10 million.
Co-presenter Will Best joins a host of A-listers that includes male supermodel David Gandy and rapper and designer Tinie Tempah at London Men's Fashion Week where they chew the cud over a choice between the original Mercedes-Benz 300 SL 'Gullwing' or brand new Mercedes SLS AMG as to which is the most stylish.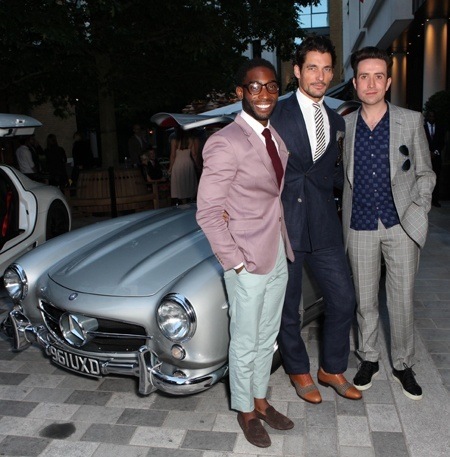 The final co-presenter Alex Riley celebrates the life and times of the Triumph TR7 whilst discovering that the controversial wedge-shaped British sports car can be purchased for just £5,000, and classic car auctioneer and barn find expert Chris Routledge digs around under a hedge to unearth a rare and glamorous Studebaker Silver Hawk, that has been hidden there for almost three decades.
In future episodes....
Quentin Willson will be taking Rolling Stones guitarist Keith Richards' Ferrari 246 Dino for a spin in Monaco, Jodie Kidd will be on a petrolhead pilgrimage in a Ford GT40 to Reims, Bruno Senna will be putting 10 historic racers through their paces on The Classic Car Show track, Alex Riley discovers a surprisingly affordable Porsche 928, Will Best will be looking at a classic car rental club and Chris Routledge hopes to reveal a rare model from forgotten French maker, Amilcar.
All without a hint of controversy that seems to follow BBC's Top Gear about. as Series Producer Jim Wiseman says: "The Classic Car Show is the programme I've always wanted to make. The show is a unique mix of fantastically engaging stories about the allure of classics, from those owned by Hollywood icons, through action packed historic racing, to a car hoarding family from Hampshire."
So set those recorders or have your tea in front of the telly on Thursday. It looks like it's going to be a classic!