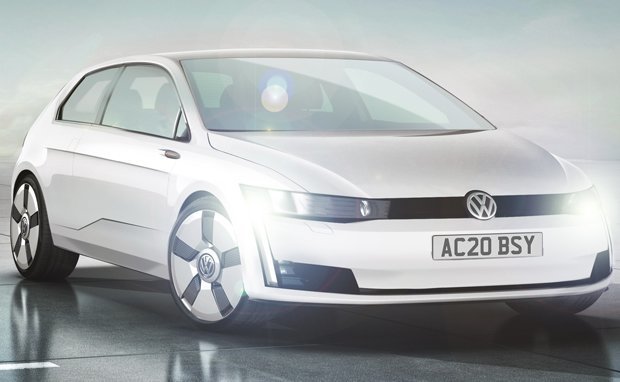 An excellent and interesting article in Autocar has looked at what we can expect from cars in the future (not too far – just to the end of this decade!) by revealing some of the technology currently underway to improve efficiency and fuel economy.

Primarily looking at what there will be on offer for the family cars of the next decade, Autocar – the world's oldest and most respected motoring title – believes that we will see some of the most economical mainstream cars ever built, not only because of some of the cutting-edge technologies being developed but also because of one of the reasons why it is in development.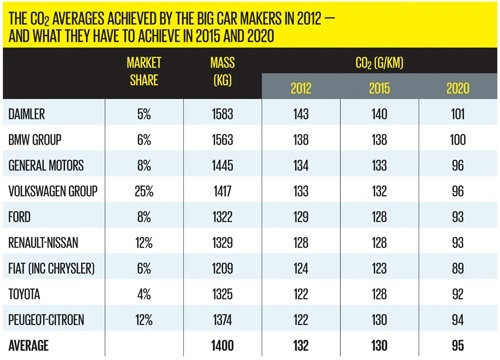 And that reason is the European Union.

Not just them, but primarily the stringent regulations coming into force in 2020 that they have set for car manufacturers to keep to when it comes to average CO2 emissions standards across their entire fleet of vehicles.

So, Autocar suggests, we will see a whole host of family cars on the market in the next 5 years with CO2 output figures of well under 90g/km and fuel efficiency levels of more than 300mpg. (Already we are seeing the average for family cars at just 132g/km of CO2 in 2012 with a fall to 130g/km by next year, but the manufacturers may have to get their proverbial skates on for 2020. Just look at the table on this page.)

Autocar editor-in-chief Chas Hallett said: "The CO2 targets laid down by the European Union are set to change the face of Europe's car industry forever. Hitting the targets will be expensive and difficult for nearly all of Europe's car makers and the fact that early work is already under way on cars that are still at least five years from the showroom illustrates how challenging it is."

Car manufacturers can't just rely on advances in engine technology to reduce fuel consumption (along with emissions) so anything that helps them achieve what is becoming a very necessary consumer requirement of a reduction in average fuel consumption levels is to be thoroughly investigated.

So what are car manufacturers looking at to make sure that their future mid-market saloons and hatchbacks will meet the standards set by the EU?


Here are Autocar's top five new fuel-saving technologies:
Flywheels
: Currently in testing, the flywheel system is a British Design, and is created to drive the rear wheels of a front-wheel-drive car. At a cost of about a quarter of that of a hybrid set-up, flywheels can store energy and then release it – just like an electric motor and battery – and are a lot less complex than a hybrid set –up; and lighter too!
Variable Compression Ratio Engines:
This is still very much in development, but the principle behind it is very promising. By being able to vary an engine's compression ratio in comparison to the demands being placed on it will lead to significant advances in efficiency, and car manufacturers are on the case already – with great prizes possibly available to the winner.
Coasting:
Already a big favourite of many a driver going round corners (sic), coasting technology looks to be something that is certain to be used on future models – and already available in some cars with dual-clutch automatic gearboxes where you can coast at speed. This is the first stage of what is likely to be a three-stage process, with cruising when a car is travelling below 4mph at stage two and then the ultimate version at stage three allowing transmission decoupling and engine shut-down when cruising at speed, travelling downhill or approaching traffic lights that are about to turn red.
Electric Turbochargers:
This one is already on display with some manufacturers who have begun to preview their own own versions of electric turbocharging; like Audi. Their model uses a powerful fan in the engine's induction system to blow air through the turbo when the engine is decelerating so that the turbo fan is spun at speed to achieve full boost ready for the accelerator to be pressed again. The electric turbocharging system seems to be best suited to smaller-capacity downsized engines, which generate little exhaust gas energy, especially at low speed.
Enclosed Wheel Wells:
A lot of mid-sized family cars aren't the best when it comes to aerodynamics, so the investigation into wheel wells may well be the answer to reducing the drag on the car. The theory is already being tested by some car manufacturers as they have started directing air across the face of the front wheels to achieve this, and the next natural step seems to be enclosing the wheel housing so airflow doesn't get trapped as it travels under the car. This can be achieved by fitting an undertray can be attached to the wheel arch lines and extending beneath the front wishbones to create a seal to deflect the air.
Some very interesting ideas there but Chas Hallett sounds a warning to the car manufacturers that they will need to be careful to balance the need to meet CO2 standards with costs and the risk of their models losing their consumer appeal at the expense of aero packages.
"This is an exciting time for the car industry because the standards being set are demanding that the pace of innovation and clever technology is being maintained, if not accelerated," he said. "But car makers will have to be careful – the advance of 'green' technology could prove devastating for companies already surviving on a very slim profit margin."