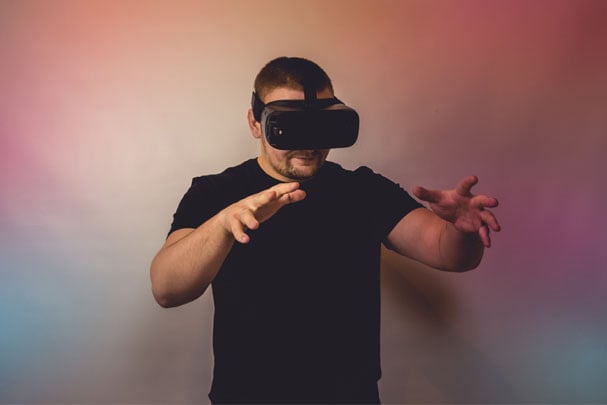 Nationwide Vehicle Contracts explores the potential of virtual reality in car games.

Virtual reality (VR) is computer-generated technology that puts the user in an environment that appears real. For racing games, this would put the user directly behind the steering wheel, allowing them a first-hand experience of car racing.
This is great for gamers looking to replicate their favourite drivers or who want to be completely immersed in a car-racing simulation.
In this blog, Nationwide Vehicle Contracts looks into the rise of virtual reality in car games and the impact it could have on the future.
The Rise of Virtual Reality in Gaming
Virtual reality as a technology has been around since the 1970s but only gained popularity within gaming in the mid-2010s. Through the release of VR headsets from companies like Oculus Rift and PlayStation VR, gamers could experience VR for a relatively affordable price.
VR headsets saw particular success in racing and horror games, putting the user directly in the environment and providing a more realistic gaming experience. With handheld technology added into the mix, the user can now interact with the virtual surroundings, making them feel like they are real.
This offers a unique experience that regular gaming cannot match.
Virtual Reality in Car Racing Games
Racing games are one of the main reasons for the success of VR. Combined with a wheel and pedal setup, VR technology allows the user to experience the thrills and spills of a professional racer, such as the cars, the courses, and the adrenaline.
Whereby gamers in the past had to select a first-person camera and a vibrating controller to get a real-life experience, all they have to do now is put on their headset.
Right now, VR racing games are at their best, but what games provide a completely immersive experience?
Gran Turismo Sport – Available for PlayStation VR, Gran Turismo Sport is undoubtedly the most immersive racing game on the market. It provides gamers with a complete VR driving experience thanks to its amazing graphics, lighting, textures, and responsive feedback.
Assetto Corsa – Assetto Corsa is another amazing VR racing game which is compatible with an Oculus Quest, Valve Index, or HTC Vive. Aimed towards those who want to prioritise drifting, Assetto Corsa comes with beautiful graphics and exceptional driving mechanics, leading many professional drifters to begin by playing. It's available on console, but it's best played on PC, where you can mod most tracks and cars free of charge.
Automobilista 2 – Currently available only for PC gamers, Automobilista 2 is a good all-around VR racing game. Coming with an exceptional range of cars from the Lotus 72E to the BMW M8 GTE, Automobilista 2 essentially takes you through the history of motorsport with its extensive car list. It also adapts to VR very well, as users don't have to spend ages changing the settings.
The Future of Virtual Reality in Car Racing Games
There's no doubt that virtual reality has a massive future in gaming; VR in gaming was estimated to be worth $6.2 billion in 2020 and is projected to grow to $53.44 billion by 2028 (Fortune Business Insights).
One reason for this is the widespread investment in the industry, but also the introduction of new VR technology, such as haptic feedback and improved graphics.
Haptic feedback is a type of touch technology that simulates physical feedback. In VR, it's used to communicate the sense of touch to the gamer, adding to their immersive gaming experience.
As with all technology, VR graphics have massively improved since its early days. Although it's not as life-like as gaming through a monitor, putting on a VR headset is more realistic than ever before and thus increases the user experience. Future Business Tech predicts that by 2030 VR screens will have 8K resolution!
However, 2030 is still a long way off, and those who want to use VR have to deal with the industry's current limitations. VR technology is developing slower than expected, so drastic improvements in user experience still feel a while away.
Also, there are obvious cost limitations. Prices for a Meta Quest 2 currently start at £400, and if you want to play PlayStation VR, you'll need to buy a PlayStation and their VR Pack, which could cost upwards of £600!
The Impact of VR on UK Gamers
VR will have a significant role to play in UK gaming, especially for racing games. Racing games provide the perfect template for VR to succeed, with users only needing a wheel, pedals, and a headset to lock in. In the coming years, I'd expect increased engagement for racing games thanks to VR, as they provide a replica of what racing is like.
For the gaming industry, one of the main implications of VR is that more developers will alter their games to be VR-compatible. Studies show that it will be a massive industry in the coming years, and developers will want to take advantage.
This is excellent news for gamers who will get a more immersive experience and greater realism in their games thanks to VR.
What are your thoughts on VR? Nationwide Vehicle Contracts produce a range of blogs focused on gaming, such as Real-World Manufacturers in Video Games and The Best Car-Related Easter Eggs in Popular Video Games.
We are also one of the UK's largest car leasing brokers and have a range of leasing deals to suit your every need. Check out our website or call one of our experts on 0345 811 9595.