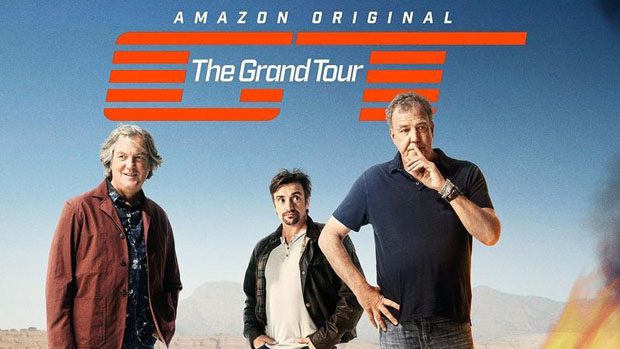 "Same Old, Same Old" or "If It Ain't Broke...."?
Let battle commence between Top Gear and The Grand Tour as Clarkson & Co finally make their Amazon Prime debut after what seems an eternity since the BBC split.
We have had speculation as to the name (Gear Knobs?) before 'The Grand Tour' was announced, photos, rumours, logos and trailers, all of which finally came to fruition on Friday 18th November with the first of an initial 12 part series (with another 24 planned) that has rumoured to have a total budget of £160 million to produce.
Starting with an imagined Clarkson/BBC firing segment before opening in the Californian desert, the real questions that need to be asked, and were asked a lot before the show even started, are: "How different will it be to their Top Gear as opposed to Matt Le Blanc's and the now-departed Chris Evans?" and "How different will it be to their own Top Gear version?"
The answers are: "Not that much!"
Whether or not that is a good thing is still up for question, but if the reason that people tuned into the original series was to watch a trio of middle-aged men drive about in cars that we often have no chance of ever driving, in places that we are unlikely to go to, at speeds which we could never dream of attaining without prosecution, and 'bantering' with each other in that 'blokey' kind of way that the 80s and 90s encouraged, then it's a good thing.
If you are looking for progression on the original idea, then it's not.
There have been changes, with the fact that it's a lot more 'Hollywood' - which is to be expected with nearly £4.5 million an episode to spend, with the opening sequence bringing comparisons to "Dune" and "Mad Max" - very much the main thing.
But the team has resisted the urge to make changes for changes sake - unless they can't change anyway. And, let's be honest, if you put Jeremy Clarkson, James May and Richard Hammond together in a show, you are going to get a Clarkson, May and Hammond show; and you would be mad to expect anything else. That's what Amazon have paid all that money for.
There is still a test track around which a test driver drives with all the skill and speed of The Stig but without the name.
There is still one of those 'look at us' races with the first episode featuring a trip to Portugal
There are still bits with celebrities in it.
There is still lots of middle-aged banter and mickey-taking from three middle-aged men acting like they were down the pub on a night out from their wives who 'just don't understand'.
There is still the 'I can say what I want because I'm Jeremy Clarkson' attitude from Jeremy Clarkson that blokey blokes seem to like, balanced with his love and knowledge about cars.
But is it really that different from Top Gear?
If I am being totally honest, no; not really.
Both cater for petrolheads. Both feature cars - lots of them. Both feature a lot of speed, and lots of classy shots of cars travelling at speed. Both feature banter with varying degrees of success.
But the differences are the things that make them really stand out from each other.
Firstly, The Grand Tour is only available on Amazon Prime, an internet-only platform that costs £79 a year, whereas Top Gear is on a 'free' BBC platform, not taking into consideration the licence fee which you need anyway! So it's audience is pretty limited, although prospectively massive. Viewing figures revealed on Monday, and reported on Digital Spy, revealed a success story in that the first episode was officially the most-watched premiere in the streaming service's history, with "millions of Prime members streaming the first episode in the US, UK, Germany, Austria and Japan" watching.
There were also a record number of new Amazon Prime subscriptions on the Friday, and Amazon CEO Jeff Bezos announced: "The guys are back, doing what they do best - the chemistry between Jeremy, Richard and James is what makes The Grand Tour so entertaining.Their creativity, along with the amazing production quality and 4K HDR streaming, has Prime members responding in a big way. Kudos and congrats to the whole team."
Secondly, The Grand Tour seems to have the British media on its side, especially looking at the slating that the Chris Evans-led Top Gear got last year and the first reviews of The Grand Tour that appeared in papers and online drawn from preview tapes. Whether this a Clarkson-effect (as he seems to be the focus of many of the reviews as opposed to 'the other two') is up for discussion, but rose-tinted glasses do seem to have been used by many reviewers.

Thirdly there is the amount of money that had been thrown at it; possible because of the money behind Amazon. And with that we lose the amount of moaning from anti-Top Gear commentators about 'wasting money'.
And finally there is that Clarkson-effect. To all intents and purposes he was Top Gear (despite the obvious talents of May and Hammond) and he is The Grand Tour, and it is hard to change that perception; something that The Grand Tour doesn't even try to do. Chris Evans tried (and apparently failed), and Matt Le Blanc is still trying. In fact, the next issue of Top Gear will be very interesting when it comes to presenters. But the Grand Tour still focuses on the man in the jacket and open-necked shirt that many viewers wish to be.
Future episodes of The Grand Tour will see the team in locations across the United States, South Africa, Whitby(!!!???) , the Netherlands, Finland, Dubai and Germany, as well as driving an Aston Martin Vulcan, becoming soldiers, behind the wheel of a Rolls-Royce Dawn, and even looking at green cars.
The Grand Tour features on Amazon Prime on Fridays with catch-ups of all episodes available on the Prime platform.