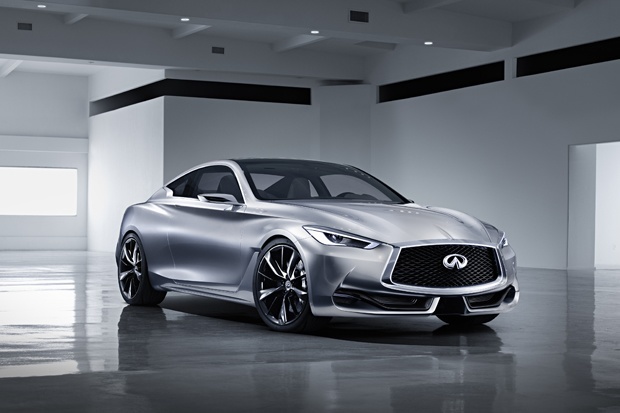 This week sees the 2015 North American International Auto Show (NAIAS) open in Detroit, and Infiniti are there to debut their ideas for a premium sports coupe in the shape of the striking Q60 Concept.

Sharp contours and a hand-crafted interior are the main attractions to the first viewer, but Infiniti promise "a no-compromise fusion of looks and speed" with performance and power in the Q60 Concept to match, offering the suggestion of exceptional dynamics and driving pleasure.

Hugging the road with its low sitting stance, although the Q60 Concept is fresh and original, it does bring to mind the Q80 Inspiration that debuted at last year's October Paris Motor Show, especially in the audaciously low roofline and quilted leather seats remind one of the elegant full-size Q80 Inspiration – and there is also a whiff of the Q50 Eau Rouge sports saloon concept with the aerodynamic gills behind the front wheel arches.

"The Q80 Inspiration was an indication of Infiniti's future design language," said Alfonso Albaisa, Infiniti Executive Design Director. "The Q60 Concept is the next step in the journey. The sweeping lines of the Q80 Inspiration gave the Q60 Concept its coupe silhouette and looks while the Formula One-inspired touches from the Q50 Eau Rouge endowed the coupe with its sports personality."

And as with all concept cars the Infiniti Q60 is all about the looks at the moment with custom 21" wheels with black spokes in a combination of mattes and chromes that stretch to the edge of the wheel taking up the entire wheel arch – in fact, they bring to mind jet turbine blades, emphasising the sporty side of the concept. And this is continued with taut lines and sports car cues that offer into Infiniti's future premium sports coupe with exceptional stance and presence.

Inside is no different with quality and Infiniti's meticulous attention to detail being clearly evident from the impeccable hand-stitched leather to the precise treatment of the carbon fibre accents. The variety of leathers used on the seats are designed to make sure that the Q60 offers up both comfort and support in perfect harmony and balance, and the use of genuine sports seats give those passengers sitting in the rear a bit more legroom, making the Q60 Concept a genuine "2+2" coupe.

The Infiniti Q60 Concept will be first seen at the car manufacturer's 2015 NAIAS press conference on Tuesday – and then it's over to the comments and opinions to see if it moves an further than that.