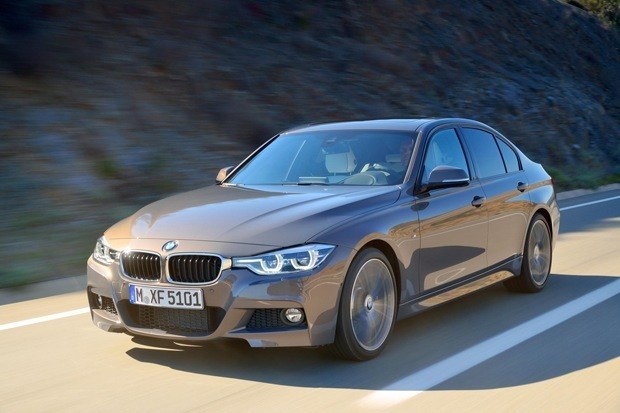 14 million BMW 3 Series cars have been sold over the past 40 years since its introduction into the automobile world, with the existing 3 Series Saloon and Touring models responsible for around 25% of BMW's total sales figures. So, there is no doubt at all that the 3 Series is a popular choice for the discriminating driver.
And with an updated model making an appearance very soon in 2015, the chance to take to the road in a brand spanking new BMW favourite is not one to be passed up. And selecting to lease a BMW 3 Series Saloon rather than buy outright could make more financial sense to you than you could ever believe.
So, why do so many people choose this car as the one for them?
Nationwide Vehicle Contracts BMW 3 Series Saloon video review
Printed words often don't give you that feeling that you need about a car; so we have created our very own set of video reviews. With these you get a quick overview of the car and swift details of some of the key things that you will need to know to help you decide on your choice.
So take a look at our video review for the BMW 3 Series Saloon; it may just be the perfect car that you are looking for.
Why choose a BMW 3 Series Saloon? – key points
One of the best compact luxury cars on the market
Distinctive new shape with large front bumpers
A high-quality interior with great leg and head room for passengers too!
A choice of the latest modular BMW EfficientDynamics petrol and diesel engines that feature BMW TwinPowerTurbo technology
Fuel efficiency up to 72.4mpg with emissions as low as 99g/km (engine dependant)
BMW ConnectedDrive, Business Navigation, Head-Up Display and Parking Assistant as standard
Hybrid version of the BMW 3 Series to follow in 2016
Overall star rating: 3.5/5
Check out our latest BMW 3 Series Saloon leasing offers, for both personal drivers and business customers.
Styling
The new BMW 3 Series looks as striking as you would expect with its distinctively sculpted long bonnet, short front and rear overhangs, and a long wheelbase, all combining with revised headlights (with optional LED units), camera-based, anti-dazzle High Beam Assistant system, new exhaust tail pipes and large front bumpers to create a premium sports saloon.
Interior
Inside the new BMW 3 Series you'll find everything that a BMW interior should be with outstanding ergonomics and immediate access to the important things in your driving life. And all of this in a chrome and high-gloss interior of immaculate class.
Differentiation and Individualisation
From the standard BMW Series 3 Saloon specification to the Luxury and M Sport models, each of them features specific emphasis placed on the different aspects of the new BMW 3 Series' character to ensure maximum driving enjoyment.
Outstanding Standard Specifications (and options)
BMW ConnectedDrive and all its technology within to enhance safety, comfort and infotainment; Business Navigation (with Professional Navigation as on option); Intelligent Emergency Call, a Head-Up Display and Parking Assistant all come as standard amongst many other specifications that you would expect in a BMW.
Engine specifications and fuel economy
The new BMW 3 Series Saloon and Touring ranges feature a total of four petrol engines and seven diesel engines from three-, four- and six-cylinder petrol engines to the four-cylinder diesel units in the BMW 316d, BMW 318d and BMW 320d. All come from a background of the newly developed, modular BMW EfficientDynamics engine family and all are equipped with the latest BMW TwinPower Turbo technology.
Thanks to BMW EfficientDynamics, the new BMW 3 Series Saloon offers exciting performance with excellent fuel economy up to 74.3mpg and CO2emissions as low as 99km, with the new BMW 330e hybrid joining in the range in 2016 with even better statistics.
Similar cars
Customer video review of the BMW Series 3 Saloon
You don't need to just take our word for it either. We've asked one of our customers, Sandra, to share why they love their BMW 3 Series – and leasing it through us – as well.
Sandra's favourite features of the BMW
Ideal for people with or without children
But perfect for those with a family
Solid and sturdy
Economical – great for longer trips to see family
Comfortable inside with plenty of room
Find out more about leasing a new BMW 3 Series Saloon with Nationwide Vehicle Contracts, including our latest prices and more great reasons to lease a BMW 3 Series.
Looking for more video reviews? Take a look at our other recent detailed review for the 2014 Ford Fiesta.
Keep an eye out in the near future for more video reviews of some of our other most popular lease cars.