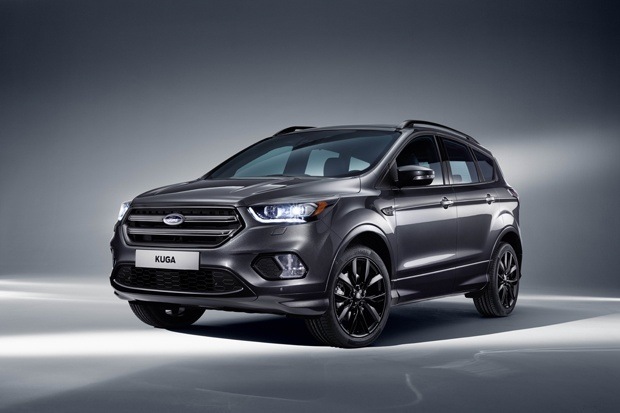 Described by HonestJohn.co.uk as "probably the sportiest handling SUV" in its particular price bracket, the new and advanced Ford Kuga sport utility vehicle (SUV) takes its bow on the forecourts of the UK with progressive technology, new design features, added efficiency and extra sportiness.
One of five all-new or redesigned Ford vehicles that the car manufacturer aims to have competing in the SUV and crossover arena over the next three years, the technologically advanced Kuga features intuitive SYNC 3 connectivity, hands-free parking in side-by-side spaces and enhanced Active City Stop amongst its many attributes, making it simpler, safer, more enjoyable and more affordable to drive.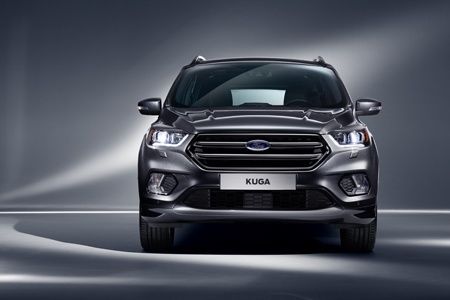 "The New Kuga offers cutting-edge new features and technologies that will help drivers stay connected, comfortable, safe and stylish on the road," said Joe Bakaj, vice president, Product Development, Ford of Europe. "The sophisticated redesign has given Kuga a fresh and modern feel, while SYNC 3 enables drivers to communicate with their vehicle and connected devices in seamless ways that would have seemed impossible just a few years ago."
It is not only the Ford Kuga that is getting a new model launched this year, but the larger Ford Edge SUV too, as Ford seeks to bolster its SUV line-up following predictions from industry sales analyst IHS that "sales in the SUV segment are poised to increase to 27% of all vehicle sales in Europe by 2020." Joe Bakaj has a lot to say about this too: "Ford is delivering a European SUV line-up that offers the stylish design, car like dynamics, and sophisticated technologies that consumers desire. Demand for SUVs is stronger than ever, and Ford is expanding its range to offer everything from rugged models with true go anywhere ability to sporty models designed to suit urban lifestyles."
So what does the NEW Ford Kuga have in the pipeline for us?
SYNC 3
Ford's new SYNC 3 connectivity system is available in the new Ford Kuga Titanium series and above, and will allow drivers to control audio, navigation, and climate functions by using simple, conversational voice commands. And most of these commands can be made in a multitude of languages including Dutch, French, German, Italian, Portuguese, Russian, Spanish, Turkish and U.K. English, along with new Sync 3 languages such as Czech, Danish and Norwegian, with Polish and Swedish able to be used during voice control.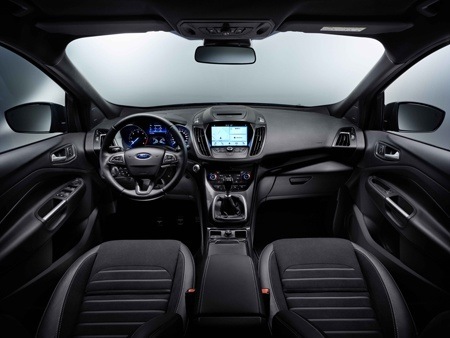 Requests and comments such as "I need a coffee," "I need petrol," and "I need to park," will lead drivers towards nearby cafés, petrol stations or car parks, and it is also possible to get directions via SYNC 3 to train stations, airports, hotels and the like.
SYNC 3 is operable via the 8" touchscreen via a new interface that features larger, easier to operate buttons and enables pinch and swipe gestures for the first time - just like a smartphone! Speaking of which; iPhone users are able to make use of Apple CarPlay, which is generally accepted as the smartest, safest way to use your iPhone in the car (allowing drivers to make phone calls, access music, send and receive messages, get directions optimised for traffic conditions) with drivers able to stay more focused on the road; Android™ users can activate Android Auto™ which has apps and services such as Google Search, Google Maps and Google Play accessible in safer and seamless ways.
SYNC AppLink is also available where the driver can voice-operate a wide range of smartphone apps that includes delivery service MyBoxMan, Dutch Social App HearMeOut, local weather service AccuWeather, and Spanish Radio service Cadena Ser.
Christof Kellerwessel, chief engineer, Electronic and Electrical Systems Engineering, Ford of Europe is very happy with the system. "Designed to complement modern smartphones, with an intuitive 8-inch touch screen, SYNC 3 understands more natural speech, is faster, and offers an easier-to-read graphical interface."
Sophisticated technology
Like all new cars, and new models of older cars, car manufacturers like Ford are rolling out more and more sophisticated technology to help drivers do...well, pretty much everything.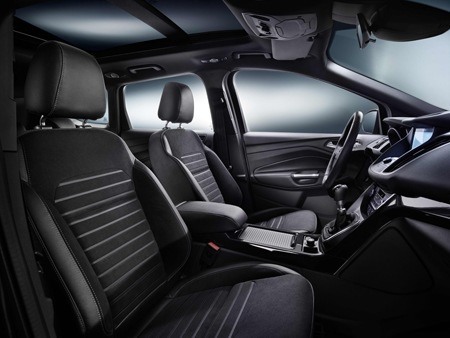 And the new Ford Kuga is no different, with:
The new Perpendicular Parking function that makes driving and parking simpler for customers, working in perfect harmony with the semi-autonomous Active Park Assist technology. At the push of a button, Perpendicular Parking enables drivers to locate parking spaces alongside other cars as well as parallel to the road, and steers the vehicle into them while the driver controls the accelerator and brake.
Cross Traffic Alert warns drivers reversing out of a parking space if there are any vehicles behind them that are likely to be crossing their path via a radar at a range of up to 40 metres (131 feet) and a warning system with three signals.
Park-Out Assist helps drivers as they exit a parallel parking space by operating the steering with the driver in charge of the accelerator and brake.
An updated and enhanced Active City Stop collision avoidance system, now operatable at speeds of up to 31mph, which uses sensors at the front of the vehicle to look for stationary objects in the road ahead and warns first and then applies breaks if no reply to avoid a collision.
Ford MyKey technology, fully updated and technologically improved, which allows any new Kuga owners to "programme a key for younger drivers that can inhibit incoming phone calls; restrict top speed; prevent deactivation of driver assistance and safety features; reduce audio system maximum volume, and disable the audio system altogether if occupants are not using safety belts. The enhanced MyKey system offers a greater number of choices in both the speed limiter and speed minder settings."
Ford Intelligent All Wheel Drive
Curve Control
Torque Vectoring Control
Stylish Updates
The new Ford Kuga features a bold and sporty look in keeping with the already-released EcoSport compact SUV and future all-new Ford Edge large SUV.
At the front there is a large upper trapezoidal grille and a smaller lower grille flanked by sleek new headlamps that incorporates LED Daytime Running Lights, and are complemented by stylish fog lamps.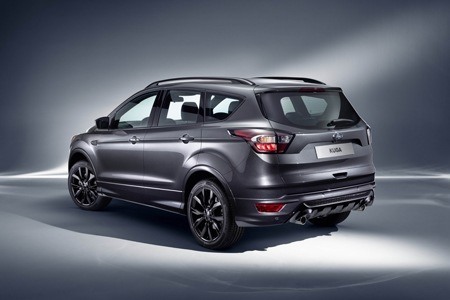 At the back we find restyled taillights that complete the sporty look, while taking a look at the wheels we find a new range of 17", 18" and 19" alloy wheel designs in variety of finishes including Luster Nickel and the new-to-the-model vibrant shade Copper Pulse. There is also a power-operated retractable tow bar that automatically stores itself out of sight below the rear bumper when not in use.
Inside, the already meticulously crafted interior of the Ford Kuga now offers a more ergonomic, stylish and comfortable experience with more intuitive (and heated leather) steering wheel and air-conditioning controls, fewer and more easily distinguishable buttons and switches, and (on the automatic models) paddle-shift controls that enable drivers to manually select gears while keeping their hands on the wheel.
There is also a Hands-Free Tailgate that can be opened or closed using a kicking motion beneath the rear bumper that allows parents to easily access the boot when returning to their vehicle with shopping, pushchairs or toddlers - something that more than 1-in-3 Kuga customers in Europe last year asked for when surveyed.
Powerful and fuel-efficient engines
Adding to the already available engine options, Ford have added:
A new 120PS 1.5-litre TDCi diesel engine, available with front-wheel drive, and targeting a 5% fuel efficiency improvement 64.2mpg and 115g/km CO2.
A 2.0-litre TDCi diesel engine with 150PS in front-wheel drive with Ford Intelligent All Wheel Drive version that achieve from 60.1mpg and 122g/km CO2
A 2.0-litre TDCi diesel engine with 180PS Intelligent All Wheel Drive version that delivers from 54.3mpg and 135g/km CO2.
A 1.5-litre EcoBoost petrol engine in either 120PS or 150PS front-wheel drive form that achieves 45.6mpg and 143g/km CO2
A 1.5-litre EcoBoost petrol engine in a 182PS Intelligent All Wheel Drive version that delivers from 38.2mpg and 171g/km CO2.
The new Ford Kuga is available later in 2016, so register your interest with one of Nationwide Vehicle Contract's Customer Service Representatives at the earliest opportunity.