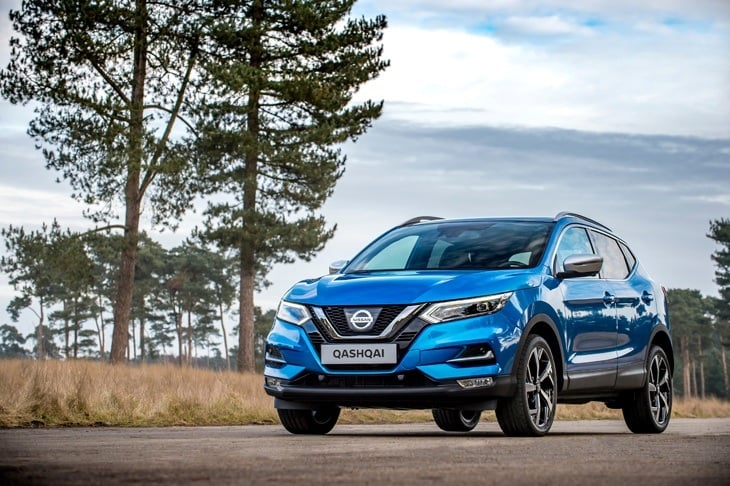 The Nissan Qashqai has been a revelation since its initial launch in 2007, and every update and improvement is met with anticipation and excitement across the auto customer base. So you'll be pleased to hear that a new Qashqai crossover will be available across Europe in July, with significant enhancements that include a "contemporary new exterior design, higher levels of interior quality, new Nissan Intelligent Mobility technologies, and improved driving performance."
Exterior upgrades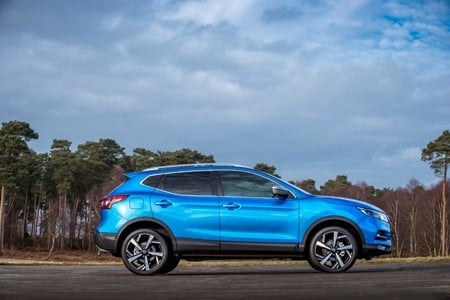 The Qashqai's exterior has had a fresh design in a successful attempt to add more sophistication and dynamism, starting with a completely revised front end that now includes the latest Nissan 'V-motion' grille.
Headlamps have been revised with a safety-first new version of the 'boomerang' Daytime Running Light signature that extends usage to right across the rear, and also includes a contemporary 3D lens effect to enhance the signature shape.
And to finish off, there are two vibrant new colours now available in the Qashqai's colour palette to boost its premium credentials: Vivid Blue (which you can see in the images here) and Chestnut Bronze.
Interior enhancements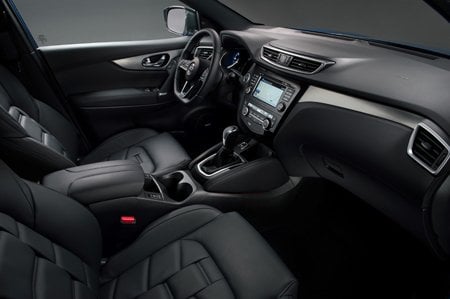 This is where the Qashqai's enhanced premium appeal is most obvious, with an improved layout, higher-quality materials and advanced technology combining to help deliver a highly attractive and functional interior for anyone lucky enough to ride in a new Qashqai.
Right at the top of the range, we find the brand new Tekna+ grade that includes new seats trimmed in high-quality soft nappa leather, luxurious 3D quilting on the centre panels, and a D-shaped multi-function steering wheel with premium satin-chrome inserts that features a new four-way controller for the combimeter display, allowing safety to come to the fore with driving 'eyes off the road' time reduced.
There is also the NissanConnect infotainment system, complete with DAB digital radio and satellite navigation,and the option of a BOSE seven-speaker premium sound system for in-car infotainment.
More confident drive
When it comes to the actual drive, thanks to a number of under-the-bonnet and under-the-skin improvements, the new model not only manages to keep the outstanding handling performance that it is known for, but also adds in an even more refined on-the-road experience thanks to modifications to the suspension, damping and steering systems.
It's a quieter drive (unless you have that BOSE system cranked up) thanks to better use of absorption materials and increased rear glass thickness that means a reduction in cabin noise from the road, engine and wind, and striking new 17, 18 and 19" alloy wheels are all available, and all aerodynamically optimised to maximise efficiency.
Aerodynamically, the new Qashqai is just as efficient, and when it comes to C02 emissions (Only 99g/km from the 1.5-litre dCi 110 diesel) and fuel efficiency there is no change.
New Nissan Intelligent Mobility Technologies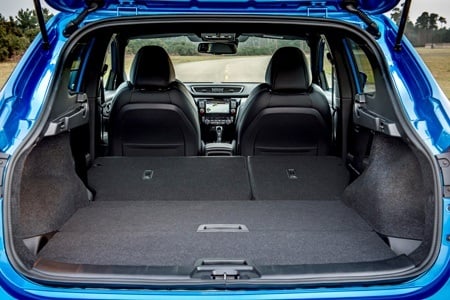 With the new Qashqai Nissan's commitment to customers, and its ongoing journey towards zero emissions and zero fatalities is extended even further with the addition of New Nissan Intelligent Mobility technologies. This includes ProPILOT autonomous drive capability that controls the steering, acceleration and braking in a single lane on highways, providing consumers with more control of their vehicle and a more confident drive, along with greater freedom when they want it, whether during heavy traffic congestion or high-speed cruising.
Paul Willcox, Chairman, Nissan Europe, commented: "We have put the Nissan Intelligent Mobility vision at the heart of our product strategy, guiding the development of every vehicle. The new Nissan Qashqai is proof of that, with enhancements which will continue to define and set new standards in the crossover segment."
And on top of all this comes the expected updated technologies that you would expect from the Nissan Qashqai, including:
Intelligent Emergency Braking
Pedestrian Recognition
Rear Cross Traffic Alert
Traffic Sign Recognition
Driver Attention Alert
Intelligent Park Assist
Intelligent Around View Monitor
Blind Spot Warning
Lane Departure Warning
Nissan claim that the new Qashqai is, and has always been, "the ultimate urban crossover, successfully blending the practicality and desirability of an SUV with the footprint, running costs and accessibility of a hatchback. And these enhancements make the Nissan Qashqai a stronger and more exciting partner for drivers, ensuring it is ready for its second decade of crossover leadership."
And that claim is hard to argue with.
For more information, and to speak to one of our Customer Service Representatives about leasing a new Qashqai from July 2017, contact Nationwide Vehicle Contracts now.