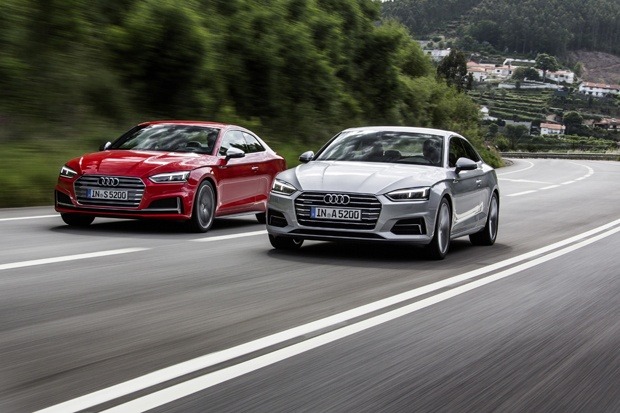 The all-new family-friendly Audi A5 and S5 Sportback models took a bow at the Paris Motor Show this year, featuring a plethora of Vorsprung durch Technik updates that bring the sleek five-door coupés right to the front of the Audi range; and both are now available to order for early 2017 delivery from Nationwide Vehicle Contracts.
Audi Sportbacks have always blended an elegant and emotive coupé design with impressive family car functionality and comfort, and now, even years on from its initial debut, the second-generation model was revealed in Paris. Embracing Audi's 'best of both worlds' concept with even more tightly wrought lines, a completely new platform, the very latest engine, transmission and quattro drive developments, the new model also boasts a host of contemporary driver assistance and infotainment systems.
Alongside the new A5 Sportback will be the flagship model, the Audi S5 Sportback, with some impressive speed and power credentials courtesy of its new V6 turbocharged TFSI engine. Delivering 354PS and 500Nm of torque from 1,370 to 4,500 rpm, the S5 can accelerate from 0-62mph in just 4.7 seconds up to a limited top speed of 155mph.
The Look
The Audi A5 Sportback has always had an unmistakable road presence, and now the silhouette that features a stretched wheelbase, short overhangs and long, wraparound bonnet now boasts a power dome to emphasise the dynamism of the five-door coupé. There is also a significantly flatter three-dimensional Singleframe grille to add to the front look, with the stylish rear ending with a characteristic spoiler edge terminating the stretched luggage compartment lid.
The new S5 Sportback follows the Audi S and Sportback models, but adds in brawn to the existing subtlety with distinctive contours around the , and many S-specific styling additions painted in graduated tones of matt grey. The exterior mirror housings shine in an aluminium look, with the rear bumper integrating a black honeycomb grille, aluminium diffuser trim and the signature four tailpipes, before a spoiler lip in body colour along the separating edge of the luggage compartment lid finishes the whole job off.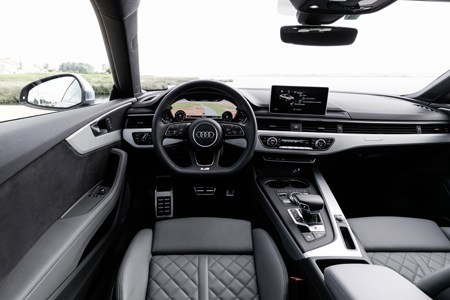 The cabin of both the new Audi A5 and S5 Sportback has grown significantly inside, gaining 17mm in length, and adding up to 11mm of shoulder room for driver and front passenger, and 24mm of rear knee room to passengers.
And the spaciousness is added to thanks to the horizontal architecture of the instrument panel, interior build integrity, sophisticated materials and colour schemes, with the optional ambient lighting (with 30 colours to choose from) bringing a fitting interior mood to the table.
Space is no problem either, with a luggage capacity of 480 litres making the A5 Sportback one of the best in its class - and Audi also offers the option of sensor control for opening and closing the standard-fit electric luggage compartment lid. With the rear seats splitting in a standard 40:20:40, with these folded down, the A5 Sportback can accommodate 1,300 litres.
The Assistance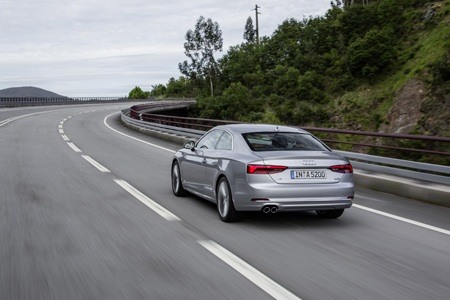 The Audi A5 Sportback features an all-new operating and display concept that allows the driver to control all functions effortlessly and intuitively. Operating as an alternative to standard-fit analogue instrument dials, the Audi virtual cockpit that features a 12.3" large high-resolution TFT monitor with richly detailed graphics and various display options allows the driver to drive with added safety and convenience.
There is also an optional head-up display that projects all relevant information onto the windscreen as easily comprehensible symbols and digits, thus enabling the driver to keep their eyes on the road.
When it comes to infotainment, the new models feature Audi's flagship MMI navigation plus with MMI touch, featuring 10 GB of flash storage, a DVD drive, Audi connect services free of charge for three years, up to five free navigation updates and an 8.3" high-resolution monitor. There is also a Bang & Olufsen Sound System with innovative 3D sound, 19 loudspeakers and 755 watts of power.
With many manufacturers now realising the importance to customers of smartphone interface, Audi is no different with the A5 and S5 Sportback allowing integration with both iOS and Android phones via the on-board antenna to ensure superior reception quality whilst charging wirelessly.
A new model wouldn't be a new model without some of the latest technology available when it comes to driver assistance, and the new Audi A5 Sportback features an intelligent combination of different technologies to enhance safety, comfort and efficiency - even taking a few steps towards piloted driving via the adaptive cruise control (ACC) Stop&Go system that includes traffic jam assist. This allows drivers to 'rest up' when in slow-moving traffic up to a driving speed of 40mph by assuming the tasks of braking and accelerating the car, even temporarily taking charge of steering it on better roads.
Using data from the front camera, ACC and radar sensors, the A5 and S5 Sportback feature assistance systems such as turn assist, park assist, cross traffic assist rear, collision avoidance assist, exit warning, camera-based traffic sign recognition, Audi active lane assist and Audi side assist, the new Audis also have a unique feature for the segment in the shape of the predictive efficiency assistant, which evaluates GPS information from the car's immediate surroundings, and helps to save fuel by giving specific driving advice.
The Drive
The wide track and comparatively long wheelbase provide excellent foundations for composed, agile handling in the new A5 Sportback, making full use of the redesigned five-link suspension, with a specially tuned S sport suspension fitted to the Audi S5 Sportback, the optional adaptive dampers, and new electromechanical power steering. Dynamic steering is available as an option.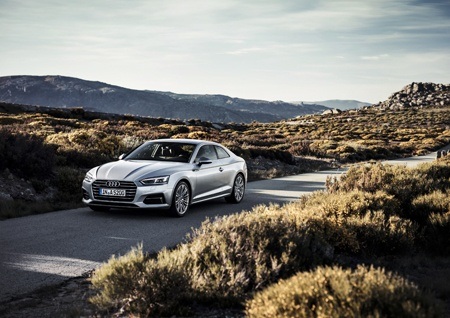 As standard, the A5 Sportback is fitted with 17" forged lightweight wheels, with a wide range of options available up to 19" in size, all optimised for rolling resistance to help reduce CO2emissions by an average of 2.8 grams per km.
When it comes to engines, customers can choose between two TFSI and three TDI engine versions for the new Audi A5 Sportback, producing between 190PS and 286PS of power as Audi reduce fuel consumption by as much as 22% while increasing power output by up to 17%.
The top version of the 2.0 TFSI produces 252PS, with 370 Nm of torque available between 1,600 and 4,500 rpm, allowing a 0-62mph acceleration of just 6 seconds on its way to an electronically limited top speed of 155mph. Even with this power, up to 47.8mpg combined is achievable, with emissions of 136g/km.
The second version of the 2.0 TFSI has an output of 190PS and 320 Nm of torque available from 1,450 to 4,200 rpm, with the four-cylinder TDI in the new Audi A5 Sportback developing 190PS and peak torque of 400 Nm between 1,750 and 3,000 rpm. With quattro all-wheel drive and the seven-speed S tronic, 62mph from rest takes 7.4 seconds to a top speed of 146mph, allowing fuel consumption of 67.3mpg combined in the 2.0 TDI and 109g/km of CO2 emissions.
Audi also offers the 2.0 TDI in an ultra version with better fuel consumption (up to 68.9mpg) and lower emissions (108g/km) thanks to modifications to the transmission ratio, optimised streamlining of the body and suspension as well as the use of low-rolling-resistance tyres.
The two six-cylinder TDI power units offer a blend of power, refinement and impressive efficiency, with the first variant of the 3.0 TDI producing 218PS, torque of 400 Nm between 1,250 and 3,750 rpm, a combined 61.4mpg, and CO2 emissions of 119 grams per km; and the new top TDI increasing power output to 286PS, offering 620 Nm of torque between 1,500 and 3,000 rpm, increased performance, and a further reduction in fuel consumption.
Six-speed manual transmission, seven-speed S tronic dual-clutch transmission and eight-speed tiptronic are available for every engine version with front-wheel drive is standard. Quattro all-wheel drive is available as an option in two versions, and as standard for the 3.0 TDI with 286PS.
When it comes to the latest Audi S5 Sportback, a V6 turbo engine with a hefty 354PS and 500Nm of torque from 1,370 to 4,500 rpm powers the car from 0 to 62mph in 4.7 seconds, up to an electronically governed top speed of 155mph. It naturally features quattro as standard, with wheel selective torque control as well as an eight-speed tiptronic transmission that can freewheel for further efficiency gains between 34 and 99mph when the driver eases off the accelerator pedal.
As an option for the S5 Sportback, Audi complements the quattro all-wheel drive with another dynamic technology component – the sport differential - that uses two superposition gears to distribute torque between the rear wheels, pushing the car into the curve when driving fast, thereby reducing understeer as most of the torque is directed to the outside wheel when turning into or accelerating in the curve.
The Body and Equipment
The speed of the new A5 and S5 Sportback is helped by the weight of the new car, which uses an intelligent mix of materials to make it 15kg lighter than its predecessor, and also offers an upgraded list of standard equipment that includes:
Xenon headlights with LED daytime running lights
LED rear lights
Audi MMI radio plus with a 7" colour display
Bluetooth
A three-spoke leather multifunction steering wheel (including shift paddles in models with automatic transmission)
Front centre armrest
Folding rear seat back with 40:20:40 split
LED interior lighting
Audi drive select dynamic handling system
Audi pre sense city and multicollision brake assist safety systems
Variable speed limiter.
To discuss how much the all-new Audi A5 and S5 Sportbacks mean business, and to talk about leasing one from Nationwide Vehicle Contracts, contact one of our Customer Service Representatives.