The Citroën C1 has always been one of the most popular cars in the world as sales of more than 780,000 since its 2005 launch demonstrate; so when the new Citroen C1 appears on the scene, you need to sit up and take notice.

As Citroen continue to update and re-invent the brand, the new Citroen C1 is a good example of what they are trying to do as "an upbeat response to today's urban mobility requirements."

Available as both three and five-door versions, as a hatchback, and as a new open-top body style (Airspace) in three trim levels – Touch*, Feel and Flair - the new Citroen C1 has many headlining changes to it such as; Dynamic design lines and eye-catching headlights that help to characterise the model, bi-tone colour scheme availability and brightly coloured interiors in the Airspace version, greater comfort inside the compact yet spacious interior that allows for greater agility in everyday driving, greater ride comfort and handling, technology that is actually useful such as a 7-inch Touch Drive interface and Mirror Screen technology, keyless entry and start, a reversing camera if required, Hill Start Assist as standard, and a best-in-class fuel economy figure.

But let's take a little closer look at the New Citroen C1.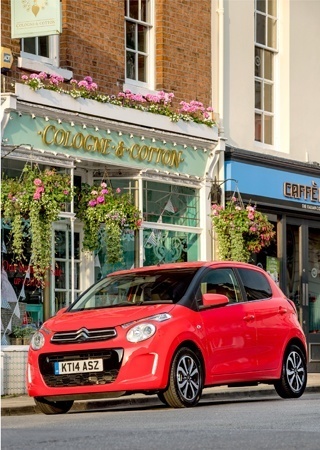 Aimed primarily as female drivers under the age of 30 as well as older couples looking to downsize, the new Citroen C1 combines "comfort, economy and functionality and the 'fun' choice, with customisable style, the latest technology and an enjoyable driving experience."

Stylewise, the New Citroën C1 for a compact little car, is surprisingly spacious, and looks stylish both inside and out, with the highlight looking like the seemingly continuous glass area from the windscreen into the side windows.

Citroen have made the front of the new C1 the point of contact with the WOW factor; the new two-part headlamp signature and integrated LED daytime running lights giving the car frontage a great big smiling imagery that, according to Citroen, emphasises the car's cheerful design and strong character. (Not that the backend is lacking though, with a glass tailgate and the newly designed square light clusters.)

14 or 15-inch wheels and covers, and 15-inch diamond-tipped alloys are available with the C1, giving the car an air of respectability and a touch of urban chic as you try to decide which of the 8 exterior colours (including 4 metallic shades) you want the car to be painted in.(Those colours are Metallic Smalt Blue (M), Metallic Caldera Black, Metallic Gallium Grey, Metallic Carlinite Grey, Tapenade Grey, Lipizzan White, Scarlet Red and Sunrise Red, the last of which, on the Flair trim, can be personalised with a choice of chrome door mirrors and door handles.)

The Airscape open-top body style is a great big step into the unknown for Citroen when it comes to the new C1, and is available in both three and five-door models. Running almost the entire length of the roof is the large canvas soft-top that measures 800mm x 760mm and is electronically controlled right up to full opening at all legal speeds – or when car is at a standstill.

Airscape versions of the new Citroen C1 have their own set of rules for colour as they are available in a bi-tone look – the roof available in a contrasting Sunrise Red, Black or Grey.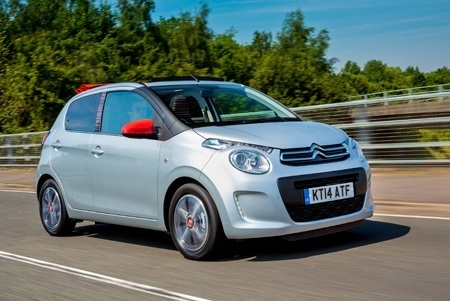 Spacial awareness is extremely important to the C1 designers and manufacturers – especially taking into consideration the compact nature of the car itself – and can carry up the four adults in complete comfort, both up front and at back. The compactness of the car is important though because, after all, it is a city car, and the electric power steering makes for easy handling, city parking and manoeuvring; aided and abetted by the tight turning circle radius of 4.80m.

Equipment in the new Citroen C1 helps to maintain that feel of dynamic, vibrant styling as there is no doubt that the Citroen designers have actually listened to customer by doing some of the useful yet obvious things.

Things like redesigning the seats to include an ergonomic, body-hugging shapes and enhanced side support with new levels of adjustment to aid comfort; putting more storage compartments throughout the cabin (and that includes more cup-holders and a glovebox with a lid); and making the functional 196-litre boot easier to access before improving the capacity to an impressive 780 litres by folding the rears seats down.

Automatic air conditioning (for the first time on a Citroen C1) – a first on the C1 range – and front seat memory (on 3-door versions only) are available as extras.

Technology is often the curse of drivers with technology for technology's sake being stuffed into a new car, but the new Citroën C1 features intuitive, easy-to-use technologies, most of which are available via a 7-inch Touch Drive interface that groups together all of the car's media functions (radio, telephone, on-board computer).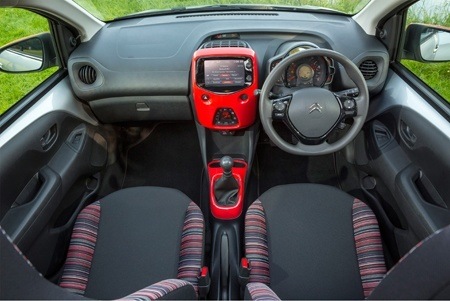 The car also has, for the first time ever in a Citroen model, Mirror Screen technology, which allows the motorist to copy their smartphone content onto the 7-inch Touch Drive interface for easy display and control via a downloadable app that allows you to connect to and share data via the car's USB port. This includes all navigation, telephone, address book, music, web radio and any other useful driving-compatible functions.

You can also throw in a reversing camera, keyless entry and start and Hill Start Assist into your standard technologies that you will find in the new Citroen C1; with a speed limiter and steering mounted controls also available.

ABS, EBA, ESC, Cornering Stability Control, six airbag and two rear Isofix mounting points also come as standard in the car to make sure that your journey is safe and sound.

Running Costs we all know are getting more and more important when you are making that all-important decision as to which car to choose – and the New Citroën C1 takes all this into consideration and comes up with the right answers.

Before we even put the engine power and workings into the equation, the fact that the Citroen C1 is lightweight and uses very low rolling resistance tyres gives it a bit of a headstart to happiness – and then there are Citroën's latest-generation of petrol engines to look at.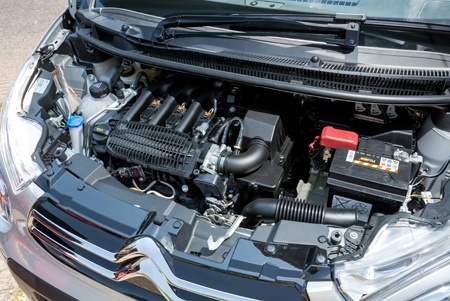 There's the VTi 68 engine with Stop & Start technology mated to a 5-speed manual gearbox that will give he driver a fuel economy combined cycle figure of up to 74.3mpg with just 88g/km of CO2.

There's the VTi 68 engine (non-Stop & Start) also with a manual 5-speed gearbox (with the option of an automated manual 5-speed ETG [Efficient Tronic Gearbox] that features a creep function and optimised pedal mapping that adjusts power effectively for smoother gear changes) that mirrors the fuel economy and emissions of its sibling.

And then there is a 1.2-litre, 3-cylinder, 82hp PureTech petrol engine that offers torque of 116 Nm at 2,750rpm, a 0-62mph acceleration time of 11 seconds, a combined cycle fuel economy of 65.7mpg and emissions of just 99g/km CO2.

Citroen C1 lease cars are available from Nationwide Vehicle Contracts here.

*Not available in Airscape