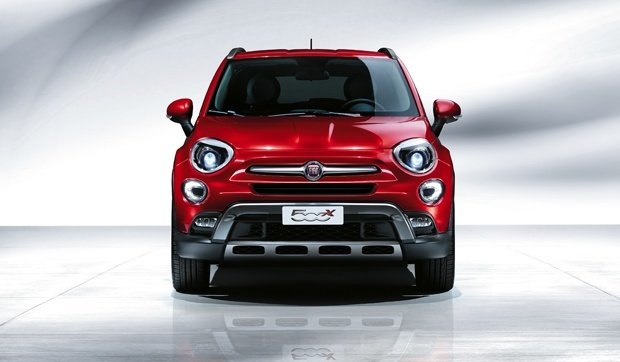 Following its world début at the Paris Motor Show, the new FIAT 500X is now available to lease; the latest addition to the FIAT 500 family!
Having been heavily promoted and expertly marketed by in-demand illusionist Dynamo, FIAT's new crossover is indeed that in more ways than just in car specification. With a choice of 12 different body colours and eight different designs for the 16-, 17- and 18-inch alloy wheels, and two options model in the shape of a metropolitan version and a more rugged one, the option to cross over in terms of potential customers is almost limitless.
Engines and Transmission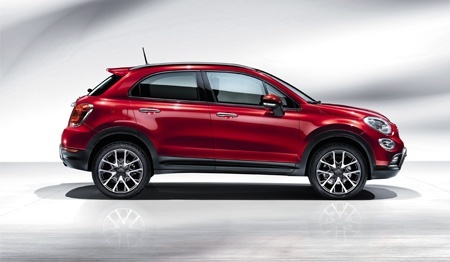 With that many options in mind when it comes to customers and potential drivers, the FIAT 500X attempts to become all things to all man (and woman) with a broad range of engines and transmissions that includes, for the first time ever in a FIAT vehicle, a new nine-speed automatic transmission.
But more about that later! Let's have a look at the engine range available.
For the new FIAT 500X in the UK, there are four petrol engines and three diesel.
When it comes to the petrol engines, there are differing options for front- and all-wheel drives. For the front-wheel drive, petrol-powered models there is the option of either a 110hp, 1.6-litre "E-torQ" engine with a five-speed manual gearbox or a 140hp, 1.4-litre Turbo MultiAir II petrol engine with either a six-speed manual or a six-speed twin-clutch transmission. And for the all-wheel drive petrol models, equipped with a nine-speed automatic transmission as standard, there is a 170hp, 1.4-litre Turbo MultiAir II engine.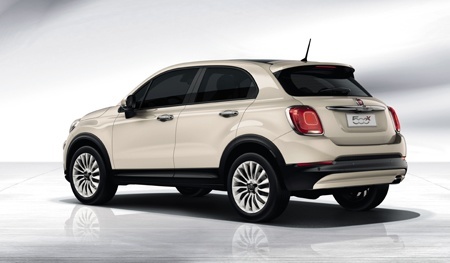 For the diesel driver, once again there are options for front- and four-wheel drive option. The 95hp, 1.3-litre MultiJet II turbo diesel, equipped with a five-speed manual gearbox and the 120hp1.6-litre MultiJet II turbo diesel equipped with a six-speed manual gearbox are there for the front-wheel drive range; while the four-wheel drive diesel option is the 140hp, 2.0-litre MultiJet II turbo diesel, available with a six-speed manual or nine-speed automatic transmission.
The new, electronically-controlled, nine-speed automatic transmission features "shift-on-the-fly" mapping which enables the driver to switch to manual-sequential mode, with the four-wheel drive system able to seamlessly switch between two- and four-wheel drive. Altogether this means that the car is able to offer sure-footed and dependable handling in all conditions with power being delivered smoothly throughout.
The Driving Experience
Power is aided and abetted by the MacPherson rear suspension in the FIAT 500X, fully engineered to "strike an optimal balance of handling and comfort" along with some of the finest and latest active safety systems available, including:
Front headlights with DRLs
Front fog lights with adaptive cornering
Sophisticated ESC (Electronic Stability Control)
Lane Assist (lane departure warning system)
Blind Spot Assist (lane change assistance system)
ParkView reversing camera
"Brake Control" assisted braking system.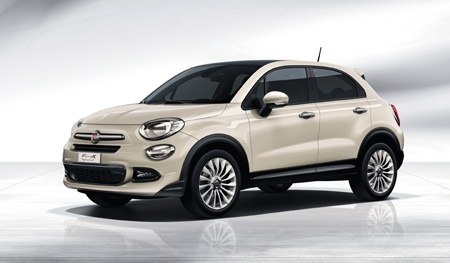 And there is plenty of use for these on journeys as the driving experience can be personalised and adapted, depending on how the driver wants to drive and the prevailing driving conditions, by using the FIAT 500x's Drive Mood Selector.
With this, the FIAT 500X offers up three different modes for engine, brakes, steering and gearbox/transmission settings:
AUTO offers the driver the very best option when it comes to comfort, consumption and CO2 emissions
SPORT pretty much does what it suggests in that it reconfigures the FIAT 500X to give a better performance with more spirited handling.
ALL WEATHER adjusts the settings within the FIAT 500X to ensure maximum safety even in low grip conditions. (This mode is replaced by a TRACTION mode on the available more rugged FIAT 500X version by speeding up the transmission of torque to the rear axle on four-wheel drive versions or activating the "Traction Plus" control system on front wheel drive versions.)
The FIAT 500X also offers eco:Drive™, which can help reduce emissions and fuel costs by up to 16%.
The FIAT 500X look and life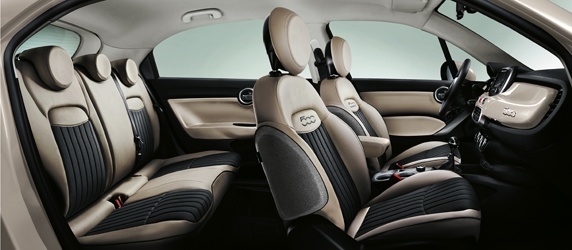 Compact on the outside, yet spacious and inviting on the inside, the FIAT 500X is jam-packed full of high-grade materials, top-quality finishes and practical storage compartments – including a spacious 350 litre luggage compartment.
And that space can be increased thanks to a high degree of flexibility with the seats!
Depending on the model and exterior colour, seven different interior fabric, leather and colour configurations are available, allowing inhabitants to enjoy a comfortable ride in outstanding conditions as they enjoy the infotainment that the FIAT 500X offers.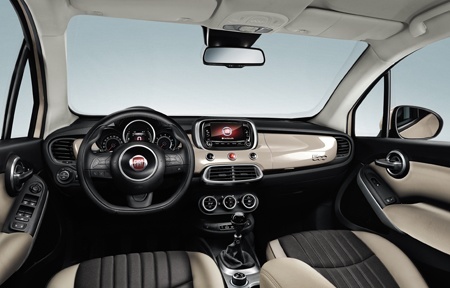 And that infotainment comes courtesy of a sophisticated 5.0" or 6.5" Uconnect™ colour touchscreen infotainment system, both of which feature Bluetooth, aux-in and USB connectivity and can be operated via steering wheel remote controls and voice commands. The 5" Uconnect™ unit comes with TomTom 2.5D navigation while the 6.5"system features satellite navigation with 3D maps, progressive route guidance and 'One Shot Voice Destination Entry' to enable the driver to enter addresses with voice commands. DAB and a Beats Hi-Fi system, developed in collaboration with Beats by Dr. Dre, are also available.
There are also plans to make available in the UK a new Uconnect™ Live system that will allow both drivers and passengers to use many apps on the on-board system through their Smartphones, including Facebook, Twitter, Deezer, TuneIn, Reuters updates and the ultra-useful TomTom Live service.
Visit our FIAT 500X Leasing Page to see what offers are available from Nationwide Vehicle Contracts