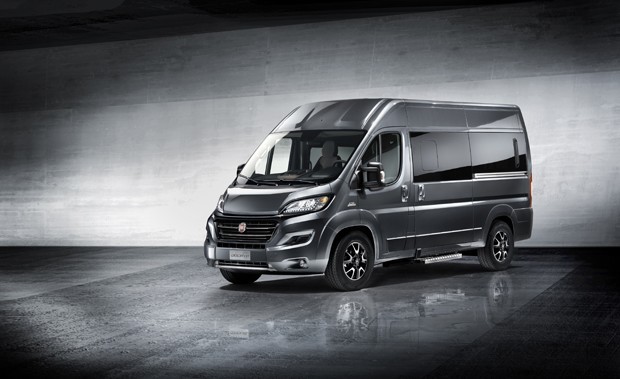 The Fiat Ducato has always been a great choice for working professionals, backed up by the fact that it is one of the best-selling vans on the market, having notched up 2.6 million sales since its 1981 launch. And now that Fiat Professional have launched the 6th generation of this hugely successful LCV, sales in Europe and the other 80 international regions in which it is now on sale, that trend is pretty much nailed on to continue.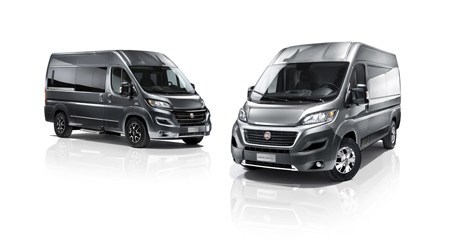 What's New?
It looks a little different without losing the Fiat Ducato look, with sophistication mixing with dynamism, quality, safety and robustness. New features at first glance include an all-new front end with new DRL headlamps (with optional LEDs), a bold new grille design available in satin silver or piano black, a new three-part front bumper, new bonnet, skid plate and new alloy wheels; in fact, it brings to mind the phrase "we can rebuild him." (Give yourself a big pat on the back if you know which TV show that is from!)
And inside the cabin – you have two choices there; Classic or Techno – you'll find styles of refinement and elegance. Again the word 'NEW' appears quite a lot in description with new seats (that give the van a 'car' feeling inside), new and large cup holders, and a new (segment-exclusive) Multifunction Tablet Holder which can safely secure any one of a variety of devices such as smartphones and tablets, as well as normal pads of A4 paper – perfect for the worker in you!
That's Not All Inside
Keeping up with the latest technology, and keeping up with the Joneses at the same time, the new FIAT Ducato is packed to the rafters (or at least the roof) with content like state-of-the-art safety and driving assistance devices, new infotainment systems with Bluetooth technology and MP3 playback as standard (and a five-inch colour touchscreen, reversing camera, built-in navigation and DAB digital radio in the more exclusive models), an electronic stability control (ESC) system as standard, a rollover mitigation system, Load and Centre of Gravity Detection (LAC), Hill Holder, anti-slip (ASR) and electronic braking assistance (EBA) systems.
If that's not enough safety for you, how about the standard dual-mode Servotronic power steering to improve maneuverability and the extras available Traction+ (complete with Hill Descent Control), lane departure warning system and road sign recognition system? The Fiat Ducato could certainly lay some sort of claim to being one of the safest vans on the road.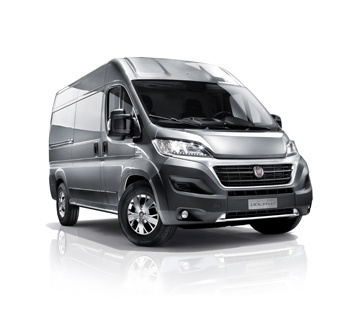 Economy and Ecology?
With Green Credentials and ever-increasing importance of fuel consumption, the boys and girls at Fiat Professional have worked hard to make sure that the new Fiat Ducato can stand shoulder to shoulder (or bumper to bumper) with the very best. In fact, emissions have been reduced, and fuel economy reduced by 10% right across the Euro 5+ engine range. I

Emissions for the entry-level 2.3 MultiJet II 110hp are as low as 170g/km (with a fuel economy figure of 44.1 mpg on the NEDC cycle) and for the 2.3 MultiJet II 130 (producing 130hp and 320Nm) and the 2.3 litre MultiJet II 150 (150hp and 350 Nm) it is just 164g/km with economy of 45.6 mpg when equipped with optional Start&Stop. For heavier duties, the 3.0 MultiJet Power 180 offers up an impressive 180hp and 400Nm of torque, CO2 emissions of 203g/km and a fuel economy figure of 36.7 mpg.

All Fiat Ducato models come with a six-speed manual transmission as standard, but there is a ComfortMatic transmission available on all but the entry-level 2.3-litre unit.
Can It Do A Job?
Is that a serious question?

Of course it is, because it has to be asked; and the answer is a very loud shout of 'YES!" The Fiat Ducato has been tested for reliability and robustness extensively throughout the world by experienced Fiat Professional engineers, putting the new body and chassis reinforcements to the sternest of tests along with the improved braking and performance, and enhancements to the lifespan of the suspensions and clutch.

And finally, if there were any more doubts lingering in your psyche about the suitability of the Fiat Ducato for your business, the fact that the new Ducato from FIAT Professional offers the widest front-wheel-drive range on the market (10,000 variants available to customers across its commercial vehicle, passenger transport and conversions chassis versions) should dismiss them to the furthest parts of your brain, before being ejected by the news that the van range offers eight different load capacities, ranging from 8 to 17 m³, four lengths and three different heights.

The only decision to make is which one to choose.