The SUV market is becoming more and more competititive and car manufacturers are continually looking for that little bit extra in their vehicles that make them stand out so that drivers will want to drive them. Being unique is the hardest thing, but FIAT believe that in the FIAT Panda Cross that they have a car like no other!

With SUVs currently accounting for around 20% of the total car market in Europe (as opposed to 7% back in 2006), there are many different models to choose from all with varying USPs, so when FIAT announce that the new FIAT Panda Cross combines "the genuine capabilities of a proper off-road vehicle with the efficiency and practicality of a versatile city car".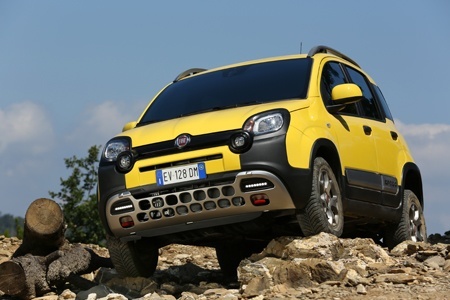 Based on the award-winning FIAT Panda 4x4, the Panda Cross has been technologically upgraded to make it the most capable vehicle in its class when it comes to the 4x4 requirements, yet also maintains a large degree of practicality when it comes to day-to-day use, low running costs and general flitting about – not to mention a large slice of pleasure in there. And that's not including the changes to the actual construction of the car with obvious external changes that help to protect the bodywork, lights and mechanical components – an obvious clue as to one of the real reasons why you would want to be driving a FIAT Panda Cross.

FIAT has more than 30 years of experience when it comes down to city car innovation when you remember that it was the FIAT Panda that was the first car in the segment to offer all-wheel drive in its segment; the first to be powered by diesel, methane and LPG; and the first to offer City Brake Control in a city car. So when FIAT bring out a new version of the FIAT Panda that is both city-road and off-road, mere reputation says that we should have a good look at it.

The new FIAT Panda Cross

The range-topping Panda 4X4 versions have always been versatile and stylish, right from the start with the FIAT Panda 4X4 Steyer-Puch special edition of the late 80s right up to the previous-generation 2006 FIAT Panda Cross, and the new FIAT Panda Cross is no different.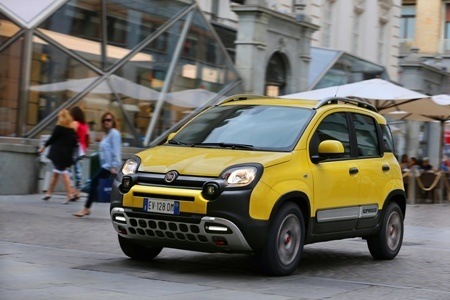 It's distinctive from the very start with the front end dominated by a chunky new bumper with scratch-and-bump-resistant corner sections and a large, functional "ultrashine" skidplate embellished with a pair of easily-accessed tow hooks, finished in brilliant red, and new LED daytime running lights that can be found safe and sound in protective recesses. The vehicle also features new fog lights, a redesigned bonnet trim, protective wheel arch extensions, thick side mouldings with "ultrashine" inserts, matching roof bars and 'Cross' badging in the rear door inserts.

When it comes to the wheels, the 15" alloys display a five-spoke V design and a burnished metal finish, complimenting the rear end of the Panda Cross which benefits from a new bumper with "ultrashine" under-body protection, distinctive new light clusters and a chrome tail pipe.

The look of the interior is as much a part of the unique character of the FIAT Panda Cross as the exterior: The seats feature brown eco-leather bolsters (which match the brown door panels) while the dashboard contrasts the striking new silver "ultrashine" finish of the instrument surround, audio system facia and centre console with a new copper colour.

And when it comes to driving...

In the aforementioned "ultrashine" centre console is the unique Terrain Control drive selector which allows the driver to adjust how the car drives depending on how it being used by offering three modes: Auto, Off-Road and Hill Descent Control.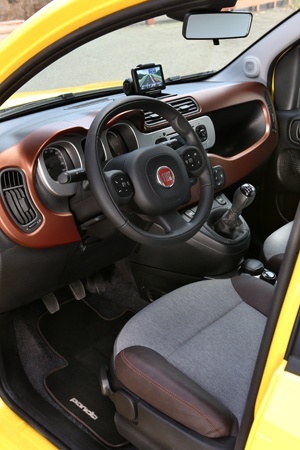 Auto mode automatically distributes the engine torque between the front and rear axles without requiring any input from the driver. It can detect when traction isn't as good and uses an electro-hydraulically controlled, multi-plate central differential to re-direct the torque output to where it is needed – although admittedly the FIAT Panda Cross is 98% front-wheel drive on the majority of the UK roads.

But when off-roading, and the FIAT Panda Cross is in Off-Road mode, the all-wheel drive function is permanently activated up to 30 mph to make sure that any reaction required is immediate. Not only that but the Electronic Locking Differential (ELD) is engaged, ASR intervention is disengaged and the ESC system used to improve traction when it is slippery underwheel (e.g. snow, ice, gravel or mud) as the engine's torque is transferred to those wheels with the most grip.

And the final mode is Hill Descent Control (HDC) which automatically activates when the speed drops below 15mph and remains in standby mode up to 30mph. By using the Panda Cross's ESC sensors and ABS brake system to keep up a constant speed those unexpected yaw movements on tricky downhill terrain are avoided with no input from the driver other than having to steer.

To help with anything that the world can throw at it, the FIAT Panda Cross has versatile all-season 185/65R15 Mud & Snow tyres that have been specially developed to ensure optimum traction and responsiveness on wet and dry surfaces, as well as snow-covered roads, but are also developed to work just as well when off-roading. Larger than the tyres that were used on the Fiat Panda original, they work with the redesigned bodywork and specific springs to increase the ground clearance to 161 mm for the TwinAir version and 158 mm for the MultiJet model, at the same time increasing approach, departure and breakover angles to 24, 34 and 21 degrees respectively. This means that the FIAT Panda Cross is able to tackle a maximum gradient of 70% and lateral gradients of up to 55% without considerable effort.

No worries about damage to the vehicle either whilst off-roading as the FIAT Panda Cross has protective, steel, underbody shields which allows the driver to tackle genuinely tough terrain without damaging essential components – and for those wetter than normal moments (such as river crossing or flooded roads) the air intake duct for the engine is raised by 739mm in the diesel version and 711mm in the petrol version.

Power to the Panda

Even the engines on the new FIAT Panda Cross have been upgraded.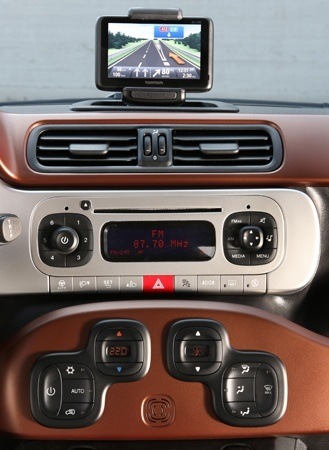 The 0.9-litre TwinAir Turbo engine has had its maximum power increased to 90hp at 5,500 rpm (up from 85hp) and maximum torque is 145 Nm (107lb. ft.) between 1,900rpm and 3000rpm; acceleration from 0-62 mph is increased to 12.0 seconds with a top speed is 104mph; and on the combined fuel economy cycle it returns 57.6 mpg (4.9 litres/100 km) with CO2 emissions of 114g/km. Fitted with a unique six-speed gearbox which has a shortened first gear to enable the vehicle to crawl while the engine is idling, the 0.9-litre TwinAir Turbo engine fits in perfectly with the Panda Cross in the most challenging of conditions.

And in diesel mode, with the 1.3-litre MultiJet II Turbo-Diesel engine with DPF as standard, there is also a power boost (by 5hp to 80hp at 4,000 rpm) with maximum torque up to an impressive 190 Nm (140lb. ft.) at just 1,500 rpm. Fitted with a fixed geometry turbocharger and an intercooler, this second generation MultiJet power unit can propel the FIAT Panda Cross from 0-62mph in 14.3 seconds all the way up to a top speed of 99mph, returning, on the combined fuel economy cycle, 60.1 mpg (4.7 litres/100 km) with CO2 emissions of 125g/km.

Standard equipment

Naturally, you will also want to know what the FIAT Panda Cross has on offer when it comes to standard equipment; and the list is pretty comprehensive.

It includes (deep breath); automatic climate control; Blue&Me™ Bluetooth connectivity with a USB port and steering wheel controls; a satellite navigation dock; heated electric door mirrors; remote central locking; split rear seat with rear head restraints; height-adjustability for the driver's seat and steering wheel; front fog lights; a leather steering wheel and gear knob; ESC system complete with ELD and Terrain Control and specific 15-inch alloy wheels with a burnished finish and all-season 185/65R15 M+S tyres.

Optional extras include; a Winter Pack that includes a heated windscreen and heated front seats); rear parking sensors; tinted rear windows; and the innovative City Brake Control system, winner of the 'Euro NCAP Advanced' reward for its contribution to road safety in 2013, which kicks in at speeds of up to 19mph and uses a LIDAR laser sensor to detect the presence of vehicles or obstacles in front of the car and can automatically activate the Automatic Emergency Braking (AEB), Brake Prefill and Brake Assist systems if the driver fails to intervene promptly.

The 2014 FIAT Panda Cross is available here in the UK in early October – just in time for wet weather, icy weather, off-roading weather...