ACTUALLY IT IS BOTH!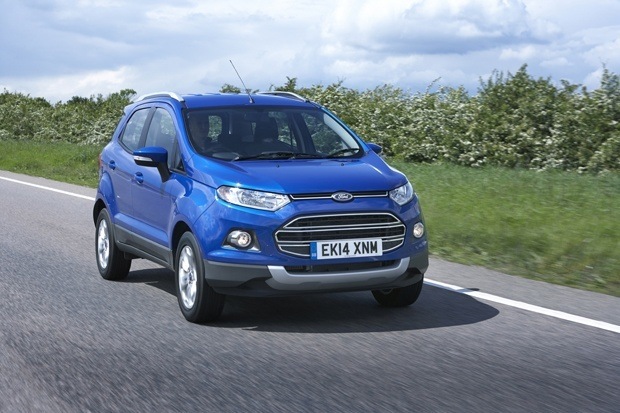 If you are looking for the very best combination of small car agility, affordability and fuel efficiency, and SUV flexibility and space then you need to be looking at the all-new Ford EcoSport SUV, the first SUV in the world to offer a 1.0-litre engine.
"The all-new Ford EcoSport delivers a clever and connected small car for our European customers,"
said Nick Fitzgerald, EcoSport chief programme engineer.
"Ford's new urban SUV is economical, flexible and stylish, and will line-up alongside the new B-MAX compact multi-activity vehicle, the best-selling Fiesta to complete Ford's comprehensive small car line-up for the UK."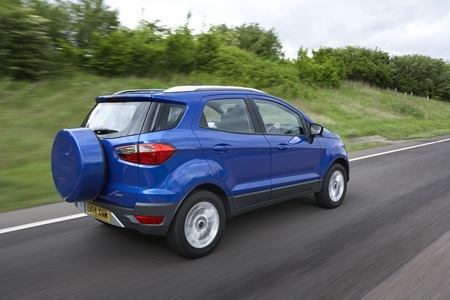 Developed entirely in South America, since its introduction to the global market in 2003, the Ford Ecosport has sold over 770,000 models in Brazil; and now Ford engineers and designers have combined the talent from over 16 different countries to create this all-new EcoSport, handily launched into a European market that has an increased demand for SUVs. In fact, Ford has projected figures that suggest that in the 5 years between 2013 and 2018 sales of all SUVs in Europe will increase by 22% - with smaller SUV sales (into which bracket the Ecosport falls) increasing by a massive 90%.
"It's in Ford's DNA to engineer class-leading SUVs,"
Fitzgerald said.
"EcoSport has already achieved iconic status in South America and now Ford will extend its UK range to introduce this rugged-looking, surprisingly spacious and affordable SUV."
SO WHAT ARE WE LOOKING AT WHEN IT COMES TO A SOUTH AMERICAN MODEL TRYING TO MAKE IT IN EUROPE?
(We're not talking Alessandra Ambrosio or Sofia Vergara, but the Ford Ecosport)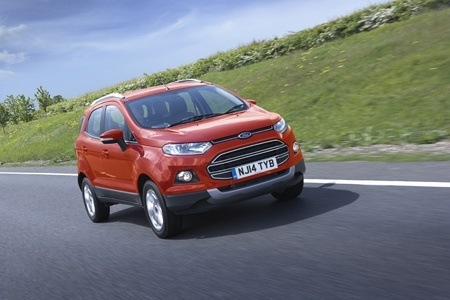 Ford are positioning the Ecosport as their first global SUV, so there is a bit of pressure on the stylish and practical car that comes complete with a short bonnet, raked front pillars, distinctive five-piece chrome front grille with angular headlamps and signature LED light strips.
With the full-sized spare wheel being attached to and mounted on the tailgate you will find that space inside rivals that of medium sized SUVs with the rear seats are in place allowing 375 litres of space at the most, dependent on seat angles. There's also 20 smart stowage solutions scattered around the car, including room in the door pockets to store a large drinks bottle, a slide-out drawer under the front passenger seat, and a cooled glove box that can store up to six 350ml drink cans.
And when it comes to driving the car...
The driver's seat, commanding as it is, is adjustable in height with the steering column also movable, and gets the driver ready to make use of the highly-acclaimed turbocharged 1.0-litre EcoBoost petrol engine – three times winner of International Engine of the Year – to make those journeys just fly by as the engine performs just like a traditional 1.6-litre engine, but with significantly better fuel efficiency and lower CO2 emissions.
There is also a a 125PS 1.0-litre EcoBoost engine available (that can offer up 53.3mpg and 125g/km CO2) and a 112PS 1.5-litre petrol engine with capacity for 44.8mpg and 149g/km CO2 specified with a five-speed manual gearbox or with a six-speed automatic gearbox. When it comes to diesel there's an option for you too with a 90PS 1.5-litre diesel engine that manages 61.4mpg with 120g/km CO2 emissions.
So maybe you could call the Ford Ecosport the SUV-version of the much lauded Ford Fiesta?Well connected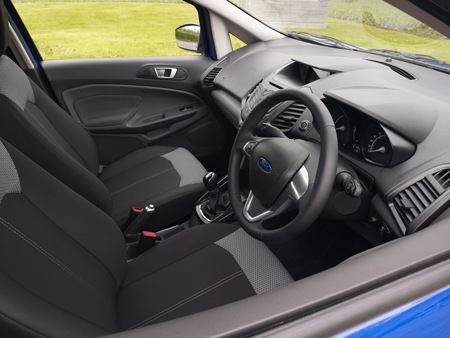 Cars need to be part of some national network in these days of driverless cars (Don't worry: this isn't one of them!) and besides featuring Hill Start Assist, Cruise Control, automatic wipers and headlights, and rear-parking sensors, the Ford Ecoboost also has all the benefits of a Ford SYNC in-car connectivity system that enables "voice-activation of phone calls and music selection from devices connected via Bluetooth or USB."
Not only that but inside the system is Ford SYNC Emergency Assistance that contacts local emergency officers immediately that an accent has happened – and in the right language for where you are!
So is it a city car or an SUV?
As I said before; BOTH! But there have been a lot more tests (20,000 in fact) when it comes to computerised scenarios all over the world before the real road tests in South America, North America, Asia and Europe, covering over 1,000,000 miles of road in temperatures ranging from 50deg C to -25deg C, and at altitudes of up to 4,300m.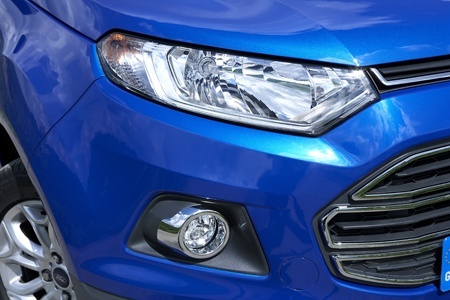 The fact that the Ford EcoSport has (un)surprising agility and ability means that whether it is the tough urban city streets that copywriters love to imagine complete with dangerous potholes and high kerbs, or the narrow, twisting, uneven rural roads of whatever country it is in, the Ecosport can handle it.
Wrong way? There is a 10.6m turning circle. Wet weather? The EcoSport has front and rear skid plates. And increased ground clearance too!
And you want safety too? Of course you do!
Already the new Ford EcoSport has a four-star Euro NCAP safety rating, and this will be partly because of the driver, passenger, curtain and side airbags – as well as a driver's knee airbag – as standard.
And the other part may well be because of the high-strength boron steel in the door frames to provide a high strength safety cell, systems such as Traction Control, Electronic Stability Program, Anti-Lock Brakes, Electronic Brake-Force Distribution, Emergency Brake Assist, Tyre Pressure Monitoring System and Passenger Airbag Deactivation Indicator.
And you now want one of these. Nationwide Vehicle Contracts suggest you look at their site to see the
very latest offers
when it comes to the Ford Ecosport.