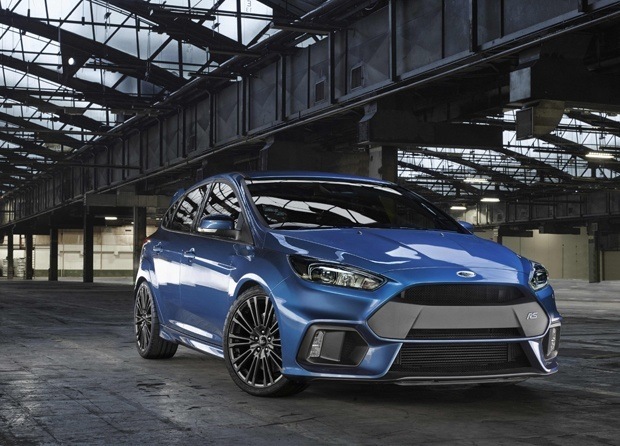 Having made its debut at the Geneva Motor Show back in March this year, Ford's all-new Focus RS is ready to make its first appearance on a British forecourt very soon - and at Nationwide Vehicle Contracts we are readying ourselves for some unbridled excitement as the UK's 3rd best-selling car reveals its latest incarnation, and joins our already extensive list of Ford Focus cars available to lease.
Pioneering the innovative Ford Performance All-Wheel-Drive system, this high performance road car will deliver class-leading cornering speed, thrilling performance and unbridled driving enjoyment, and is the first Ford RS equipped with selectable Drive Modes – including an industry-first Drift Mode – and Launch Control.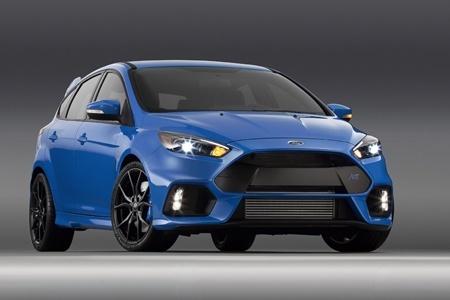 "The all-new Focus RS is a serious machine with high-performance technology and innovative engineering that sets new benchmarks for driving exhilaration on the road and track," said Raj Nair, group vice president, Global Product Development, Ford Motor Company. "The RS line has a proud history of technical breakthroughs that have migrated to mainstream Fords to benefit all of our customers, and the new Focus RS is no exception. It's a great example of our passion for innovation through performance and creating vehicles that make people's hearts pound."
Set for a battle for the hearts and minds of the UK public with the upcoming Honda Civic Type-R, Mercedes A 45 AMG and Audi RS3, the new Focus RS is the third generation of Focus RS cars, and is the 30th car to wear the legendary RS badge, following such technology trendsetters as the 16-valve 1970 Escort RS1600, the turbocharged Sierra RS Cosworth of 1985, and the four-wheel-drive 1992 Escort RS Cosworth. But more importantly it is the latest in a long line of Ford vehicles that the car manufacturer plans to bring to the global customer before 2020 to help deliver the company's One Ford plan for profitable growth, product excellence and innovation in every part of its business.
As Jim Farley, Ford Motor Company executive vice president and president Europe, Middle East and Africa, says: "The new Focus RS represents Ford at its passionate best – delivering innovation, unmatched driving dynamics and stunning performance that was previously only available with high-priced performance luxury marques and exotics. We are acutely aware of the benchmarks we have set ourselves with RS performance models through the years, and rest assured that this new car raises the game to a new level."
The Drive
As you would expect from an RS, the all-new Focus RS is a dream to drive as the car exploits the innovative Ford Performance All-Wheel-Drive with Dynamic Torque Vectoring to allow handling of a different calibre along with outstanding traction and grip, and unmatched agility and cornering speed.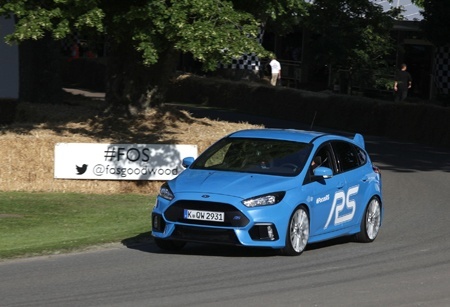 Twin electronically-controlled clutch packs on each side of the rear drive manage the car's front/rear torque split, with the control unit in the rear drive unit continuously varying the front/rear and side-to-side torque distribution to ensure the correct ratio to match the driving situation at the time.
The AWD system has been tuned to deliver both exceptional grip and class-leading cornering speed and acceleration out of a bend, giving the driver a driving experience not to be forgotten.
"This AWD system is a breakthrough technology, capable of delivering supreme cornering and handling at the limit," said Dave Pericak, director, Global Ford Performance. "We have ripped up the rulebook which says that AWD hatchbacks cannot be fun to drive, and have created a car which will surprise and reward in equal measure."
And to help deliver optimum driving dynamics, the new Focus RS features Electronic Stability Control, sports suspension with stiffer spring rates, two-mode switchable dampers, a carefully tuned electric power-assisted steering system, optimised front suspension knuckle design and shorter steering link arms, and a choice of high-performance Michelin 235/35 R19 tyres.
The Performance
With an exterior design developed to create optimum aerodynamics when it comes to the front splitter, rear spoiler and underbody, the final design of the car "delivers a balanced performance with zero lift front and rear for optimum high-speed handling and stability" that is 6% more aerodynamic than before with 9% less drag. This, of course, not only improves performance but also reduces fuel consumption.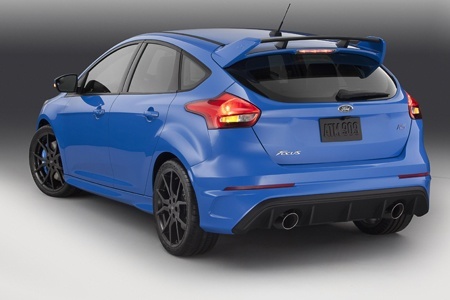 "This is the ultimate Focus – stunning to look at, and entirely fit for purpose," said Joel Piaskowski, director, Design, Ford of Europe. "RS models have always been striking, high-performance cars where function is paramount. This new Focus RS is true to that heritage."
Based on the new Focus that is also appearing on forecourts (and for lease) at around the same time, the new Ford Focus RS has a powerful new front-end appearance with a bold upper trapezoidal grille ; a wide, muscular stance is emphasised by the lower wings and large outboard openings on each side of the car; and a large diffuser and roof spoiler at the rear. And all of this is topped off by , which feed the brake cooling ducts and house vertically-mounted fog lamps. subtle embossed RS logo.
Available in five striking exterior colours include Nitrous Blue, a vibrant four-coat metallic finish exclusive to the RS, as well as Stealth Grey, Shadow Black, Magnetic Grey and Frozen White, the car features standard Bi-Xenon HID headlamps that fall into the remit of the Adaptive Front Lighting, which adjusts intensity and angle according to vehicle speed, steering angle and distance to objects; and Active City Stop automatic braking technology can be used and set to operate at speeds of up to 31 mph.
Performance is also enhanced by the use of advanced driver assistance technologies that includes four different Drive Modes for the optimum drive - whatever the road or circuit driving conditions.
Each of the four modes - Normal, Sport, Track or Drift - can be selected using a carefully-located switch alongside the gear lever, with each of them responsible for specific settings for the all-wheel-drive (AWD) system, damper controls, Electronic Stability Control system, steering and engine responses, and exhaust sound.
"The all-new Focus RS is exhilarating to drive, and is also a car where performance is accessible to all. This is a car that is easy and enjoyable to use every day," says Dave Pericak.
Safety is kept in mind too alongside performance with the all-new Focus RS featuring 350mm ventilated front brake discs and lightweight aluminium Brembo four-piston monoblock callipers, along with maximised brake cooling via both the front fascia cooling ducts and aerodynamically optimised ventilation fins.
The Powertrain
Nearly every new Ford vehicle is powered by Ford's EcoBoost technology, and the new Focus RS is no different, boasting a 2.3-litre EcoBoost engine that delivers well in excess of 320PS.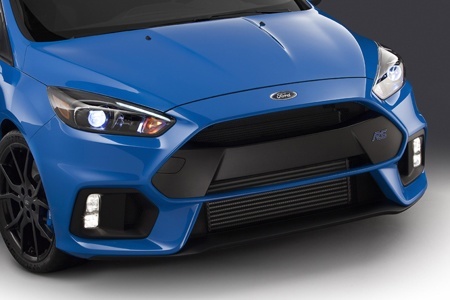 Featuring some significant upgrades as befits the car that it powers (such as a new low-inertia twin-scroll turbocharger) along with a specially tuned sound character all of its own, as Dave Pericak says: "This very special 2.3-litre EcoBoost unit will inspire drivers as they feel the surge of the turbo, and reward them as they take it to the red line – all delivered with a stirring sound guaranteed to put a smile on your face.,"
The six-speed manual transmission has been optimised for the enthusiast driver with a shorter gear lever and revised mechanism to deliver faster and more accurate shifts. Both the transmission and the clutch have been upgraded with stronger components to cope with the engine's increased torque output.
The high-efficiency EcoBoost engine features direct fuel injection, twin independent variable camshaft timing and advanced turbocharging, along with a six-speed manual transmission that has been optimised for the enthusiast driver; yet the car still manages to deliver some particularly impressive (and improved) fuel consumption figures along with reduced CO2 emissions courtesy of the standard Auto-Start-Stop fittings.
The Interior
As you would expect from a high-performance car, the performance and character is reflected in the interior with heavily-bolstered partial-leather Recaro sports seats, a distinctive RS theme, and redesigned Focus control layout with its simpler, more intuitive design as the focus of attention for the new Focus.
Complete with SYNC connectivity and a high-definition, 8" inch colour touchscreen, the interior also features a Sony premium sound system with 10-speakers including a subwoofer.
The experience of driving the RS is reinforced by a new flat-bottomed steering wheel with a soft-feel leather covered rim, alloy foot pedals, unique instrument graphics within the main cluster, and an additional bank of gauges above the centre console that display turbocharger boost pressure, oil temperature and oil pressure.
"The all-new Focus RS is true to the core RS principles of innovative engineering and high performance. Driving enthusiasts have always aspired to own RS vehicles, and this is a heritage that inspires everyone within Ford," said Joe Bakaj, vice president, Product Development, Ford of Europe.
Keep an eye on our leasing deals available for the Ford Focus for more details as to the availability of the new Ford Focus RS.