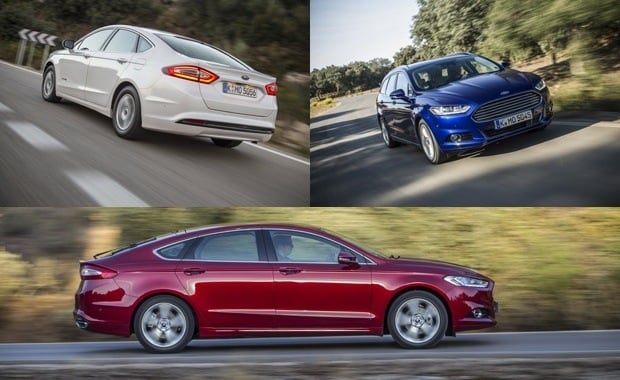 The Ford Mondeo has been going for 21 years, and now is the time that it comes of age with a new version that features the car's widest and most technologically advanced powertrain range, complete with an unprecedented choice of refined, low CO2 and high performance engine options.

Amongst the engines are the first Mondeo petrol-electric hybrid, Ford's multi-award-winning 1.0-litre EcoBoost, the first 1.0-litre petrol engine in the Mondeo segment, and enhanced 2.0-litre TDCi diesel engines with reduced CO2 and NOX emissions.

Joe Bakaj, vice president, Product Development, Ford of Europe, explains more: "With cutting-edge powertrains like the award-winning Ford 1.0-litre EcoBoost, our first hybrid to be built in Europe, and new twin-turbocharged high-power diesel, we've improved fuel efficiency and CO2 without sacrificing the power and driving experience Mondeo customers have come to expect. The new generation of Mondeo delivers the right option under the bonnet for every driver."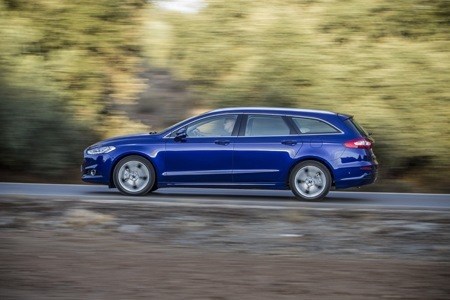 Amongst those options you'll also find Ford's new 1.5-litre EcoBoost petrol engine, a 1.6-litre TDCi diesel with class-leading CO2 emissions, and an optional high-powered 2.0-litre TDCi diesel engine that features twin sequential-turbocharging and delivers 210PS and 450Nm of torque.

Every Mondeo that features a diesel engine at launch will be able to boast sub-130g/km CO2 emission options supported by standard Auto-Start-Stop technology right across the range – including, for the very first time, those models that feature automatic transmissions.

And all Mondeos will also have Ford Intelligent All-Wheel Drive available too!

Award-winning EcoBoost technology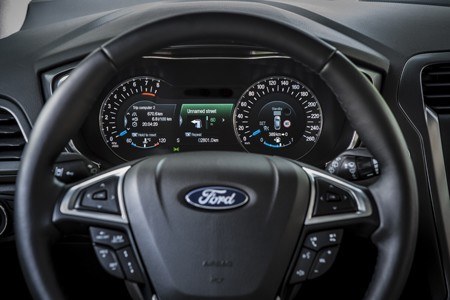 The all-new Mondeo is actually the first car in its segment to be equipped with a 1.0-litre petrol engine – and what a petrol engine! Ford's 1.0-litre EcoBoost engine was named International Engine of the Year in 2014 for an unprecedented third time in a row, and will become an integral part of the Mondeo engine line-up early next year with 125PS and CO2 emissions of just 119g/km.

For those of you unfamiliar with the 1.0-litre EcoBoost, this is the Ford-developed engine that delivers the power of a larger engine with core EcoBoost technologies that includes high-pressure direct fuel injection and Twin-independent Variable Cam Timing. (For the more engine-head amongst our readers there is also the information that a low inertia turbocharger spins at up to 248,000rpm - more than 4,000 times per second - and almost twice the maximum rpm of the turbochargers powering 2014 F1 race car engines.

The internal efficiency of the engine is made better by the use of a split cooling system with separate circuits for the aluminium head and iron block, low friction coating for engine internals, a cambelt-in-oil design, and an ECU-controlled variable displacement oil pump that tailors lubrication to demand and optimises oil pressure.

Achieving a peak torque of 170Nm available from 1,300rpm combined with a six-speed manual transmission the 1.0-litre EcoBoost achieves a computer-tested fuel efficiency of 55.4mpg.

The all-new Ford Mondeo will also be available with Ford's new 1.5-litre EcoBoost petrol engine under the bonnet alongside a choice of a six-speed manual or six-speed automatic gearbox. This engine is capable of delivering 134g/km CO2 – an 11% reduction when compared to the previous 1.6-litre EcoBoost petrol engine – and fuel efficiency of 48.7mpg – all whilst continuing to deliver 160PS.

"The new 1.5-litre EcoBoost petrol engine offers customers the very latest EcoBoost engine technologies in a smarter and more efficient package," Bakaj said. "More economical, smoother-running and free-revving, this new EcoBoost engine delivers an even more compelling option for drivers who love petrol performance and want low running costs."

And using the old maxim of "If it ain't broke, don't fix it", the Ford Mondeo will continue to be available with Ford's 2.0-litre EcoBoost petrol engine, offering 240PS and a six-speed automatic transmission. It has been improved by the addition of Auto-Start-Stop for the first time – which means that every Mondeo engine now has the fuel saving technology - reducing the 2.0-litre EcoBoost CO2 emissions by 6%.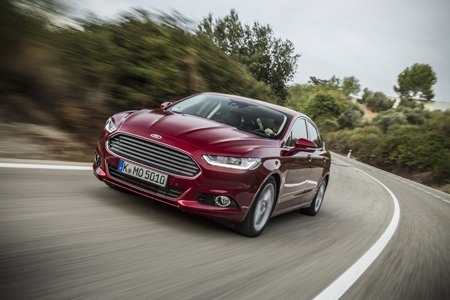 Enhanced diesel performance

And now to the diesel engines – now all with sub-130g/km CO2 emissions.

Right at the start Ford offer a revised 2.0-litre TDCi diesel engine with adjustable Variable Nozzle Turbocharger technology (to optimise boost at different engine speeds) to Mondeo customers with 150PS or 180PS as part of the diesel range. This powertrain now comes with a revised engine block, new cylinder-head design, new fuel injection design, and Ford's lean NOX trap exhaust after-treatment system to give out even cleaner emissions.

There is also an Active Thermal Management System that is able to improve warm-up times by supplying cooling to specific components on-demand to reach peak efficiency faster; and a variable oil pump that reduces parasitic losses by increasing oil pressure on-demand.

Both the 150PS and 180PS 2.0 TDCi versions are available equipped with six-speed manual or six-speed PowerShift automatic transmissions, and when used in ECOnetic form they are able to deliver 107g/km CO2 emissions and 68.9mpg fuel efficiency.

Both the 150PS and 180PS diesel engines are available equipped with Ford's Intelligent All-Wheel Drive system that not only measures how the car's wheels are gripping the road surface every 16 milliseconds, and can adjust power delivery to individual wheels in 100 milliseconds, but also is able to achieve a seamless transition between front-wheel drive and all-wheel-drive performance so that traction and road-holding is enhanced just when it is required.

The new Ford Mondeo is also available with Ford's 1.6-litre TDCi diesel engine in both standard and enhanced-efficiency ECOnetic variants, with the ECOnetic models delivering CO2 emissions as low as 94g/km – a 14% improvement over the previous generation – and sub-100g/km CO2 even on the Ford Mondeo estate version.

There is also a high-powered 2.0-litre TDCi diesel engine as an option too!

"The new high-powered TDCi diesel engine follows the downsizing trend we've led with our EcoBoost petrol technology. Smaller engines deliver better fuel efficiency and emissions, and we claim the power back with advanced technology," said Andrew Brumley, chief engineer, Ford Engine Programs. "Twin sequential turbocharging delivers the seamless performance consumers want every day in all conditions, and makes turbo-lag a distant memory."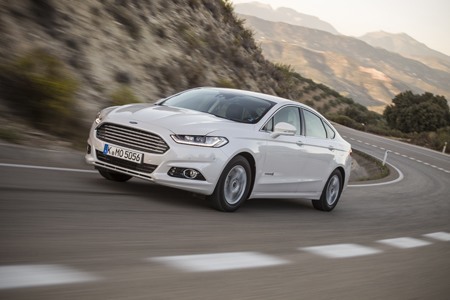 The First Mondeo Hybrid Electric Vehicle

With some part of the future looking to be electric, it is time for Ford to reveal the all-new Mondeo Hybrid - the first hybrid electric vehicle ever manufactured by Ford in Europe.

Available as a four-door, the Mondeo Hybrid follows on in the footsteps of its US sister vehicle, the Ford Fusion Hybrid, and is an important part of Ford Mondeo's European car portfolio.

The Mondeo Hybrid makes good use of the third-generation Ford petrol-electric hybrid system that already is the power behind the efficiency and refinement throne in the electric powertrain, guaranteeing the driving range and freedom that a traditional combustion engine offers. This system uses two electric motors – one to support the petrol engine and one to allow the 1.4kWh lithium-ion battery, located behind the rear seats, to be charged regeneratively.

The Mondeo Hybrid can reach up to 85mph in electric mode, and when it works in tandem with the specially-developed 2.0-litre Atkinson cycle petrol engine, the car is able to deliver 187PS with 67.3mpg and 99g/km CO2. And all this can be monitored using Ford's Smartgauge interface along with management of fuel and energy consumption, along with features that include "Brake Coach" that encourages gradual braking to help return more energy to the battery.

"The Mondeo's petrol-electric hybrid powertrain means the driver does not need to do anything differently from a regular petrol or diesel vehicle. They start it the same way. They fuel it in the same way. They drive it the same way," said Thomas Zenner, supervisor, Electrification Engineering, Ford of Europe. "The only thing customers might want to learn is how to maximise their fuel economy by modifying their driving habits – and with Smartgauge we've given them the tools to do that."

Further efficiency is optimised thanks to the Electric Power Assisted Steering, continuously variable transmission and control software, and the fact that the internal air-conditioning, powertrain cooling and vacuum systems are all powered electrically, saving fuel.

The all-new Mondeo arrives in dealerships across Europe later this year with engine options including 1.5-litre and 2.0-litre EcoBoost, petrol-electric hybrid, and 1.6-litre TDCi and 2.0-litre TDCi with 150PS or 180PS. The new 210PS 2.0-litre TDCi, 1.5-litre TDCi, (replacing the 1.6-litre TDCi), 1.0-litre EcoBoost and all-wheel-drive transmissions go on sale in 2015.