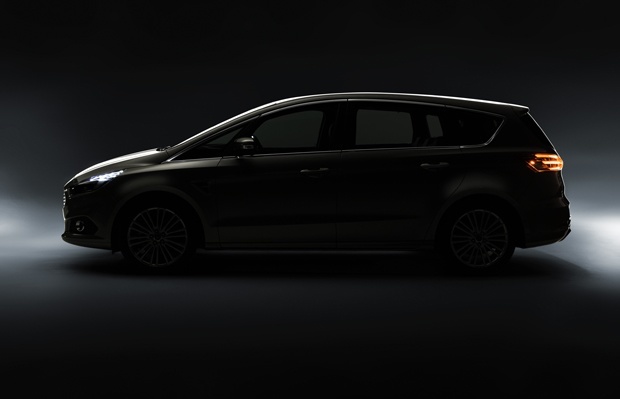 With the Ford S-Max already a legend of a car in the eyes of those that drive it, no doubt there will be a lot of excited people salivating at the news that Ford Motor Company has just revealed the all-new Ford S MAX.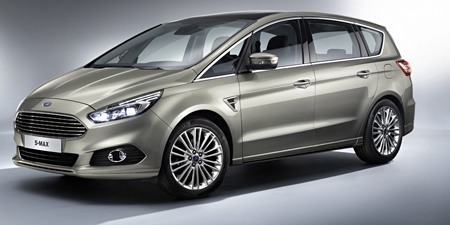 Keeping the original spirit of the trend-setting seven-seat sports activity vehicle, Ford have decided to produce a stylish and innovative reinvention of their car that will be making its production debut next year right across the European landscape with as much style, driving pleasure and advanced features that it can offer without sacrificing space, flexibility and fuel efficiency.

"S-MAX struck a chord with customers all over Europe – people who need space and practicality but who could never picture themselves in a typical family hauler," said Stephen Odell, Ford executive vice president, Europe, Middle East and Africa. "The all-new S-MAX takes this no-compromise ethos to new levels with a stunning design, cool technology and dynamic driving experience."

And there is a lot to look forward too when it takes its bow, including a few brand-new-never-seen-before–in-a-Ford features.

The all-new S-MAX will give us our first glimpse in Europe of Ford Adaptive Steering technology which will be giving 'optimised response to driver input' along with existing technology such as Intelligent All-Wheel Drive and a whole range of sophisticated powertrains that will include a new 1.5-litre EcoBoost petrol engine.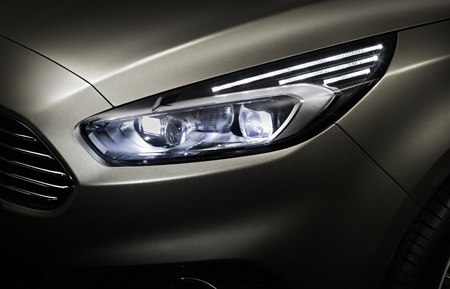 Then there is the fact that the S-MAX will be the first Ford globally to feature Ford Dynamic LED Headlamps that feature a Glare-Free Highbeam to make sure that there is maximum illumination without distracting other road users. Joining this in the accident prevention stakes is Ford's advanced Pre-Collision Assist technology that works even at motorway speeds.

More than 400,000 S-MAX models have already found homes in Europe, allowing drivers to assist in all activities from an Alpine ski trip to the local school run thanks to the 7-seater model's 32 seating and load-space combinations, and it won Car of the Year back in the days of 2007. And the all-new S-Max will be looking to emulate that!

So let's take a closer look.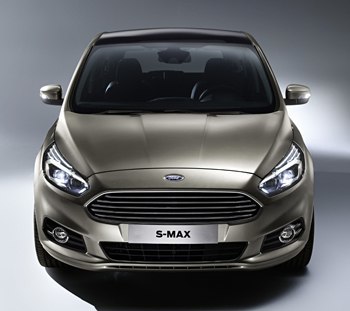 DESIGN

The car world has moved on since 2007, and the Ford design team are fully aware that the new S-Max needed to evolve the fresh and distinctive exterior styling of the original to create an even more dynamic and upscale impression.

"The sleek and sporty S-MAX profile stands out from the crowd to deliver a unique proposition for customers who appreciate an exclusive appearance – whether for their car, their clothes, and even their home," said Joel Piaskowski, director, Design, Ford of Europe. "A lower roofline, slim-line lights and muscular haunches around the wheel arches ensure the all-new S-MAX appears wider, sharper, and has an even more distinctive presence than ever."

The pictures on this page will show you that the presence is certainly there, certainly from the outside as the front pillar is moved further back to create a longer, sculpted bonnet, the chrome trapezoidal grille is raised, the charismatic S-MAX silhouette and distinctive window-line is now complemented by signature LED Day Time Running Lights and technically styled rear LED taillights, and they are connected by a signature satin chrome strip.

Inside, there is a sculpted centre console that flows from the upper instrument panel, stadium style seating design for the passengers sat in the second and third row seating spaces, a full-length panoramic glass roof and smart design seats with thinner seat backs to provide more legroom.

When it comes to the seats, they are covered in soft-touch materials with accent stitching as used throughout the all-new S-MAX interior – but that softness hides a toughness that active families will crave with the anti-stain coatings having undergone some serious durability testing (including soil and coffee tests) to make sure that wear and tear is resisted for as long as possible. There was even a test where a metal ball with needle-sharp spikes called a mace, just like the medieval weapon, was used to brush the fabrics 600 times to test its durability against snagging from zips and the like.

"The all-new S-MAX interior offers a dynamic sanctuary. It calms occupants with more storage options to keep clutter at bay and reassures with modern, elegant design and refinement, but at the same time stimulates with padded materials and a driver-focused cockpit," said Hak Soo Ha, Ford interior design manager. "Driver confidence is also supported with an interior design that minimises window and mirror reflections for better visibility, and provides intuitive analogue controls."


COMFORT

It almost goes without saying (but we are going to anyway) that the fact that the model is available in five-seat and seven-seat configurations means that the all-new S-MAX is optimised for comfort and functionality, with the Easy-Fold system enabling each rear seat to be folded flat from a push-button control panel and the Easy-Entry second row seats allowing access to third row seating with just one touch of a button.

The heating ventilation and air conditioning system has also been enhanced so that the perfect temperature is a lot closer than before as the S-Max takes advantage of the system debuted in the Ford Mondeo; a system that provides more airflow, is capable of lower temperatures, and is quieter. And S MAX rear passengers can select their own climate settings with auxiliary controls and a dedicated climate system.

And to add to the comfort there is additional sound-deadening materials, improved door seals, and magnetic mass damper technology built into the roof so that outside noise and vibration are kept to the very minimum, adjustable front-seat headrests, a steering column power adjustment function, heated steering wheel and driver's seat memory - and that's before we mention the first-in-segment heated and cooled Ford Multi-Contour Seats that offer the Active Motion massage function!

"S-MAX will reduce fatigue, aches and pains for both the driver and front passenger by keeping muscles and blood vessels stimulated with the unique wave motion delivered by inflatable cushions within the seats" said Jeroen Lem, research engineer, vehicle interior technology, Ford of Europe. "The advanced system monitors pressure in the individual cushions to feel like a single roller subtly stretching the back, and two intensity settings can be selected from the central touchscreen."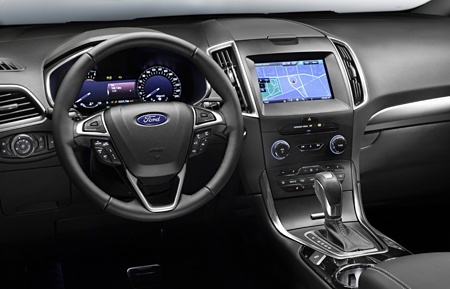 TECHNOLOGY

As we have already said, there is a set of technological features to baffle even the greatest minds in their complexity – until you try to use them; and then it's easy.

In all, the all-new S-MAX uses camera, radar, and ultrasonic devices to deliver more than 16 remarkable driving technologies that help you drive and control your vehicle safely, including Pre-Collision Assist, Adaptive LED headlamp technology with Ford's Adaptive Front Lighting System, Glare-Free Highbeam technology, Perpendicular Parking to detect and reverse the car hands-free into spaces alongside other cars, Park-Out Assist to help drivers exit a parallel parking space by operating the steering while the driver operates the accelerator and brake, Side Parking Aid to alert the driver to obstacles around the vehicle, Cross Traffic Alert to warn drivers reversing out of a parking space of vehicles that may soon be crossing behind them, Blind Spot Information System, Traffic Sign Recognition, Lane Keeping Alert, Lane Keeping Aid and Driver Alert.

And that's not all; the all-new S-MAX also has a first-in-segment technology in the shape of Front Split View Camera technology which uses a 180 degree camera to make negotiating junctions or parking spaces with restricted visibility easier, Adaptive Cruise Control technology, and New Intelligent Speed Assist technology to help out the existing Adaptive Speed Limiter system by using the Traffic Sign Recognition and onboard navigation systems to restrict speed to set limits.

"Speed limiting technology has proved incredibly popular with drivers who want to ensure they avoid incurring speeding fines by unintentionally exceeding the speed limit. Intelligent Speed Assist makes that even easier," said Stefan Kappes, active safety supervisor, Ford of Europe.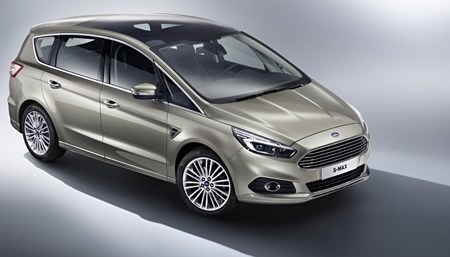 EMISSIONS AND PERFORMANCE

"The all-new S-MAX will enable quiet and effortless cruising with responsive new fuel-efficient diesel or EcoBoost petrol engines."

It is estimated that the diesel engine CO2 engine emissions will be reduced by an around 7% thanks to a choice of a 120PS 2.0-litre TDCi engine with six-speed manual transmission and a revised 150PS and 180PS 2.0-litre TDCi with manual or PowerShift dual-clutch automatic transmission, and the fact that the Active Thermal Management System improves warm-up times to reach peak efficiency faster, reducing CO2 emissions at the same time.

When it comes to the petrol engines, options include Ford's new fuel-efficient 160PS 1.5-litre EcoBoost with manual transmission and 240PS 2.0-litre EcoBoost with automatic transmission.

CO2 emissions and fuel efficiency in the new S-Max also are reduced and increased respectively by the use of Smart Regenerative Charging, Auto-Start-Stop and underbody aerodynamic shielding and Active Grille Shutter technology to increase the performance via aerodynamic efficiency.

SAFETY

Designers at Ford have managed to increase the strength of the body structure of the all-new S-MAX by 3% via the use of ultra-high strength steel, and it doesn't stop there when it comes to complete safety for the driver and all passengers.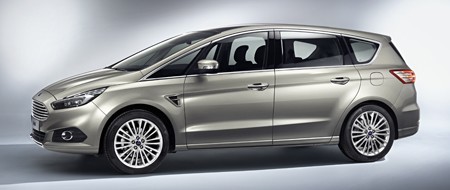 For the first time ever, second-row seat side-airbags are included, and vehicle stability also is enhanced with Curve Control and Roll Stability Control systems that adjust engine torque and braking to help drivers maintain control.

There is also Ford's revolutionary MyKey technology that enables owners to programme a key that can inhibit incoming phone calls; restrict top speed; prevent deactivation of driver assistance and safety features; reduce audio system maximum volume, and disable the audio system altogether if occupants are not using safety belts – great news for parents of children with a driving licence..

MORE TECHNOLOGY

"Developed without compromise to deliver a peerless combination of style, comfort, flexibility, efficiency and driving appeal, the all-new S-MAX is underpinned with innovative and in many cases unique technologies," said Andrew Kernahan, Ford S-MAX chief programme engineer. "This is a vehicle that looks and feels great in any situation and delivers for customers with the highest expectations."

Instead of the usual instrument cluster there is an optional driver-facing 10" digital screen with animated analogue-style speedometer and rev-counter where users are able, if they so desire, to customise the display settings and 3D graphics for a personalised and interactive experience.

There is also an 8" high-resolution touchscreen situated in the centre console that allows drivers to control Ford SYNC 2 with Voice Control so that they can operate phone, entertainment, climate and navigation systems vocally – even being able to bring up a list of local restaurants by saying: "I'm hungry". –

SYNC 2 also features Emergency Assistance with the ability to connect the vehicle occupants to local emergency services operators after an accident, in the correct language for the region.

The all-new Ford S-Max; incredibly an improvement on the S-Max.