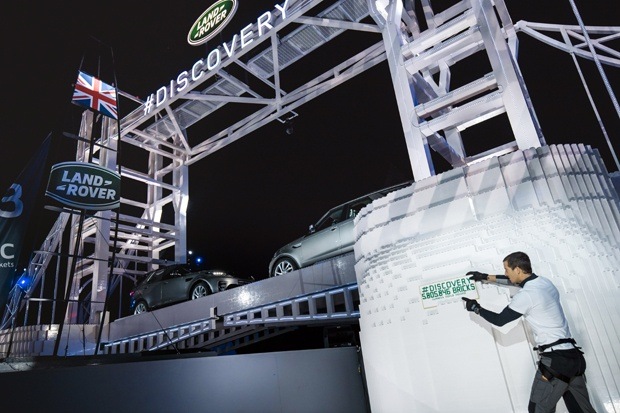 The New Land Rover Discovery seven-seat SUV was revealed to the world amidst a grand presentation that not only featured existing Land Rover Discovery drivers such as Bear Grylls, Sir Ben Ainslie and Zara Phillips, but also a Guinness World Record 13-metre high LEGO structure of London's Tower Bridge.
All there to show off the New fifth-generation Discovery's embodiment of "Land Rover's drive to go Above and Beyond, combining British desirability with an unstoppable spirit of adventure."
The LEGO build
Built in the grounds of Packington Hall in Warwickshire, close to Land Rover's Solihull plant, where the New Discovery will be produced, the construction was overseen by the UK's only LEGO Certified Professional, Duncan Titmarsh, and took five months for expert LEGO Master Builders to construct the incredible Tower Bridge structure that was made up of an incredible 5,805,846 individual LEGO bricks, breaking the previous Guinness World Record (of a Star Wars X-Wing Fighter in 2013) by 470,646 pieces.
And, as part of the show, British adventurer Bear Grylls abseiled from the top, onto the stage, where he was met by Land Rover BAR Team Principal Sir Ben Ainslie - who had towed a 186,500 LEGO brick replica of his America's Cup boat through water - and royal equestrian Zara Phillips, host of a LEGO Equestrian Zone complete with typically British picnic scene made entirely from LEGO bricks.
You can see more below.
Bear Grylls said: "I have developed a powerful bond with Land Rover vehicles over the years and to me they embody that spirit of adventure coupled with a rugged reliability that also serves the needs of a young family. The Land Rover Discovery is invaluable on expeditions, whether filming in deserts, jungles or mountains, yet it's still the perfect vehicle for the family's everyday use. It's a proud moment to be here with Land Rover revealing the New Discovery to the world."
Possibly the best family SUV in the world.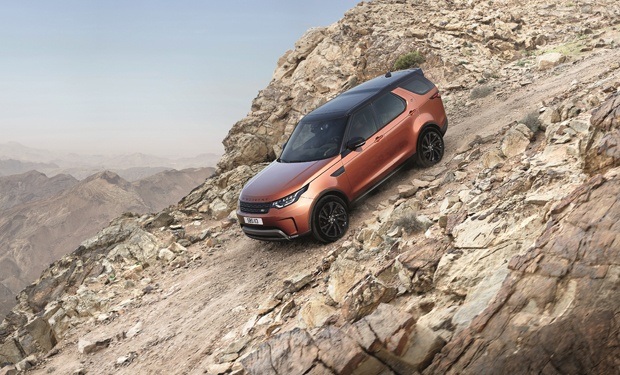 That's Land Rover's claim, anyway, as they revealed their authentic, three-row, seven-seat SUV with "unbeatable capability and versatility, British desirability, and unstoppable spirit of adventure."
And don't just believe them. Ask the 1.2 million plus customers that have driven the Land Rover Discovery over the last 27 years.
Jaguar Land Rover UK Managing Director, Jeremy Hicks said: "Demand for Discovery has always been strong in our home market; the New Discovery will build on this, offering customers the most complete all-round SUV package available anywhere today. The new vehicle takes absolutely everything that is great about Discovery from its design, its versatility, its go anywhere, do anything credentials and builds on them to make it better in every way."
Design
Having started out life at the 2014 New York Auto Show as the Discovery Vision Concept, the New Discovery is a pretty radical departure for Land Rover, yet is still obviously a Discovery, as Land Rover aim to connect on an emotional level with their customers.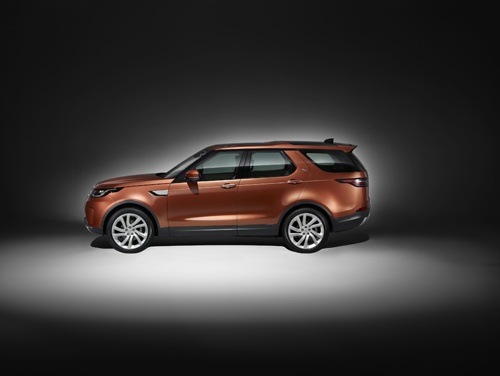 Gerry McGovern, Land Rover's Chief Design Officer said: "Design creates an emotional connection between our customers and our vehicles. Our clear design strategy means our vehicles are instantly recognisable and communicate the values of Land Rover that our customers love. New Discovery's flawless volume and proportions, sophisticated surfaces and precise detailing beautifully combine with engineering integrity to create a premium SUV that will resonate with today's customers."
Look at it more as a 'dramatic reinterpretation of heritage' rather than a restyle, and you'll see that the Discovery DNA is still there; and nowhere is that more defined than with the stepped roofline, which optimises headroom for passengers travelling in the third row of seats, and helps the Discovery to set out the stadium seating configuration that it is famous for, with each row of seats positioned higher than the one in front, "ensuring every seat is the best seat in the house."
Seven full-sized adults can fit comfortably in the SUV, and this is the aim for Land Rover, allowing for seven rather than the usual 5+2 of their competitors. In fact, both third-row seats have ISOFIX mounting points so that any children in car seats can now sit anywhere in the car.
Interior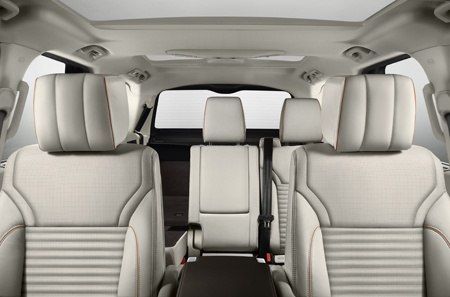 The interior of the new Discovery features luxurious Windsor leather upholstery and natural oak veneers as seen on the Discovery Sport. And this is nowhere better seen than inside the 600 model limited-run 'First Edition' with exclusive features that include a unique etched map detailing on the aluminium trim for the doors and facia, unique badges, bold colour choices and a comprehensive list of standard equipment.
For those not lucky enough to grab one of those, you can always take advantage of the optional Dynamic Design Pack to give your new Discovery a more purposeful, stealth-like appearance both inside and out, with features including a contrast roof, athletic front and rear bumper designs, luxurious leather upholstery and a sports-inspired steering wheel and pedals.
First Edition models are available in three striking exterior colour combinations (Namib Orange, Narvik Black and Silicon Silver) and with two interior colourways, and all feature 22" wheels, with the rest of the range comprising S (available with SD4 engine only), SE, HSE and HSE Luxury derivatives, with an optional Black Design Pack available on all but S variants.
S models feature:
Air suspension
Twin speed transfer box
Four-mode Terrain Response
19" alloy wheels
Two-zone manual climate control.
All SE models feature in addition:
Leather upholstery
Satellite navigation
Automatic climate control
Upgraded audio
And HSE trim provides:
Windsor leather upholstery
Upgraded Meridian branded audio
Connected navigation
Fixed panoramic roof
20" alloy wheels
LED headlamps with front and rear signature lights.
Right at the top-of-the-range we find the HSE Luxury that adds in:
Extended application of Windsor leather
21" alloy wheels
Electric opening sunroof with fixed rear panoramic sunroof
Rear seat entertainment
Connectivity and comfort for all
Using the Discovery's world-first Intelligent Seat Fold technology that allows reconfiguration of the second- and third-row seats via a choice of rear controls, central touchscreen or the InControl Touch Pro Services via a smartphone app, comfort and practicality is assured when it is most needed - and quickly and easily - with comfort throughout enhanced with heated seats in all three rows, cooling in rows one and two, and massage seats available in the front for both driver and passenger.
Jaguar Land Rover's InControl Touch Pro infotainment system ensures that connectivity is another key part of the new Discovery's versatility, the large 10" touchscreen positioned high on the centre console reducing the number of switches from previous models by a third, and helping to deliver a clean and uncluttered appearance alongside crisp graphics and easy-to-navigate menus. The system features the very latest navigation and entertainment technologies including door-to-door navigation, iOS and Android connectivity, a 14-speaker Meridian digital surround system, with an additional subwoofer, and 3G WiFi.
Throughout the vehicle, the new Discovery is perfectly set up to cope with 21st Century family demands with up to four 12V charging points and up to nine USB sockets to allow charging and connection at all times.
And the future is well represented by Land Rover's state-of-the-art waterproof Activity Key wristband, which allows customers to enjoy sports and active hobbies without carrying the standard key fob. Simply holding the Activity Key up to the 'D' in the Discovery badge on the tailgate simultaneously locks the vehicle and disables the ordinary key, which can be left safely inside.
Room for everything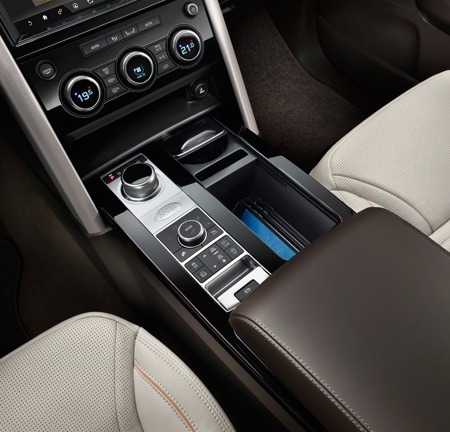 All around the cabin is storage; from a hidden cubby stowage in the central console (capable of holding four iPads or a pair of two-litre drinks bottles) and central armrest cubby large enough to house five iPad minis, to hidden stowage behind the fold-down Climate Control panel (for small items) and a flush-fitting push-operated 'curry hook' in the front passenger footwell to help keep those carrier bags still.
When it comes to luggage space, the new Land Rover Discovery can provide up to 2,406 litres of load capacity, with up to 1,137 litres behind row two, all behind a powered inner tailgate, but it's not necessarily all about the luggage because the fold down panel at the edge of the load area doubles as a bench or seating area when lowered.
Off-Road capability
The all-terrain capability that you would expect from a Land Rover Discovery is here in spades thanks to its combination of excellent off-road geometry and advanced technology.
Ground clearance has been increased by 43mm and wading depth increased by 200mm (to 900mm) - which means that the UK's flooded roads and waterlogged tracks are no problem for the new Discovery.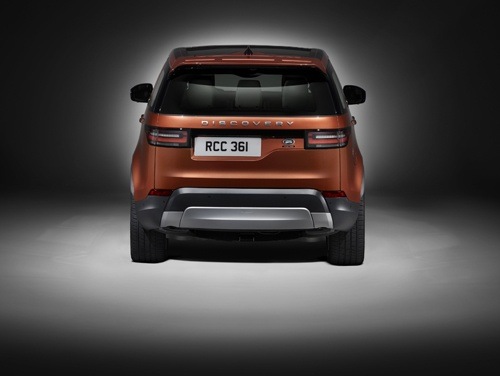 Aside from the design, overall architecture and suspension design, the technology in the car has had a comprehensive boost too with Land Rover's multi-mode Terrain Response 2 system making exceptional use of a range of settings, from throttle sensitivity to gear change characteristics to suit the driving conditions at the turn of a rotary controller. In fact, if a driver is unsure which to choose, the car will do it automatically for them.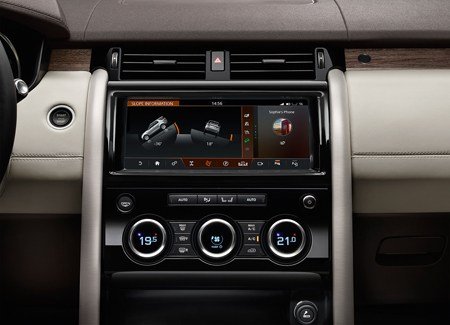 When it comes to taking on particularly challenging terrain, All-Terrain Progress Control (ATPC) can be programmed to autonomously maintain a suitable crawl speed chosen by the driver so that they can concentrate on steering without the worry of having to operate the throttle or brake - and this ingenious system can also be used when pulling away on slippery surfaces.
Both Command Driving Position and towing capacity have been reviewed and improved (The class-leading maximum towing capacity of 3,500kg is helped with Advanced Tow Assist) and technology even makes sure that even the most insecure novice will be able to reverse the towing car thanks to Terrain Response 2 system.
Power and Efficiency
The new Land Rover Discovery is powered by Jaguar Land Rover's efficient range of four and six cylinder petrol and diesel engines, all paired with a smooth and responsive ZF eight-speed automatic gearbox. They include the award-winning twin-turbo Sd4 Ingenium four-cylinder diesel that produces 240PS with an impressive 500Nm of torque and fuel economy of 43.5mpg and CO2 emissions of 171g/km, the six-cylinder diesel 258PS-producing Td6 that delivers 600Nm of torque, and Land Rover's advanced 340PS supercharged petrol 3.0-litre V6, the Si6, that provides 450Nm of torque to deliver relaxed performance and capability.
Cutting-edge safety technology
The new Discovery features a set of active safety systems that works alongside an array of advanced driver assistance features to ensure the safety of driver and passengers, and includes (depending on model):
Land Rover's Autonomous Emergency Braking (AEB) system
Adaptive Cruise Control
Advanced Emergency Brake Assist
Intelligent Emergency Braking (IEB)
Hill Start Assist
Engine Drag torque Control (EDC)
Park Assist
A Parallel Park system
Parking Exit
Perpendicular Parking
Blind Spot Monitor
Closing Vehicle Sensing
Blind Spot Assist
Adaptive Cruise Control
Traffic Sign Recognition
Intelligent Speed Limiter
Automatic High Beam
Driver Condition Monitor
HD Surround Camera System
Lane Departure Warning
Lane Keep Assist
Contact one of Nationwide Vehicle Contracts' Customer Service Representatives to discuss your options when it comes to leasing a new Land Rover Discovery.