The New Land Rover Freelander Metropolis; luxury personified
Debuting at the Royal Windsor Horse Show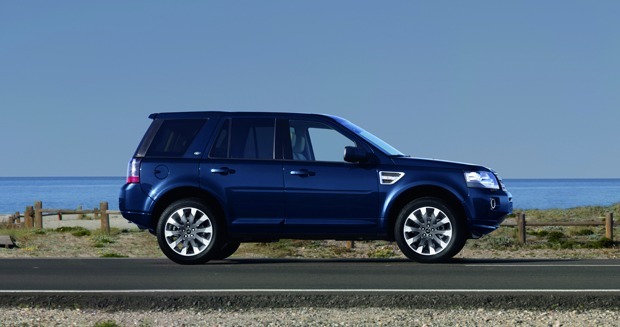 If ever there was a hint as to the target market of a car, then debuting at the Royal Windsor Horse Show is that hint; as the new Land Rover Freelander Metropolis & Co are doing.

With the Land Rover Freelander undergoing a comprehensive upgrade this summer, the new three-model range, headed by the Land Rover Freelander Metropolis, aims to make the most of not only the ever-growing appeal of the Freelander but also the increasing demand for the compact SUV.

And here is no doubt that the new equipment on board the New Freelander that offers both technology and value-for-money additions will simply add to both.

The starting base of a strong customer appeal that the Freelander has created courtesy of both Land Rover's legacy and reputation (created by the existing HSE LUX model) and the Freelander's versatility means that the Metropolis, as the top of the (new) tree can safely add in whole load of sophisticated standard features to "increase style, add functionality and make life on board even more comfortable."


So what are these features that the Freelander Metropolis is so proud of that it is banging on about?
Without going into a full-specification breakdown of the car, let's just say that they include; electrically adjustable (eight-way for driver, six-way for passenger) front seats upholstered in premium Windsor leather; touchscreen-controlled satellite navigation, an 825W meridian surround sound system, panoramic sunroof; 19-inch diamond-turned wheels; Xenon headlights with Land Rover's signature LED daytime running lights, heated steering wheel, luxury carpet mats, a reversing camera, premium metallic paint and gloss black interior detailing.

And this is all on top of (or upgrading) the features that are part of the other two models that make up the new Freelander range. The new SE and SE Tech models replace the GS and XS designations of previous Freelanders and these already feature; heated windscreens, front fog lights, front and rear centre armrests, 18-inch 10-spoke alloy wheels, heated leather seats, climate control, Bluetooth, rear parking sensors and heater, power-folding door mirrors and the Design Pack combination of colour-matched bumpers and sills at the SE entry level – and are upgraded by a more powerful, 380W Meridian audio system, touchscreen-controlled navigation, automatic headlights and wipers and 19-inch 10-spoke alloys at the ST level.

This is all without mentioning the fact that the "Freelander's powertrain options have also been rationalised to offer the TD4 engine with manual transmission in SE and SE Tech versions and the SD4 unit with automatic gearbox across the complete range."

Those future customers at the Royal Windsor Horse Show with their jodhpurs, picnic hampers and bottles of champers and Chablis must be salivating over the very thought of owning a Land Rover Freelander Metropolis.