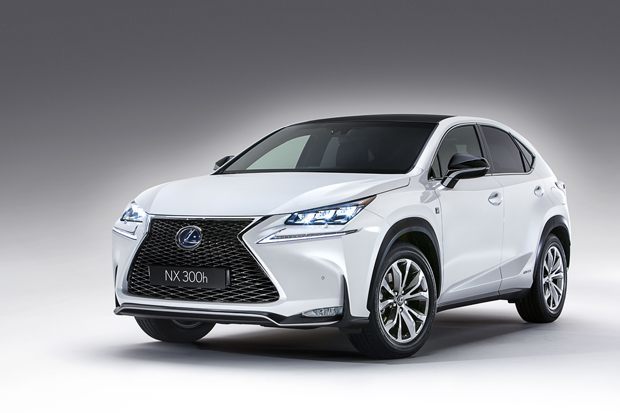 Available now to lease from Nationwide Vehicle Contracts, the new Lexus NX 300h has many reasons for you to consider getting one; but we'll just concentrate on a couple of them.


TECHNOLOGY
Whether it's wanting to see all around the car from the comfort of the driver's seat to phone charging, the new Lexus NX 300h has "new technology features that will make life on board easier, better informed and more enjoyable"; features that go far beyond just a look at the sophistication of the full hybrid powertrain and the advanced safety and handling systems.
The Wireless charging tray
Placed in between the front seats of the NX 300h, in the handiest place possible, is a dedicated wireless charging tray where drivers and passengers can recharge their smartphones and other compatible items (conforming to the international qi protocol) simply by putting them in the tray - with no need for a cable connection. The tray is part of the standard specification for F Sport and Premier models and is available as an option on the NX 300h Luxury.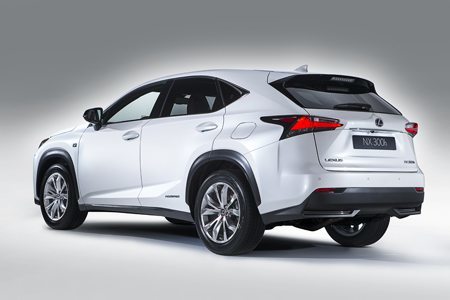 Panoramic View Monitor
Drivers will be delighted with Lexus's first 360-degree Panoramic View Monitor that is with available in the NX 300h Premier, especially when they are manoeuvring in confined spaces, on or off-road, at speeds up to 12mph (20km/h), because a dedicated ECU that is mounted behind the C-pillar constantly monitors input from four interconnected cameras located on the door mirrors, front grille and rear trim.
The images are processed and sent to the panoramic view monitor in a range of seven sequences that even includes an overhead viewpoint to help the driver work out their surroundings before starting to move – and this includes anything in what would normally be a blind spot.
The Panoramic View Monitor displays the images in full screen (as opposed to letterbox) and works together in harmony with the Parking Assist System and the Rear Cross Traffic Alert.
Remote Touch Interface touchpad
The Remote Touch Interface control is already a part of Lexus car technology, but it now has been improved and updated, and even includes a new touchpad on the centre console that makes it easier to find on-screen icons quickly and intuitively. It has been designed and positioned in the NX 300h so that the front seat passenger can use it too, with minimal driver distraction!
G-Monitor
The NX 300h F Sport model features Lexus's first G-force sensors – the G-Monitor – which send live data to the multi-information display by using a G-ball moving in line with the lateral and longitudinal forces on the vehicle, so that drivers are fully aware of the peak force experienced in each direction. Additional display bars indicate the steering angle, throttle opening and hydraulic brake pressure.
Mark Levinson Premium Surround System with Clari-fi™
Now you're talking! All this in-car technology often passes me by, but as long as I have my music to listen to, I am a happy bunny – and you aren't going to get much better that a product from premium audio specialist Mark Levinson. The new NX 300h Premier features a 14-speaker Premium Surround Sound System as standard that includes the first ever use in an in-car package of Clari-fi™ to improve the reproduction of sound from digital sources. Purpose-built for the new NX, the Mark Levinson System has been engineered to enhance the quality of music sourced from compressed digital files.
The Mark Levinson system also uses patented high-efficiency technology in a package that includes a 12-channel Class D amplifier and new Unity technology that places 9cm speakers at each end of the instrument panel. For the more technically amongst our readers; Total system output is 125 watts per channel and 835 watts overall, with distortion limited to less than 0.1 per cent.
FOUR ALL-WHEEL DRIVE
"The new Lexus NX 300h isn't simply a crossover with SUV looks";
it also has an intelligent electric all-wheel drive system that automatically provides extra grip just at the time when the driver needs it most. And it is no burden at all on the car's performance as it is light and compact, avoiding the weight, packaging, emissions and fuel consumption penalties associated with larger, mechanical AWD systems.
The system goes by the name of E-Four, and uses an additional electric motor to drive the rear axle with the front axle propelled by power from the hybrid petrol engine or electric motor, or both in combination.
And, being a Lexus, you know that where it can save energy and fuel, it will; so in this case the all-wheel drive is only engaged when it's needed, and the rear motor also acts as a generator for the NX 300h's regenerative braking system.
E-Four is fitted as standard on all UK versions of the new NX 300h (except for the entry-level S model, which has front-wheel drive only) helping the new crossover vehicle to achieve combined cycle fuel economy of 54.3mpg with 121g/km CO2 emissions.
For more information on the Lexus NX 330h, click here, and to lease a NX 330h from Nationwide Vehicle Contracts, click
here
.