The astonishingly versatile new Vito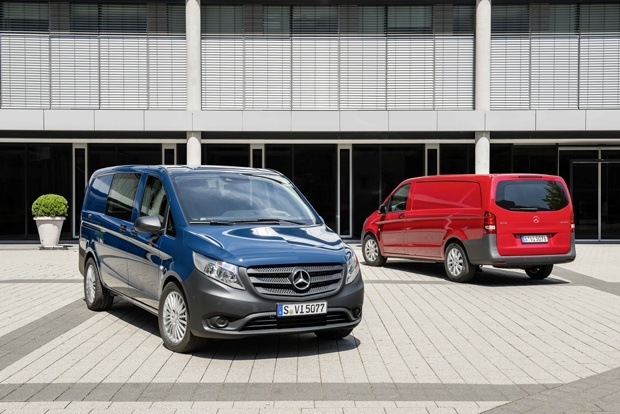 So versatile in fact that pinning the new Mercedes-Benz Vito down to one profession is near impossible; whether it's used by a skilled craftsman or trader, for retail, service provision or shuttle taxi services, the new Vito proves itself a true vehicle for all.
All of which means that whether you are making use of the highest-in-class 1,369 kg of cargo capacity or (in the Vito Crew) the crewcab that combines the advantages of a panel van with those of a crewbus, the new Vito is for you.
DESIGN INSIDE AND OUT
Not only does the new Mercedes Vito look good thanks to its high quality bodywork, but the low-slung design means that it has a low wind resistance of 0.32 Cd – therefore reduced fuel consumption and improved performance.
And it looks good when the interior is examined too. For a start there is a lot more space both the driver and passenger and there is also a fussy-less symmetrical cockpit that is exemplary in terms of its functionality and ergonomics.
FRONT AND REAR-WHEEL DRIVE
It's a first in this particular segment for the Vito as it offers a choice between rear and front-wheel drive, with front-wheel driving better with more traction when unladen or carrying light loads, and rear-wheel drive when you are doing something that involves heavy weights, needs high towing capacity and when exceptional driving dynamics are involved.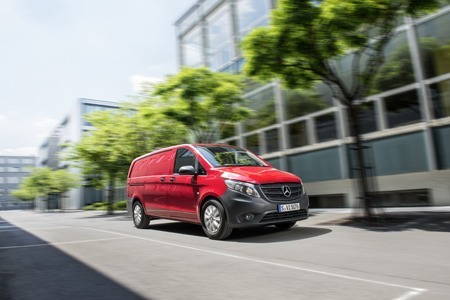 ENGINE'S GOT THE POWER
The new front-wheel drive Vito has a transverse-mounted, compact four-cylinder engine with a displacement of 1.6 litres and is available in two power ratings: the Vito 109 CDI with 88 hp and the Vito 111 CDI with 114 hp.
And then we have the rear-wheel drive Vito which features a four-cylinder engine with a 2.15-litre displacement that you can get in three power output levels; Vito 114 CDI with 136 hp, Vito 116 CDI with 163 hp, and Vito 119 BlueTEC with 190 hp; the latter being the first Euro 6 engine in this class.
Power transmission is handled with exceptional ease by the six-speed manual transmissions, although for the Vito 114 CDI and Vito 116 a 7G-TRONIC PLUS automatic transmission with torque converter is available as the world's only automatic transmission with torque converter and seven gears. (This transmission is standard equipment on the Vito 119 BlueTEC.)
All the work involved prior to the unveiling of the new Vito is worth it when you realise that the van was recreated so that maximum fuel efficiency comes as standard too! In fact, Mercedes claim that "on average, consumption of diesel in the NEDC is some 20% less than for the preceding version."
When it comes to fuel use and efficiency, Vito BlueEfficiency is pretty much top of the tree, and this package is available as an extra for the new Vito with rear-wheel drive and standard on all Vito Tourers with automatic transmission. The certified figure of 49.6 mpg for the Vito 116 CDI BlueEfficiency and truck registration speaks for itself.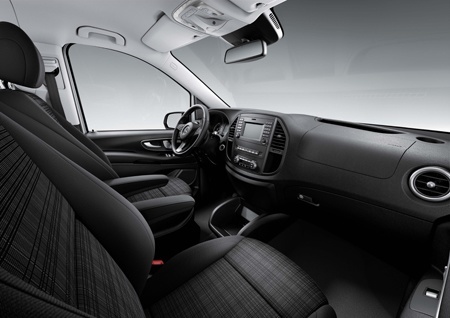 VITO SAFETY
Mercedes-Benz decided at the very start that the new Vito would be used to set new safety standards, starting with the precision steering with electromechanical power assistance and powerful disc brakes all-round, Adaptive ESP® as standard, airbags and a seat belt reminder for both the driver and passenger as standard, Attention Assist, Crosswind Assist, Tyre Pressure Monitoring, and in the case of the Vito Tourer PRO and Vito Tourer SELECT models, windowbags and thorax/pelvis sidebags in the front. (All-in-all there could well be up to eight airbags in total!)
Many other safety features are available as options; including Active Parking Assist (new and unique for vans), Blind Spot Assist and Lane Keeping Assist.
When it comes to the new Mercedes Vito there are two wheelbases available, three lengths, and up to three weight variants.
Bigger than the preceding Vito by 140mm on all three lengths mainly due to the extended front end, maximum vehicle height – dependant of course on model – is 1.9m (meaning that ALL variants of the new Vito are below the magic 2m mark that often prevents standard multi-storey/underground car park entrance and automatic car washing.
With a full UK specification to be revealed, the new Vito Tourer sees Mercedes-Benz opening an entirely new chapter in passenger transport whichever of the two versions you choose: the versatile Vito Tourer PRO or the premium Vito Tourer SELECT.