Nationwide Vehicle Contracts already have some great deals available on Skoda Kodiaq cars, and are now steeling themselves for more interest in the Czech car manufacturer's top SUV when they release the new Skoda Kodiaq Scout later this year, following its debut at the 2017 Geneva International Motor Show last week.
Design
The new Kodiaq Scout has already attracted a lot of interest, combining emotion, rationality, robustness and strength within its distinct design features.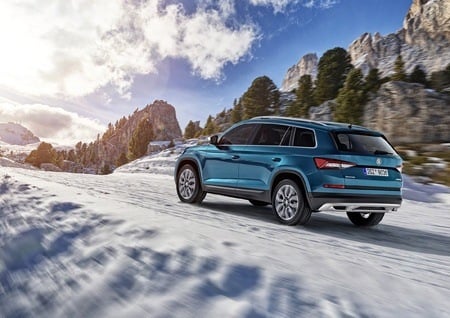 Instantly recognisable at first sight by its tinted rear window and rear side windows and silver-coloured details, the Kodiaq Scout also features a silver-coloured trim around the radiator grille, roof rails, wing mirror housing, and silver underbody protection both front and rear.
The side view silhouette is identifiable by short overhangs, a sloping roofline visually extended by a line in the D-pillar, and a tapered rear, while 19" alloy wheels fitted as standard (and specially created for the Scout) and a badge model complete the exclusive look.
Inside, both the available equipment and interior design are designed to emphasise the robustness of the Kodiaq Scout, based as they are on the Kodiaq SE trim level.
Standard equipment includes:
Off-Road Assist
A Rough-Road package with underbody and engine protection
Front and Rear Park Assist
Driving Mode Select (Eco, Comfort, Normal, Sport, Individual, Snow)
ABS and ASR systems
A multifunction steering wheel
Trailer Assist
Blind Spot Detect
Rear Traffic Alert
Crew Protect Assist function (which closes windows and the sunroof in the event of an impending accident and tensions the seat belts of the front seats)
City Emergency Brake
Predictive Pedestrian Protection
LED ambient lighting in ten colours
Modular Infotainment Matrix (MIB) with eight speakers
Columbus navigation system with 9.2" monitor, Wi-Fi hotspot and an LTE module (in top-of-range version)
Automatic Emergency Call function comes
SKODA Connect
Alcantara-covered seats with the KODIAQ logo
Door trims in the Alcantara design
Steel pedals
Textile floor mats
Kodiaq logo in the front door sills
Engines
The new Skoda Kodiaq Scout will be available with a choice of two petrol and diesel engines:
A 1.4 TSI 150-PS 4×4 engine that offers a top speed of 122 mph, 0-62 mph in 9.8 seconds, combined consumption fuel economy of 41.5 mpg, and emissions of 153 g CO2/km
2.0 TSI 180-PS 4×4, top speed 128 mph that offers a top speed of 122 mph, 0-62 mph in 8.0 seconds, combined consumption fuel economy of 38.7 mpg, and emissions of 168 g CO2/km
2.0 TDI 150-PS 4×4 that offers a top speed of 122 mph, 0-62 mph in 9.5 seconds, combined consumption fuel economy of 53.3 mpg, and emissions of 139 g CO2/km
2.0 TDI 190-PS 4×4 that offers a top speed of 130 mph, 0-62 mph in 8.9 seconds, combined consumption fuel economy of 49.6 mpg, and emissions of 150 g CO2/km
All Scouts offer all-wheel drive via an electronically controlled multi-plate clutch located directly in front of the rear differential at the end of the drive shaft, and its swiftness of operation is key for the elimination of loss of traction, especially when travelling off-road, where the Kodiaq Scout feels right at home.
Off-road
With a ground clearance of 194 mm, the new Kodiaq Scout can even negotiate larger bumps with ease, and with impressive ramp, approach and departure angles, in addition to the standard Rough Road package, off-roading is a cinch.
It's all actionable via a pressed button, with the optional DCC shock absorbers changing their mode of operation accordingly, and the throttle response slowing. Use of the ABS anti-lock braking system, ASR and EDL, along with Hill-Hold Control and Hill-Descent Control functions, all help to keep the car on the road - whatever road you are on!
If you are interested in learning more about the new Skoda Kodiaq Scout then Contact a member of our Customer Service team to see how we can help you with the leasing of this car. They can run through any requirements you may have and find the best deal for you!