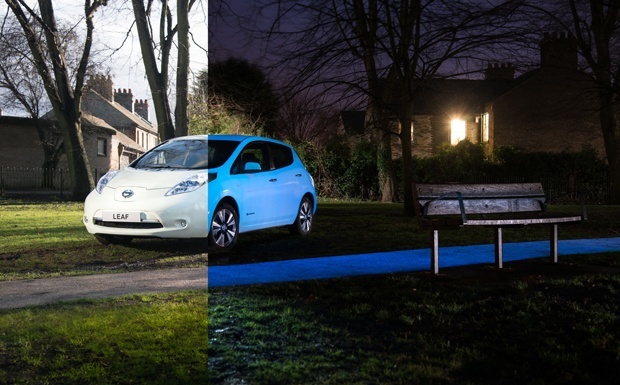 Whether it is a real product, or just one to help promote its market-leading, all-electric LEAF, the glow-in-the-dark car paint that Nissan have revealed is certainly an interesting idea.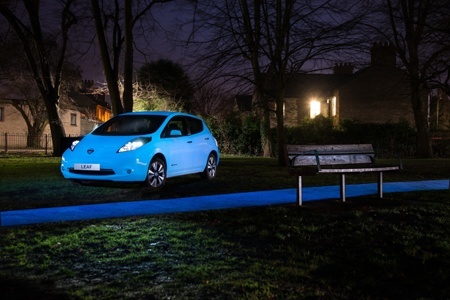 Originally designed to show how their all-electric LEAF is part of the campaign to get more and more people to convert to solar energy at home, the 'paint' is actually a spray-applied coating that absorbs UV energy during the day, allowing it to stay bright and glow post-sundown for between eight and 10 hours. It is actually called STARPATH, and was invented by Hamish Scott, who Nissan worked with in this publicity project.
To be completely honest, there is already glowing car paint available, AND glow-in-the-dark car wraps, but this particular (and bespoke) ultraviolet-energised paint was created especially for Nissan, and is a one-off thanks to a secret formula made up of entirely organic materials - although it was revealed that one of the ingredients is a very rare natural earth product called Strontium Aluminate, which is solid, odourless and chemically and biologically inert.
So, like the Nissan LEAF itself, the whole thing is ecologically sound - and the bespoke paint used on the car, if ever made commercially available, would last for 25 years.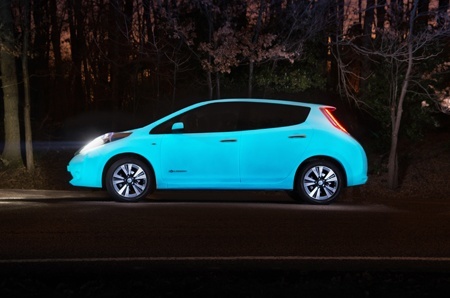 SO why have Nissan done all this?
It's all to promote the fact that, because of the fact that the UK's 7,500 drivers of the Nissan LEAF enjoy running costs of just 2p a mile to run on average, they also experience, as a by-product, significant savings on their overall motoring costs which allows them to spend more money on other things. And it seems that one of the most popular spend is on solar panels for the home, helping to decrease the household carbon footprint and, by using their own electricity to charge the LEAF, effectively charging the vehicle for free.
LEAF owner Ian Finch is one of those who has experienced the LEAF savings/solar panels combination, and he said: "Running the Nissan LEAF costs a sixth of the amount we'd pay to run a diesel or petrol car. Overall, we are probably using 25% less electricity thanks to our solar panels and it's a fantastic experience to be able to drive the LEAF using electricity that's been produced completely for free." And I wondered why LAF drivers always had that smug-looking grin on their faces!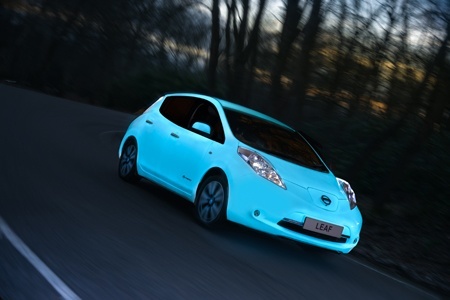 It is in a roundabout way that this statement is backed up. Recent Nissan research revealed that 89% of LEAF owners charge their cars at home overnight, and although solar panels don't actually store energy or provide it outside of daylight, any leftover power that it has generated during the day is fed back into the national grid. For this, homeowners can get a Government payment, and it is this that 'pays for' the overnight charging electricity costs.
Slightly tenuous in its construction but I think we will let Nissan have it for it, if not just for the fact that they've spent all that time, money and effort to make the car show in these pictures look as it does.
Nissan Motor GB Limited EV manager, Paul O'Neill, said: "The Nissan LEAF is a shining beacon of sustainability and the future of motoring. Not only is it saving our customers money in running costs but it we are now seeing how it is helping people become more environmentally sensitive by reducing their carbon footprint."
You can see more of Nissan's glow-in-the-dark car by clicking here and details of leasing a Nissan LEAF from Nationwide Vehicle Contracts here.