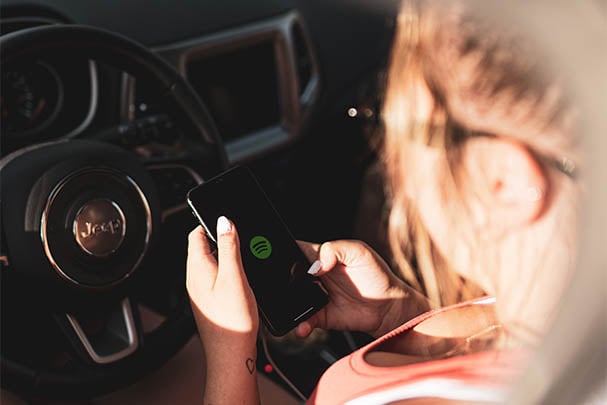 Nationwide Vehicle Contracts explores the ways in which music can influence our emotions and provide tips for creating a road trip playlist
Road trips are a great way to escape the hustle and bustle of everyday life and explore new destinations. However, long hours on the road can sometimes become monotonous and dull. One way to enhance the road trip experience is by creating the perfect playlist. In this post, we'll explore the ways in which music can influence our emotions and provide tips for creating a road trip playlist that's tailored to your preferences.
The Science of Music and Mood
Research has shown that music has a powerful effect on our emotions and mood. Certain songs can trigger memories, evoke feelings of nostalgia, or uplift our spirits. Listening to music can also reduce stress and anxiety, which is particularly important during long journeys. Additionally, music can increase our focus and alertness, making it a great companion for those who are driving.
Choosing the Right Genre
Choosing the right genre of music can make a significant impact on the road trip experience. Different genres can evoke different moods and are suitable for various types of journeys. For example, upbeat pop songs or rock anthems are perfect for high-energy, adventurous trips. On the other hand, mellow tunes or classical music can be more suitable for a relaxing, scenic journey. It's essential to select songs that match the mood and vibe of the journey.
Collaborative Playlists
Creating a collaborative playlist with friends or family can be a fun and engaging way to share music taste and discover new songs along the way. Here are some tips for creating a successful collaborative playlist for your next road trip:
Set a theme: Decide on a theme or mood for the playlist. This can help to give the playlist a cohesive feel and ensure that all the songs selected match the vibe of the trip. For example, if you're going on a beach trip, you could select songs that are upbeat, tropical, and summery.
Use a shared platform: Choose a platform that everyone can access and add songs to. Spotify, Apple Music, and YouTube are all popular options that allow users to create collaborative playlists. Make sure that everyone has access to the platform and knows how to add songs.
Establish ground rules: Set some basic guidelines for the playlist. For example, you could agree to a maximum number of songs per person or a certain genre or time period. This can help to ensure that the playlist remains diverse and interesting.
Share your favourites: Share your favourite songs with the group and explain why you love them. This can help to spark conversation and give everyone a better understanding of each other's music taste.
Be open-minded: Be open to discovering new songs and artists. It can be tempting to only add songs that you already know and love, but the best part of a collaborative playlist is discovering new music.
Keep it fresh: Continuously update the playlist throughout the trip. This can help to keep the playlist fresh and interesting, and ensure that everyone has a chance to add their favourite songs.
Collaborative playlists offer several benefits. Firstly, they can help to break up the monotony of long journeys and provide a shared experience that can bring people together. They also offer a chance to discover new songs and artists that you may not have heard before, expanding your musical horizons. Additionally, they offer a chance to learn more about your travel companions and their music taste, which can deepen your connection and understanding of each other.
Best UK Road Trip Playlists
If you're looking for a playlist that's a little more unique, here are some lesser-known gems to add to your UK road trip playlist:
Britpop Bangers: This playlist is perfect for fans of the Britpop era of the 90s. It features lesser-known hits from bands like Supergrass, The Charlatans, and The Bluetones.
Indie Folk UK: This playlist is a mix of indie folk and acoustic songs from UK artists like Laura Marling, Ben Howard, and Lucy Rose. It's perfect for a mellow road trip through the countryside.
The Best of Northern Ireland: If you're planning a road trip through Northern Ireland, this playlist is a must-listen. It features a mix of traditional Irish music and modern Northern Irish artists like Van Morrison and Foy Vance.
Scottish Ceilidh: If you want to experience traditional Scottish music, this playlist is the perfect introduction. It features classic Ceilidh tunes and modern takes on traditional Scottish music.
Grime UK: For fans of the UK grime scene, this playlist features some of the best tracks from UK grime artists like Stormzy, Skepta, and JME. It's perfect for a high-energy road trip.
No matter what type of music you're into, there's a UK road trip playlist out there for you. These lesser-known gems offer a unique take on the UK music scene and are sure to enhance your road trip experience.
Safety Considerations
While music can enhance the road trip experience, it's essential to ensure that it doesn't become a distraction while driving. Loud music or constant song changes can be a distraction, making it difficult to focus on the road. It's important to select a playlist that's not too disruptive and can allow the driver to stay alert and focused. Additionally, it's best to avoid using headphones while driving as they can limit awareness of surroundings.
Conclusion
Creating the perfect playlist can turn an average road trip into an unforgettable adventure. By considering the science of music and mood, selecting the right genre, and taking safety considerations into account, you can create a playlist that enhances your journey and makes the experience more enjoyable. Whether you're travelling alone or with friends, music can be the ultimate co-pilot and elevate your journey to new heights.
For more information about the best cars for space, why not check out our The Best Family-Friendly Road Trips in Wales blog? We also produce a range of weekly blogs on various topics, which can be found in the blog section of our website.
Nationwide Vehicle Contracts are one of the UK's leading car leasing brokers and offer a range of leasing deals to suit every need. To find out more, check out our comprehensive car leasing guides or call one of our experts on 0345 811 9595.