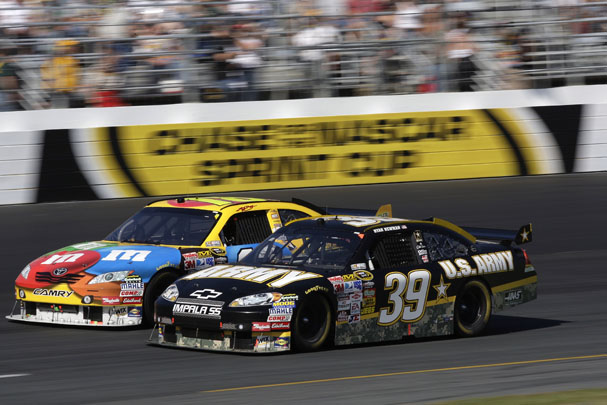 Nationwide Vehicle Contracts breaks down the top ten car-themed sports movies of all time.

The world of motorsport produces drama like no other. Cars flying round a track at ridiculously high speed, drivers pushing themselves to the absolute limit, and state of the art engineering and team work! Great to watch from the comfort of your sofa!
Because of this, there's been many car-themed sports films throughout history, keeping us on the edge of our seats from the opening scene to the credits.
But which ones have been best? From Senna to Le Mans, Nationwide Vehicle Contracts lists the top ten car-themed sports films to hit the box office.
1. Senna (2010) – IMDb 8.5/10
Directed by Asif Kapadia, Senna follows the life of legendary Brazilian Formula One driver Ayrton Senna. The film spans the decade from when Senna burst onto the F1 scene in the mid-1980s to his tragic death in 1994.
The film follows Senna both on and off the track as he becomes a global superstar, showcasing his battle with nemesis Alain Prost and his fight against the internal politics and elitism that plagued Formula One.
Senna is a must-watch for any racing fan.
2. Rush (2013) IMDb 8.1/10
Rush depicts the rivalry in the 1970s between legendary Formula One drivers Niki Lauda (Daniel Brühl) and James Hunt (Chris Hemsworth). Following both drivers on and off the track, Rush does an excellent job of emphasising how truly different both men were. Yet, they shared one characteristic, their addictive personalities to winning.
The film features some eye-catching scenes of both men pushing themselves and their cars to the absolute limit and peaks with the astonishing 1976 season, which saw Hunt crowned World Champion.
Rush is a classic racing film showing how dedicated professional athletes are to winning.
3. Le Mans '66 (2019) IMDb 8.1/10
Directed by James Mangold, Le Mans '66 is a sports drama film that follows a determined team of American and British engineers, led by Carroll Shelby (Matt Damon) and Ken Miles (Christian Bale), who Ford hires to build a race car hoping to beat Ferrari at the 1966 24 Hours of Le Mans.
The film provides a great balance between human emotion and the intensity of the racing, making it appealing to widespread audiences.
Want to know more about the 24 Hours of Le Mans? Check out our blog detailing the world's most dangerous races.
4. 1: Life on the Limit (2013) IMDb 7.9/10
This documentary-style film reflects on the men who shaped Formula One's golden generation in the 1970s. Narrated by Michael Fassbender, the film looks back at just how dangerous the sport was and delves deep into the lives of the men who risked it all for their love of F1.
It features interviews with Jackie Stewart, Niki Lauda, and Lewis Hamilton.
5. Road (2014) IMDb 7.8/10
Narrated by Liam Neeson, Road is a documentary film that looks into the adrenaline-filled lives of motorcycle racers Joey and Robert Dunlop. The film emphasises the dangers associated with the sport and its impact on the families of those competing.
Road is a great insight into the dangers that professional motorcycle racers face every day, culminating with the ridiculous Isle of Man TT.
6. Williams (2017) IMDb 7.6/10
Tracking the story of one of Formula One's most renowned families, Williams shows the struggles that Sir Frank Williams had to go through to create one of the world's most enduring F1 teams. Starting out from nothing, Williams built one of the world's most enduring F1 teams, winning nine Championships.
Directed by Morgan Matthews, the film features rare archive footage and interviews with some of F1's most decorated stars to emphasise the extraordinary life of the Williams family.
7. McLaren (2017) IMDb 7.3/10
McLaren is a documentary film directed by Roger Donaldson that showcases the story of Bruce McLaren. A born and bred New Zealander, the film shows how McLaren, a man who came from humble beginnings, could take on the illustrious world of motor racing.
The film looks back at the life of McLaren through recreations, archival footage, and interviews.
8. Grand Prix (1966) IMDb 7.2/10
Grand Prix is about as classic as racing films get. The plot follows the 1966 World Championship, where American driver Pete Aron (James Garner) has just been dropped by his sponsor after a spectacular wreck in the first race, which injures his teammate.
Refusing to quit, Aron joins a Japanese racing team, where he tries to pip his French counterpart Jean-Pierre Sarti (Yves Montland) to the title.
One cool element about the film is that in production, they used real-life footage of Formula One, with some of it captured by Phil Hill during the 1966 Monaco and Belgian Grands Prix.
9. Cars 1 (2006) IMDb 7.2/10
You know we had to include Cars! This animated film follows the story of Lightning McQueen, who has to go through life's trials and tribulations before he can get back on the road.
This is a great film for kids.
10. Le Mans (1971) IMDb 6.7/10
Le Mans depicts the auto racing scene during the 1970s on the world's most challenging course, 24 Hours of Le Mans. The film focuses on the battle between American driver Michael Delaney (Steve McQueen) and German driver Erich Stahler (Siegfried Rauch).
The film also features a couple of classic race cars, with Delaney driving a Porsche 917 and Stahler getting behind the wheel of a Ferrari 512 LM.
What do you think of our list? Nationwide Vehicle Contracts produce weekly blogs on topics such as The Weirdest and Wackiest Cars Ever Made and The Most Dangerous Motorsport Races.
We are also one of the UK's largest car leasing brokers, and have a range of leasing deals available to suit your every need.