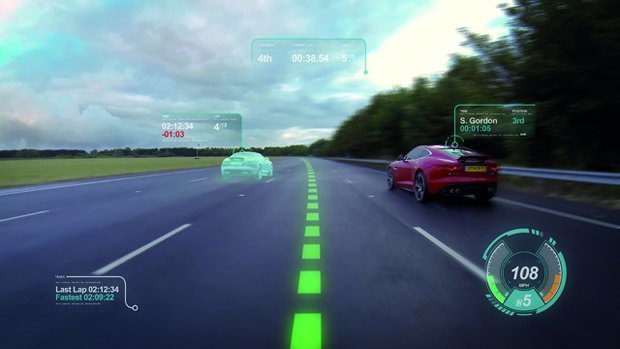 We've already told you how Jaguar Land Rover are developing technology that personalises the journey for car drivers and it seems that they haven't just stopped there when it comes to cutting-edge innovations.

Enter the The 'Jaguar Virtual Windscreen' concept.

Dr Wolfgang Epple, Director of Research and Technology for Jaguar Land Rover, said: "We are working on research projects that will give the driver better information to enhance the driving experience. By presenting the highest quality imagery possible, a driver need only look at a display once. Showing virtual images that allow the driver to accurately judge speed and distance will enable better decision-making and offer real benefits for every-day driving on the road, or the track."

The concept makes use of the entire windscreen by using it as a display where high quality hazard, speed and navigation icons can be projected on to it – meaning that the driver's eyes need never leave the road.

It seems that this concept has been developed primarily for drivers of performance cars that are out there on the racing track, rather than the Sunday driver out for a jaunt to the country with the kids – although once the original idea has been produced and thoroughly tested there are some obvious benefits for 'normal' car drivers.

But for the moment we are looking at:


Racing line and braking guidance – This is where virtual racing lines appear on the windscreen marking the track ahead so that the driver can take the optimum racing line; there are even changes in colour to suggest the best place to apply the brakes
Ghost car racing – The windscreen imagery can produce a 'ghost car' visualisation of your car on a previous lap so that you can race against it to improve your lap times; it can even compete against a lap uploaded from another driver.
Virtual cones – these can be (virtually) laid out on the track so that driver's can undertake training; and can be moved, increased or decreased to accommodate changes in driving ability.

And that's not the only thing that Jaguar Land Rover are developing in order to make sure that drivers are able to keep their eyes on the road at all time!

They are also developing a gesture control system which will cut down on the need to look at or feel for buttons and switches to press, using E-Field Sensing. This is based on what many of us will know and use on smartphones where the phone can detect a user's finger from 5mm away for touch(not) screen capabilities; but the Jaguar Land Rover system increases this range of sensing to around 15cm - meaning that movements in the car can be detected and any used to operate the car.

"Gesture control has already become an accepted form of controlling anything from TV sets to games consoles. The next logical step is to control selected in-car features. We have identified which functions still need to be controlled by physical buttons and which could be controlled by gesture and carefully calibrated motion sensors," said Dr Epple. "The system is currently being tested on a number of features including sunblinds, rear wipers and satellite navigation maps. It has the potential to be on sale within the next few years."

Quite how this works with accidental hand movements such as waving or the seemingly obligatory thumbs up to the pit team I have no idea – but I am sure they have thought of all that.

Coming up soon

Technology never stands still, and nor do Jaguar Land Rover research teams who are also looking at technology that could replace rear view and external mirrors by using with cameras and virtual displays.

Their point about wing mirrors and rear view mirrors is that they use in essence two-dimensional imaging which means that a driver cannot accurately judge the distance or speed of other road users, so Jaguar Land Rover has therefore developed an innovative 3D instrument cluster, which creates "a natural-looking, specs-free 3D image on the instrument panel".

Without wanting this to look like a pun, it's all looking good at Jaguar Land Rover.