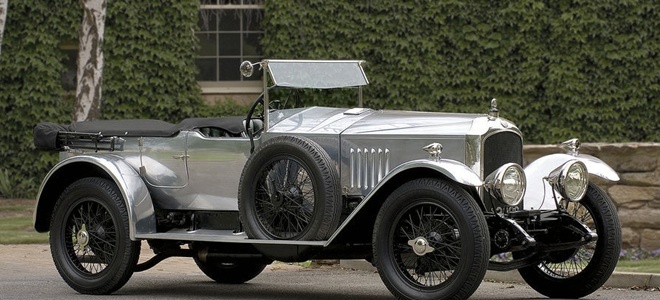 BRITAIN'S FIRST 100MPH CAR CELEBRATES CENTENARY
It's very normal these days for cars to be able to hit 100mph (hopefully legally!) – electric cars being the general exception – but back in 1913 it was a big big thing. Headline news, in fact, when Vauxhall revealed the Vauxhall 30-98, one of the greatest sports cars of the twentieth century and the first to capable of topping the ton in production form. So, simple mathematics makes 2013 its centenary, and Vauxhall are marking it in style with a 'school reunion' in May with almost 50 surviving 30-98s attempting the Waddington Fell hillclimb, site of the car's first appearance and competition success way back in 1913.
Launched by Vauxhall  as 'The car of grace that sets the pace', the 30-98 was originally derived from what was generally regarded as the UK's first real sports car, Vauxhall's C10 'Prince Henry', and was designed to compete with Bentley in the prestige car market.
But its main competitor, the Bentley 3.0 litre weighed 400kgs more (not that they had kilograms then but you know what I mean!) and the 30-98 became known as a high-performance car that could swallow up the long distance mileage with no problem at all – hence its popularity in Australia, where many cars still survive today from the original 600 produced.
Back then, it was the performance, durability and handling of cars that showed how good they were, especially in competitions, and with Vauxhall already renowned for success in hillclimbs, grands prix and endurance trials, the 30-98 represented the zenith of those achievements. In fact, on its first ever outing, at the Waddington Fell hill climb in Lancashire, it set the fastest time of the day; and this gave credence and much kudos to the car's designer, Laurence Pomeroy, as well as to Vauxhall's directors, Percy Kidner and Leslie Walton, all of whom had the proof that they needed for the car's future, and production kicked on from there.
There were two types of 30-98s built, the E-Type and OE-Type, both fitted with a 4,525cc side-valve four cylinder engine, with the OE-type becoming the first production car to exceed 100mph. There is a little story, or it just legend, that the production was influenced and prompted by a letter to The Autocar's editor from a Major L. Ropner in which he complained that he was unable to buy a road car that could cover a flying mile at more than 100mph!
So therefore, in response to the Major's 'request', Vauxhall produced the stunning two-seater 30-98 for him in polished aluminium, with a full set of road equipment. On March 28, Vauxhall's factory test driver Matt Park tested the car at Brooklands and managed to complete a flying lap at 100.7mph, before delivering the car to Major Ropner, who used it extensively for competition, continental touring and commuting to London from his home in Yorkshire.
Obviously, Vauxhall took advantage of this and got as much publicity as they could, allowing The Autocar to take a 30-98 on road test where it got a top road speed of 82.57mph – which at the time was amazing when you consider that most cars were struggling go faster than 50mph.
The Autocar said: "Few cars have such graceful lines yet at once suggest unlimited strength allied to speed…and very, very few can take a corner stiffly with absolute certainty as this one can."
To celebrate the anniversary, Vauxhall Motors' own 1926 OE-Type Velox Tourer (OE268) will join around 50 other 30-98s in Lancashire to celebrate the model's competition debut at Waddington Fell. And there are many other events throughout the year at which the car will be attending, including the 'Thirsty Down Under' Tour that lasts throughout October and November – a three-week tour of Victoria and Tasmania for the thriving 30-98 Register based in Australia.
It's a little piece of history coming your way soon.