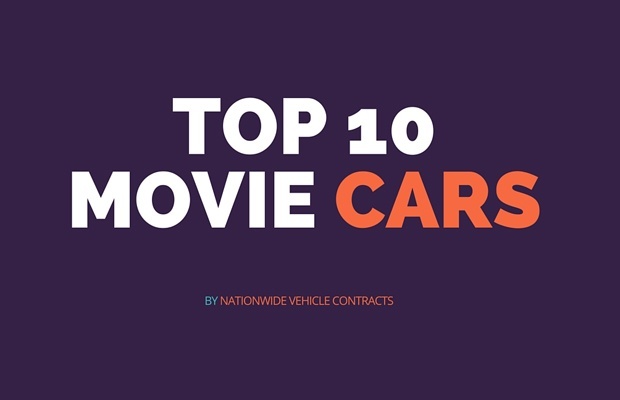 With hundreds of movies released every year, it's getting really hard to pick up your favourite movie. But how about if we ask you to nominate your favourite movie car? Everyone should be able to remember a movie car that you used to admire before you actually got a driving licence. There are hundreds memorable vehicles from the film industry, with some of them not only inspiring car culture but also generations of people.
Nationwide Vehicle Contracts take a look at 10 of the most popular movie cars and vans of all the time from the movies. Let's see them...
1. Mad Max 2: The Road Warrior - 1973 Ford XB Falcon
A Hollywood star car that all the petrolheads dreamed about: the 1973 Ford XB Falcon. Max Rockatansky is driving the Pursuit Special also known as V8 Interceptor during the movies Mad Max and Mad Max 2: The Road Warrior.
2. Goldfinger - Aston Martin DB5
Who doesn't remember the legendary car of the British spy? James' Bond Aston Martin DB5 had various special features like ram bumper, machine guns, ejector seat, smoke screen and many other cool tricks.

If you are seeking for a "spy" feeling you can check our Aston Martin range here.
3. Batman Begins - Tumbler/Batmobile
The Batmobile know also as Tumbler was the favourite supercar of Batman fully equipped with attached weapons and gadgets, in the famous movie Batman Begins. Some of the special features that you will find in the Tumbler include:
• Six rear flaps to assist brakes
• Twin forward-firing machine guns
• Rocket launcher
• Landing hook to Sprung landing stabilization
• Integrated fire-extinguishing system
• Integrated safety connection to gasoline control
• Vector-controlled jet engine on back of car for quick boosts/"rampless" jumps
4. Back To The Future - 1981 Delorean DMC-12
Lotus Cars UK in collaboration with the Italian automobile designer Giorgetto Giugiaro designed the distinctive Delorean DMC-12 in 1981. This supercar had the main role in the movie Back to the Future as it had the ability to time travel and give to its passengers an amazing ride.
Unfortunately, at Nationwide Vehicle Contracts we do not lease "time machine cars", however, you can check our list with the latest "supercars" by following the above link.
5. The Spy Who Loved Me - 1976 Lotus Esprit Series I
Another James Bond car on the list, however, this time the car can transform into a submarine if it is necessary. Nobody can forget the scene in The Spy Who Loved Me as Bond drives the Lotus Esprit into the sea and the car transforms into a submarine.
6. Ghostbusters - 1959 Cadillac Miller
Another famous car with a strong and unique character is the 1959 Cadillac Miller named as Ecto-1 for the film GhostBusters. The Ecto-1 was an ambulance/hearse combination with main repairs on its main body in order to bust ghosts and other creatures around New York City.
7. Mr Bean - 1976 British Leyland Mini
This car doesn't belong to any movie, but to one of the most popular British TV shows. Mr Bean's Mini is another remarkable classic car that made us laugh a lot. Who can forget the famous scene where Mr Bean is driving his mini from the roof of the car with the help of an armchair and a mop?
8. The Love Bug - 1962 Volkswagen Beetle
The only car in the list from a Disney movie is the popular Love Bug that, many generations have watched at least once in their life.
The Love Bug was an anthropomorphic pearl-white Volkswagen Beetle that during the film have had his own personality and it was out of its owner control.
If you are interested in the brand-new Volkswagen Beetle simply follow the above link.
9. Italian Job - 1968 Mini Cooper
Mini Cooper is considered one of the most enjoyable and fun cars to drive, they are tiny and perfect for parking and a busy city life. But how good is a Mini Cooper when it comes to transporting gold for your gang out of Italy? The answer is in the British film of 1969 "The Italian Job" where three Mini Coopers are the main car protagonists.
View the latest Mini Cooper range available to lease with Nationwide Vehicle Contracts here.
10. Little Miss Sunshine - 1973 Volkswagen Transporter (Type 2)
The Hoovers family is travelling with a 1973 Volkswagen Transporter (Type 2) from New Mexico to California on a 800-mile road trip. All the characters of the film are unique such as their yellow van that brings all of them together in a journey that they will discover a lot for each other. The Hoovers' VW van has a few problems: a broken clutch, a stuck horn, and a door that comes off, but guess what? The Hoovers love it!
If you fancy family road trips with a spacious van then check the all-new Volkswagen Transporter range by following the above link.
Some people may they will disagree with our list, however, we have chosen the cars according to our personal taste. If you want to check more legendary movie cars, then check our Pinterest board by simply following the above link.