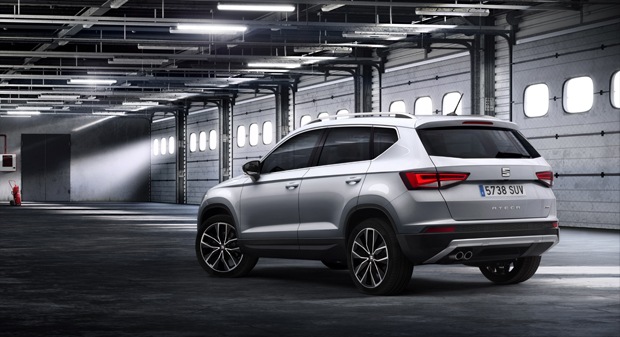 The importance of AEB
Safety is uppermost in the minds of many of drivers when it comes to choosing a new car (alongside many other features including emissions, technology, comfort and style), and with the majority of the most popular cars in Britain now offering five-star crash protection, it's something that can be achieved quite easily. But having Autonomous Emergency Braking (AEB) as standard is something that isn't always available; in fact is still only available on half of the top 10 best-selling cars in the UK.
And analysis by independent safety experts, Thatcham Research, also discovered that only one of them has the crucial crash prevention technology on every model and trim level in its range.
By using sensor and camera technology to monitor the road ahead, AEB has been shown to reduce low-speed crashes by up to 40% by automatically braking to avoid a collision with another car or a pedestrian, if the driver hasn't responded; yet this technology is still not available at all on more than half of all new cars (52%) on sale in the UK.
Thatcham Research Chief Executive, Peter Shaw says that the best-selling models in the UK need to be setting an example to change this:
"It is right to acknowledge the achievements of car makers in providing us with safe cars that offer excellent protection in the event of a crash, with eight of the Top 10 best-sellers having Euro NCAP 5 star ratings. However, preventing the crash from happening in the first place now must be the focus and that starts with having AEB as standard. Prioritising fitment to the best-sellers will make the biggest contribution to reducing the number of crashes on our roads, as well as encouraging other car makers to follow suit."
Safety as Standard doesn't always include AEB
Obviously AEB isn't the 'be all and end all' when it comes to car safety, but it is interesting to note which car manufacturers and which models offer the technology as standard.
The Mercedes C-Class has AEB as standard across its entire range, whilst the Volkswagen Golf and the Nissan Qashqai also have commendable levels of standard fitment (83% and 71% respectively) (with optional availability on most other trim levels.)
But it is certainly an interesting statistic, as Peter Shaw comments, that the UK's 2nd best-selling car - the Vauxhall Corsa - is not available with AEB at all and the No.1 best-seller - the Ford Fiesta - only available as an optional extra on only just over half of the model range.
"With combined sales of the Fiesta and Corsa totalling over 100,000 in the first 6 months of this year alone, there's a great opportunity to provide standard fit crash prevention for the masses. The new Fiesta is expected next year and gives Ford the opportunity to redress the balance by making AEB standard. And having already shown with the Astra that it recognises the value of the technology, Vauxhall should be targeting at least a similar level of fitment on all future versions of its other models."
It shouldn't be a difficult job to fit AEB as standard into even the smallest cars, as demonstrated by the Honda Jazz's AEB fitment across the entire range; and this is even more important when you realise that superminis are often the preferred choices for young, inexperienced drivers who, according to an ABI Report, are 26 times more likely to be involved in a crash.
With car manufacturer model replacement cycles getting shorter, it should be a lot easier for car makers to upgrade their safety offer to include AEB as standard, and Thatcham Research is calling on all car makers to embrace the highest levels of active safety technology, as Peter Shaw explains: "Vehicle manufacturers could choose to publicly commit to making AEB standard by 2022 on all new cars sold in the UK. Twenty of the best-known car brands have already done exactly that in the United States and we'd welcome the same commitment in the UK."
It should be noted that optional safety packs that can include AEB alongside such technology as Lane Keep Assist, Active Cruise Control, Driver Monitor Systems, and High Beam Assist, so anyone looking to upgrade their car to include AEB should consider these. Alternatively, Thatcham Research makes this easier with their AEB fitment tool on their website here.
Popular Safe Cars (with AEB)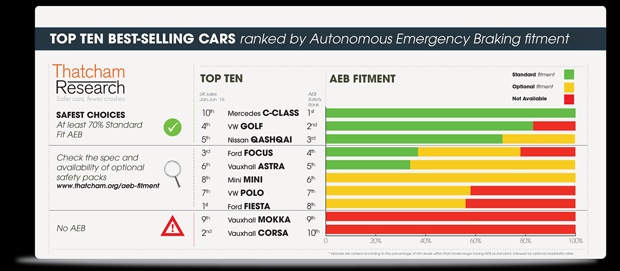 And it's not just best-sellers that offer AEB
Both the Alfa Romeo Giulia and SEAT Ateca have achieved a top, five-star score in Euro NCAP tests, and both feature sophisticated Autonomous Emergency Braking (AEB) systems that operate in both lower speed (City) and higher speed (Inter-Urban) environments, as well as Pedestrian Protection AEB technology, which is designed to further reduce the risk to vulnerable road users and became part of the Euro NCAP test procedure at the beginning of 2016.
Matthew Avery, Director of Research at Thatcham Research, explains that "The Ateca and Giulia are among the first cars to feature pedestrian protection AEB, a technology that will help to bring down the number of pedestrians killed or seriously injured in the UK from the current shocking total of more than 5,000 a year, according to Department for Transport Reported Road Casualties in Great Britain 2014 [to allow drivers to] choose from this SUV or sports saloon range with a clear safety conscience."