Nationwide Vehicle Contracts talk you through the top 10 small vans for your business
As a Sole trader with a need for a van, you want the best deal, whether you are looking for a small van, medium-sized van, or large van - depending on your business.
You'll want a van that helps promote your image as a business, one that is reliable, one that is big enough for your needs, and one that is economical - but primarily one that does the job that you want it to do with the minimum of fuss. To help you decide what best suits you, here is a list (in no particular order) of Nationwide Vehicle Contract's Top 10 Small vans available to lease with some great deals, and with terms to suit you and your Sole Trader business.
1. Ford Transit Courier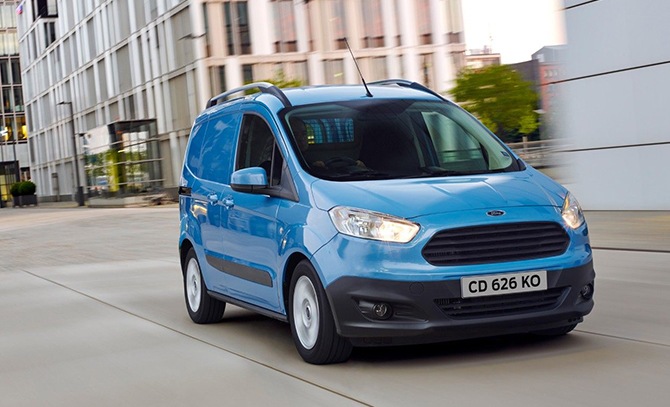 The Ford Transit Courier is the smallest panel van that falls into the famous Ford Transit name, joining the Transit Custom, the Transit Connect, and the standard Transit to offer a great range of vans that already have a great name and reputation amongst businesses.
It may be the baby of the Transit brotherhood, but it has great breeding, being built with the same DNA as the Ford B-Max and Ford Fiesta cars, as well as the smaller Ford Fiesta van, and is great in the city for those nippy little journeys with a need to park.
Available in standard, Trend or 5-seater Kombi trim, the Ford Transit Courier offers ESC stability control, remote central locking, a DAB radio with Bluetooth and a USB device dock on all models, with the Trend adding in a little bit more such as electric windows and mirrors, a sliding side door and automatic headlights.
Three turbocharged engines are available - 1.5 TDCi diesel (74bhp), 1.6-litre TDCi diesel (94bhp) and 1.0-litre, three-cylinder EcoBoost petrol - all with stop-start technology, which means that MPG and emission figures are impressive right across the range.
Van payloads range between 645 and 660kg, and the roomy cabin means that your work travel can be completed in comfort.
2. Fiat Fiorino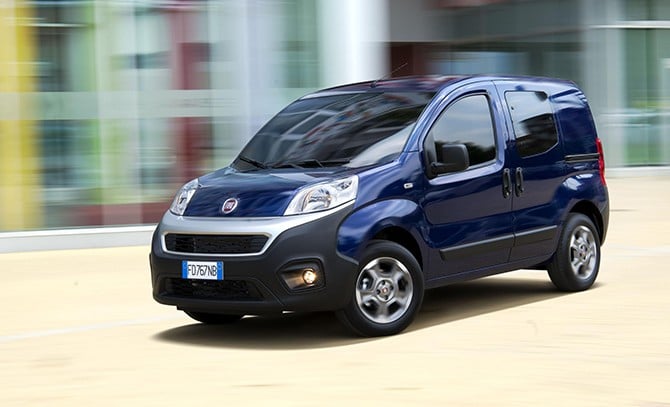 The Fiat Fiorino is the smallest of the Fiat van range, and uses Fiat's own Fiat's 1.3-litre Multijet diesel engine alongside an available 1.4-litre petrol version.
Available as a standard or Combi crew van with two or five seats, a people-carrier version named the Qubo, and an Adventure (that allows for occasional off-road use), the standard specifications include steering height adjuster, lumbar support and seat height adjustment, a radio/CD player, a 5" touchscreen satnav, a nearside sliding side door, and electronic stability control with ABS and EBD, with central locking and deadlocks, electric windows and mirrors available as extras on the lower trims, and as standard on higher.
MPG and Emission statistics are, of course, well within acceptability, considering that the diesel versions are the leaser's favoured options, with the Ecojet version leading to a combined fuel figure of 72.4mpg and CO2 emissions of 104g/km.
It may be a compact van with an overall length is just 3.8 metres, but the Fiat Fiorino offers a surprisingly spacious load bay of 2.5 cubic metres that can be increased by folding flat the optional retractable passenger seat. Payloads go up to 660g, making the Fiorino a great urban delivery van that the driver will be comfortable in around town.
3. Citroen Berlingo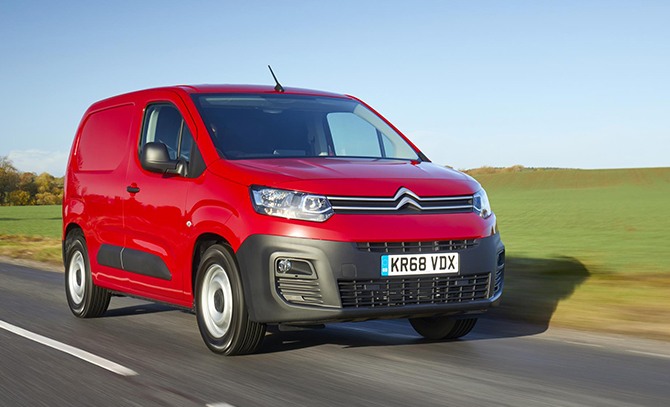 The Citroen Berlingo is considered as a 'partner' to the Peugeot Partner, both being created across the Channel, and is a popular choice for Sole Traders looking for a small van.
With fuel economy of up to 62.8mpg, it is among the most economical vans on the market, and offers great value along with plenty of space from 3.7 to 4.1 cubic metres.
The Berlingo offers a long load bay and a range of bulkhead options and seat configurations with an option of two body lengths and a range of engine and trim options.
Twin front passenger seats are available on some models as well as some interesting factory-fitted options such as refrigeration and carrying racks and a roof opening flap to accommodate longer items like ladders.
When it comes to engines there is a straight choice between 1.6-litre petrol and diesel motors, with a 95PS petrol version, and 75PS and 90PS diesel versions that deliver up to 55.4mpg average economy and emissions as low as 133g/km.
4. Volkswagen Caddy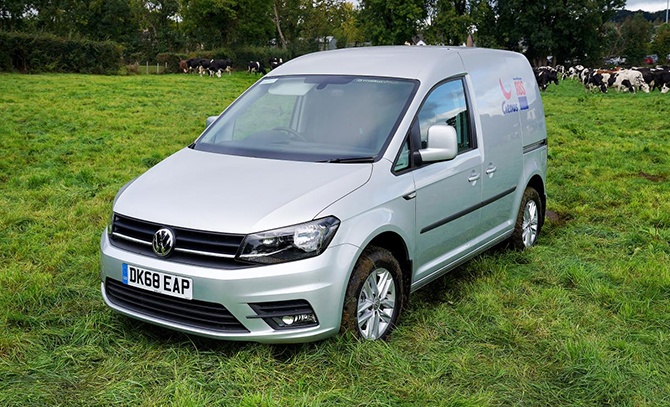 The Volkswagen Caddy gives you just what you expect from a small van alongside the same expectations from a Volkswagen car.
And with that car-like quality comes comfort.
Now on its 4th generation, the Volkswagen Caddy features the same silhouette it has always had, standard and long wheelbase (Maxi) versions, both front-wheel and all-wheel-drive versions, and a choice of 4 2.0-litre diesel engines as well as a 1.4-litre petrol one.
All engines are Euro 6 compliant and come equipped with Volkswagen's BlueMotion systems to help reduce fuel consumption, with the 102PS van the most efficient Caddy with 99g/km emissions and MPG of 72.3.
The Volkswagen Caddy can carry a cargo load of up to 3.3 cubic metres with the Caddy Maxi increasing this to 4.2 cubic metres.
5. Ford Transit Connect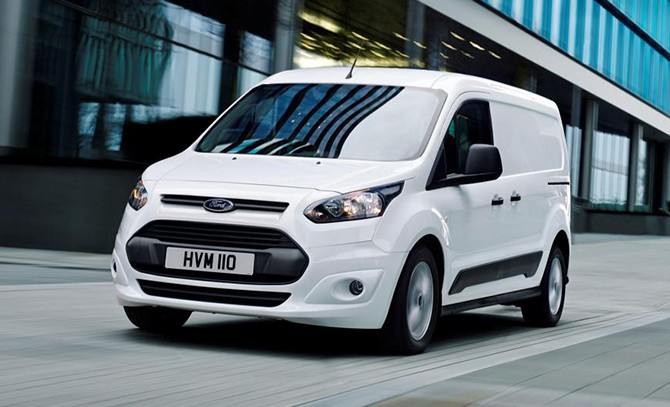 The Ford Transit Connect could well be described as the most popular small van in the UK, and sales and leasing figures back this up.
Available in double cab as well as standard and long wheelbases, the Ford Transit Connect offers Base, Trend and Limited trims, three versions (75PS, 100S and 120PS) of Ford's latest 1.5-litre TDCi diesel, the option of a 1.0 EcoBoost turbo petrol three-cylinder engine, and the Ford name - which means usability, durability and capability .
The 1.5 Econetic 95PS offers the best economical figures of 105g/km emissions and an official fuel economy of 70.6mpg (when an optional fuel economy pack is specified), but fuel economy and emissions are pretty impressive right across the range.
Driving like a family car, the Ford Transit Connect can take a maximum payload is 1000kg, and load volumes of as much as 4.4 cubic metres, with clever little touches like folding front seats and a hatch in the bulkhead to make carrying long planks and pipes possible adding to its appeal.
And spending all day in it is no problem because comfort comes as standard.
6. Ford Fiesta Van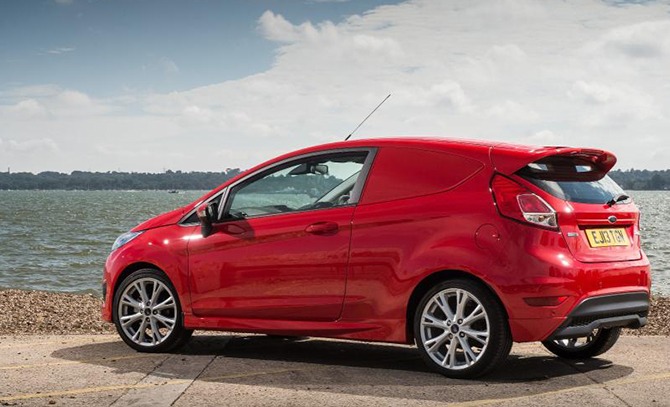 The Ford Fiesta Van is Ford's smallest van, and is based on the Fiesta supermini car.
Although it has a smaller payload than many other small vans, its great handling, excellent economy and sporty looks make it a viable option when looking at a van for a Sole Trader.
In fact, when it comes to small vans, there aren't many rivals to the Ford Fiesta Van. So if your sole trade is a small sole trade, then this may be the small van that you are looking for.
In the back, the Fiesta Van has a load volume of 0.96 cubic metres with a maximum payload of just 511kg; and what you carry in it is limited by its hatchback rear.
The standard Fiesta Van is very basic with 15" wheels with plastic trims, a basic radio and auto lights, but the Sport version adds in 16"alloy wheels, a rear spoiler, Ford's Quickclear windscreen, sports suspension, auto lights and wipers, electric mirrors, air-con and keyless starting, with 18" wheels, LED headlights, sat-nav, rear parking sensors, adaptive cruise and traffic sign recognition available as extras.
It is, to all intents and purposes, a supermini disguised as a van, and drives like it too. Ford's basic 84bhp 1.1-litre petrol or an 84bhp version of its 1.5 TDCi diesel supply the power to the basic version, with the Fiesta Sport Van boasting more power with either a 123bhp 1.0 EcoBoost three-cylinder or 118bhp 1.5 TDCi four-cylinder diesel.
7. Peugeot Partner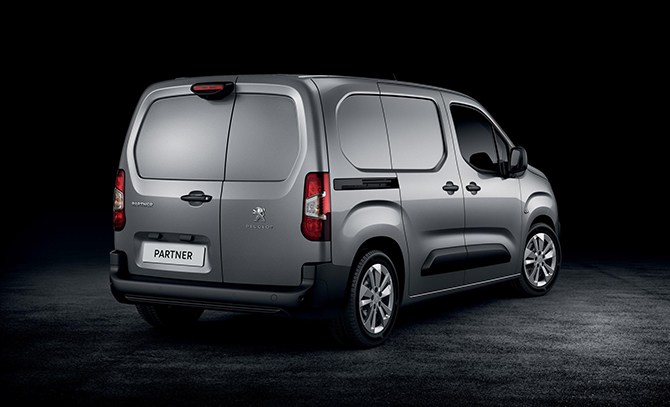 The Peugeot Partner is the very latest small van on the market, with plenty of little touches to entice the sole trader it's way.
Capable of carrying some impressive payload weights, and as comfortable to drive as a car. The Peugeot Partner is also impressive when it comes to economy.
There are two lengths of Peugeot Partner available (Standard and Long), cargo volumes range from 3.3 to 3.8 cubic metres, and payloads range from 667kg to 1,050kg.
There are four trim levels available (Partner S, Partner Grip, Professional and Asphalt) all of which offer the same standard kit available on the Partner S.
This means electric windows, offset double rear doors, a full steel bulkhead, a single sliding side door (twin doors on Long vans), a reach and rake adjustable steering wheel, auto lights, six load hooks in the load area and Bluetooth, among others.
Extras over higher spec models include a Grip Control system, raised ride height, Mud & Snow tyres, three-seat cab layout, Multi-Flex folding seat, electric parking brake, rear parking sensors, cruise control, and a touchscreen DAB radio with Apple CarPlay and Android Auto, and two USB sockets amongst other things.
A BlueHDi all-diesel engine line-up in 75, 100 and 130 guises is currently available, with a 1.2 PureTech petrol engine due to arrive later in 2019.
8. Renault Kangoo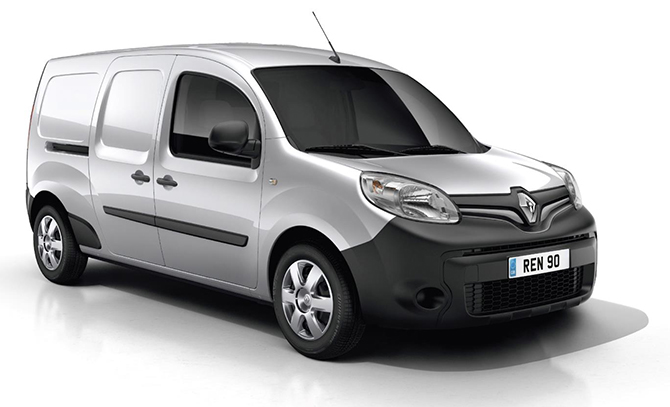 The Renault Kangoo has had many updates over the years, including the introduction of a full-electric version, and has moved on from a reputation of a budget MPV van to that of a versatile urban delivery van.
Good to drive and delivering some pretty impressive fuel efficiency, it is available in two lengths - standard and Kangoo Maxi - and is well built, comfortable and practical.
The standard Kangoo Van has 3.0 cubic metres of load space that can be increased by using the movable bulkhead, folding passenger seat or optional roof flap (that means helps transport things like ladders or pipes.)
Powered by a 1.5 dCi diesel engine with varying available outputs of 75PS, 90PS or 110PS, the Kangoo was last updated in 2016 to Euro6 emissions standards with start-stop now standard on all engines.
One highlight that will attract some sole traders to the Renault Kangoo is the existence of the electric version - The Kangoo Z.E.
With a claimed electric range of 106 miles, the Kangoo Z.E is available in two load lengths - standard or Maxi - and can also be specified as a two-seater panel van or as a crew cab, with five seats.
9. Vauxhall Combo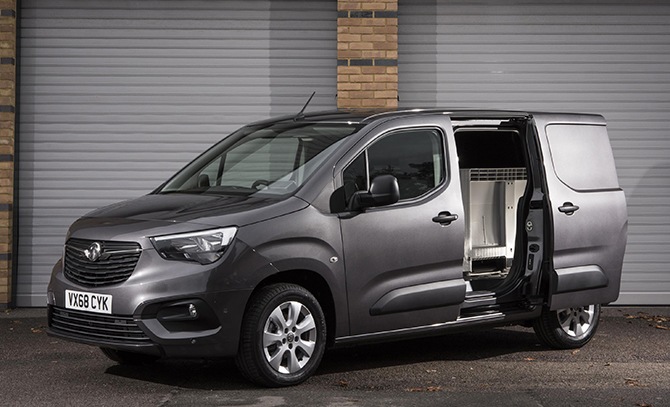 The Vauxhall Combo has been improved by its van manufacturer, adding in more space, more kit and more technology than before.
Add to this a comfortable drive, some excellent safety features and some impressive payload weights, and it is no wonder that the Vauxhall Combo van is up there amongst the most popular UK vans on the road.
The Vauxhall Combo comes in two lengths and three trims - Edition, Sportive and LE Nav. All vans come with heated electric door mirrors, electric windows and a single sliding side door as standard, with available options (that are standard as you work your way up the trims) including a second sliding side door, body coloured bumpers, wheel trims, metallic paint, cruise control, air conditioning, an 8" touchscreen navigation system, and alloy wheels, as well as Parking, Safety and FlexCargo Packs; each with their own technology and additions.
At launch, the diesel engine range comprises of a 1.6 Turbo D badged either 75PS or 100PS, and a newer 1.5 Turbo D 130PS, with a 1.2 PureTech turbo three-cylinder petrol engine in 110PS and 130PS coming later in 2019.
There's a load volume of 3.3 cubic metres in the L1 version of the Combo with the longer wheelbase and extended rear overhang of the L2 creating a 3.9 cubic metre load volume. And there's enough width and height to satisfy the majority of small sole traders.
Standard safety kit includes a driver's airbag, a full-height steel bulkhead to separate the cargo and passenger areas, electronic stability control, traction control, hill start assist and emergency brake assist.
10. Nissan eNV200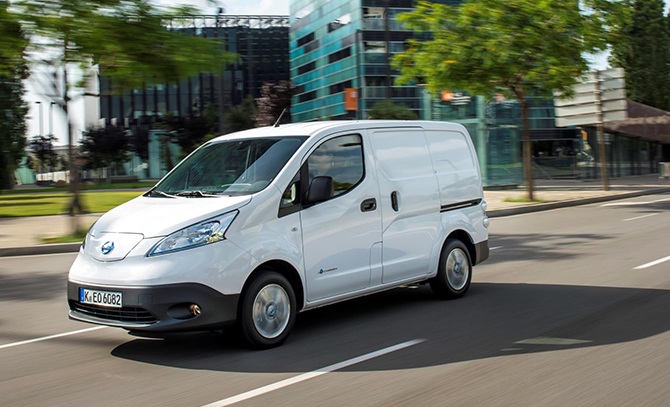 Finally, although technically not a small van, let's take a look at the Nissan eNV200, the largest electric van on sale.
Compact, and with some immensely low running costs and impressive load space, the Nissan e-NV200 is to the van sector what the Nissan Leaf is to the car one.
Best for use in the town and city, an update in 2017 gave the e-NV200 a new 40kWh battery - enough to increase the claimed range to 174 miles.
Longer than its diesel brother, the NV200, the Nissan eNV200 is also cheaper to run (thanks to the electric drive) especially on short journeys, and is also exempt from the London Congestion Charge, and benefits from free VED.
For a compact van, the e-NV200 offers a lot of load space - 4.2 cubic metres of volume in the rear, with a load bay of 2.04 metres. The optional folding passenger seat extends this to 2.8 metres, and has a payload of 770kg.
Nationwide Vehicle Contracts offers many small vans with some great deals, so Contact one of our customer service representatives to discuss your options.