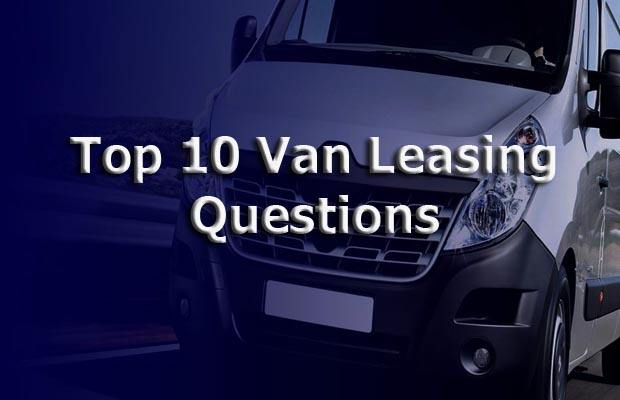 If you're thinking of leasing a van or pick-up truck with Nationwide Vehicle Contracts, chances are you'll have a lot of questions.
To help make the process as easy and as simple as possible, Nationwide Vehicle Contracts has put together a list of the top 10 van leasing questions asked by customers. Whether you have a query regarding credit checks or a question about whether you can purchase the van at the end of the agreement, we have the all the answers you need.
1. Can I lease a van or pick-up truck on a personal contract?
Depending on the finance provider, you may be able to lease a van or pick-up truck on a personal contract. While business leasing is much more common for van customers, Personal Contract Hire is available through select funders.
For pick-up trucks, Personal Contract Hire is available across the range so to get a personal quote, simply call us on 0345 811 9595 or visit our website for an instant online quotation.
2. I have a poor credit history, can I lease a van with Nationwide Vehicle Contracts?
Most funders ask for a good to excellent credit score in order to be accepted for van leasing finance. If you've been denied finance before, or your company is less than a year old, the funder may ask to see further supporting information, for example:
3 months' business bank statements
Management accounts
A director's guarantee
If you've been declined finance, other funding options may also be available to you depending on your circumstances. Your sales consultant will be able to discuss these options with you at enquiry stage.
If you're unsure whether you are eligible for business finance, take our free, interactive 'Am I Eligible' questionnaire. You can read more about credit check in our blog The Importance of Credit Checks.
3. Can I sign write the van?
Many businesses want to add custom stickers, logos and company decals to their lease van or pick-up truck, particularly if the vehicle is used by the company on a day-to-day basis. As custom vehicle decals are easy to apply and simple to remove, most finance providers will allow you to add them to the lease vehicle provided that you remove them at the end of the term and before the vehicle is returned.
4. Is ply lining included?
Ply lining is inward casing for your vehicle which protects the van from internal damage. Ply lining is often added to a van to protect the vehicle and its cargo and to help maintain the resale value of the van.
For vans leased with Nationwide Vehicle Contracts, ply lining must be fitted to all the van before delivery. This is to help protect you from any de-hire damage charges made by the finance company for any damage to the vehicle that exceeds the relevant fair wear and tear guidelines.
Nationwide Vehicle Contracts includes ply lining in almost all of our lease deals so you don't need to worry about any additional initial costs.
5. Who holds the V5C registration certificate?
All new vehicles are issued with a V5C registration certificate (also known as the log book) within 6 weeks of registration. A V5C registration certificate provides proof of registration and is also used as a form of law enforcement.
For business contract hire and Personal Contract Hire agreements, the finance company is the registered owner and keeper of the vehicle, therefore they hold the V5 registration document for the duration of the lease agreement.
6. Can I use any garage for servicing?
If you purchase a maintenance package with your lease agreement, you will need to contact the finance company to book your vehicle into a local approved garage for its annual service and/or MOT if required.
If you do not have a maintenance package included in your contract, you will need to arrange for the vehicle to be serviced and/or MOT at the appropriate intervals. While you are advised to go to a local main dealer to have your vehicle serviced, you may be able to take the van to a local garage provided they are VAT registered and use genuine manufacturer parts. Please make sure that the service light on the dashboard is reset and that your service handbook is stamped.
Check out our motoring guide for further information on Servicing Your Lease Vehicle.
7. Will you take my current van as part exchange?
Unfortunately, we do not offer a part exchange service so you will be responsible for the resale or disposal of your existing van if required. Many of our LCV (light commercial vehicle) customers have used sites such as www.webuyanyvan.com to do this.
8. Can I buy my van at the end of the lease agreement?
If you have taken out a Finance Lease agreement, purchasing the vehicle at the end of the lease agreement is not an option.
With a Finance Lease agreement, your options (depending on the funder) usually are:
Refinance the balloon payment (i.e. the outstanding amount of money to be paid at the end of the agreement)
Sell the van to a third party – not immediate family or anyone holding a financial interest in your company. You keep 98% of the sale price and send the funder the other 2% of the gross sale price so they can end their interest in the vehicle (applies to qualifying cars and commercial vehicles).
For other types of finance agreements, ownership of the vehicle at the end of the agreement will depend on the type of contract you have taken out. A rough guide for each contract type is shown below however it is worth noting that this option varies from funder to funder.
Contract hire – finance company
Contract purchase – you/your business or the finance company, depending on the option you choose
Finance lease – finance company
Lease purchase – you/your business
If you wish to discuss a purchase quotation, please contact our Contracts Amendments team on 0345 811 9595 or by email. Please note, we are only be able to discuss a purchase request with the person named on the finance documentation.
9. What level of wear and tear is acceptable?
If you are returning your van to the finance company at the end of your lease, it will be inspected for damage. Inspections are carried out following the industry standard fair wear and tear guides as laid out by the BVRLA (the British Vehicle Rental and Leasing Association).
Each finance company provides its own guidelines as to what is acceptable wear and tear, based on the age and mileage of the vehicle. If you return your van and it has any damage that falls outside of these guidelines, you will be liable to pay for it in the form of lease-end penalty charges.
For more information, visit our Vehicle Leasing Wear and Tear Guide.
10. Can I terminate my agreement early?
Early termination is at the discretion of the finance provider and is not available on all contracts. If you wish to terminate your agreement early, please speak to the Nationwide Vehicle Contracts Contracts Amendments team on 0345 811 9595 in the first instance to discuss your options.
Find out more about early termination in our blog Ending Your Lease Agreement Early.
Have another question about van leasing? Leave a comment below or call Nationwide Vehicle Contracts on 0345 811 9595 to speak to one of our team.