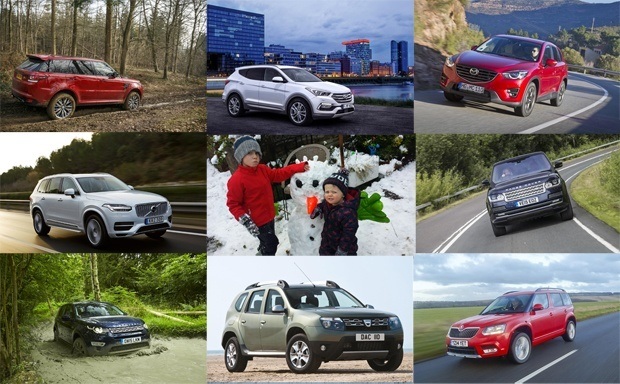 With the wintery weather already upon us, and with more to come - if forecasters are to be believed - a car that is reliable is a priority for anyone who needs to use the UK's roads at that time. Although they were originally designed for off-road terrain, the robust reliability of 4x4 vehicles has made them a popular choice for drivers who want a ride they can trust. With a range of 4x4 manufacturers now producing multi-terrain vehicles of the highest quality, like Nissan and BMW, Nationwide Vehicle Contracts are now able to offer a wide selection of these vehicles.
The differences between a 4x4 and an SUV are getting smaller in much of the construction and specifications with crossovers and SUVs combining the robust qualities of 4x4 all-terrain vehicles with an alluring sense of luxury, style and sporting finesse, so it could be an SUV that you may be looking for to keep you driving; but for the sportier and more adventurous driver, a 4x4 is the target.
So here to help you is a list of some of the best 4x4 options around, including SUVs that offer a 4x4 option in the range.
Volvo XC90
The latest version of the Volvo XC90 holds the title of Car of the Year 2015 and Large SUV of the Year category winner at the Auto Express New Car Awards 2015, and is the first car to be created and built on Volvo's own in-house designed and built platform, SPA (Scalable Product Architecture).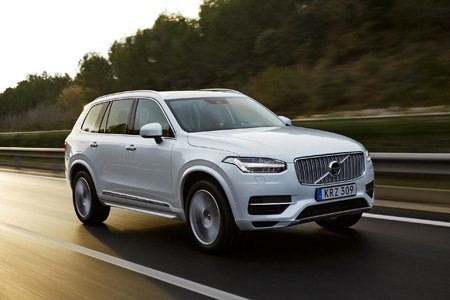 "A blend of rich Scandinavian design elements, both inside and out", the premium quality seven-seat Volvo XC90 looks as powerful as it is with its larger grille and front 'Thor Hammer' daytime running lights giving off a commanding road presence, on whatever road surface. To add to the already evident muscle, the Volvo XC90 shows off a larger bonnet, neatly sharpened shoulders to connect to the distinctive new rear lights, and a range of wheel sizes up to 22".
The XC90 also has some world-leading safety features, new powertrain technologies, an unrivalled combination of power and fuel efficiency and a superlative interior finish to add to its appeal, along with Sensus; a centre tablet control system that controls all the major functions of the vehicle, from the infotainment and phone, to navigation and connectivity features.
A range of two-litre, four-cylinder Drive-E powertrains - with the XC90 Twin Engine sitting at the top of the range, combining a two-litre, four-cylinder supercharged and turbocharged petrol engine with an electric motor to offer around 400 horsepower with CO2 emissions of around 60 g/km - give the power, and the Vision 2020 Volvo safety task ensures that the drive will be one of the safest that you can make.
When it comes to safety, the fact that the XC90 is a Volvo should tell you that safety is a major priority; and the XC90 features two world first safety technologies - a run-off road protection package and auto brake at intersection capability - amongst a plethora of other features too numerous to mention.

And it's all part of the Vision 2020 task that Volvo has set itself when it comes to safety, connectivity and autonomous drive.
As Dr Peter Mertens, Senior Vice President Research & Development at Volvo Car Group says: "The XC90 is one of the safest cars ever made."
For more information on the Volvo XC90, and some of the great leasing deals on offer, click here.
Land Rover Discovery Sport
Replacing such as an iconic vehicle as the Freelander is a task that many cars would find a real challenge, but the Land Rover Discovery Sport has managed it with ease. In fact, the style and luxury that you find with the Discovery Sport takes it miles ahead of its predecessor.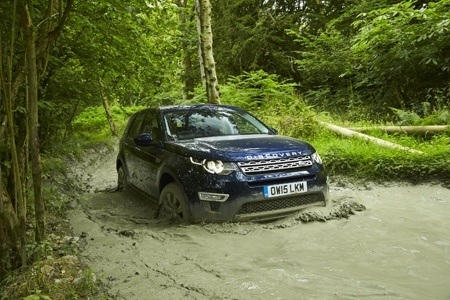 Based on the already popular Evoque, the Discovery Sport combines space with comfort for both passenger and driver. Inside the huge interior is a 5+2 seat configuration and a maximum boot space of around 1700 litres, as well as a well-thought out dashboard, soft-touch materials and impressive standard equipment that includes climate control, cruise control, a heated windscreen and partial leather seats.
Now sporting a new, British-built 2.0-litre four-cylinder Ingenium diesel 150PS engine that offers emissions of just 129g/km of CO2 and fuel economy of around 58mpg in near silence.
The four-wheel drive system is the same as you would find in the Evoque and also features Land Rover's Terrain Response system, an essential when tackling snow and mud when off-roading.
For more information on the Land Rover Discovery Sport, and some of the great leasing deals on offer, click here.

Hyundai Santa Fe
Featuring a 194bhp 2.2-litre CRDi diesel engine alongside its four-wheel drive, the Hyundai Santa Fe is available with both manual and automatic gearbox as well as a turbo kick (that gives it a bit of oomph in comparison to rivals such as the Nissan X-Trail.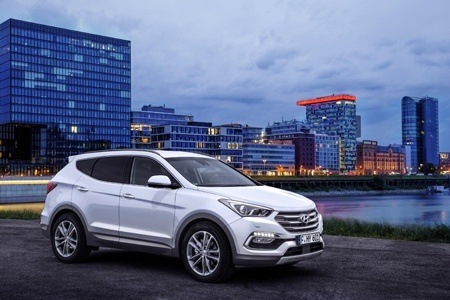 Roomy with the option of five or seven-seat layouts, the Santa Fe is a solid all-round big family car that won Auto Express' Best Large SUV of 2014 award and has a commanding presence on the road - and off it!
Available with both 2WD and 4WD, with the 4WD system, fuel economy is 46.3mpg and emissions 159g/km using the manual gearbox and 41.5mpg and 178g/km with automatic.
The Santa Fe is surprisingly effortless to drive considering its size, and is just as comfortable off the road as on it - with or without a full family and kitchen sink packed inside it - and is usable day-to-day as well as at weekends, thanks in part to the standard-fit FlexSteer power steering system that allows you to cycle through three assistance levels to find the one that suits you.
For more information on the Hyundai Santa Fe, and some of the great leasing deals on offer, click here.

Dacia Duster
The Dacia Duster is a practical and affordable 5-door compact SUV with a spacious interior and impressive off-road capability. Available with either two or four wheel drive, on the inside you'll find up to 1,636 litres of storage space, whilst a high ground clearance and such advanced features as ESC, CSV and ASR means that the Dacia Duster is stable and reliable on a range of road conditions.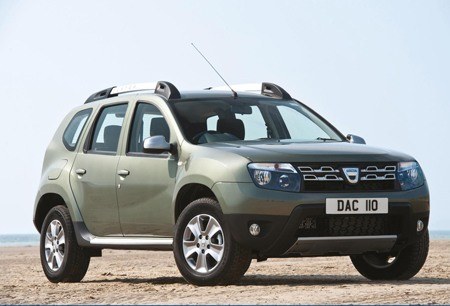 The Dacia Duster can be fitted with a choice of powerful and reliable petrol and diesel engines with both two and four wheel drive configurations available. For the full 4x4 off-road experience, it is best to look at the dCi 110hp diesel engine, which is available in a choice of two trims – the Duster Ambiance and the Duster Laureate – each coming with a different selection of equipment and features.
4x4 versions of the Dacia Duster come with an extensive range of features that give the car impressive off-road capability. A high ground clearance and optimised approach and departure angles allow the Duster to navigate demanding obstacles over challenging terrain. The manual 6-speed gearbox also includes a short first gear ratio that helps you to maintain traction over rough ground. Finally, the 3-mode 4x4 system lets you adapt to changing conditions through choosing from three driving modes – 2WD, Automatic and Lock.
Carrying up to five people in comfort with enough room left over for up to 475 litres of luggage, the back seats fold down to give a maximum total storage space of up to 1,636 litres of storage space, with more room available as the front seat folds down too.
In short, it may be compact, but the Dacia Duster is extraordinarily versatile and practical.
For more information on the Dacia Duster, and some of the great leasing deals on offer, click here.

Range Rover Sport
The Range Rover Sport just might be the most dynamic, exciting and durable car ever produced by Land Rover. The first car of its class to be built using an all-aluminium body structure, the Range Rover Sport breaks new ground in safety, agility and efficiency, and delivers an exhilarating driver-focused experience – whether you're taking to the mountains or the motorway.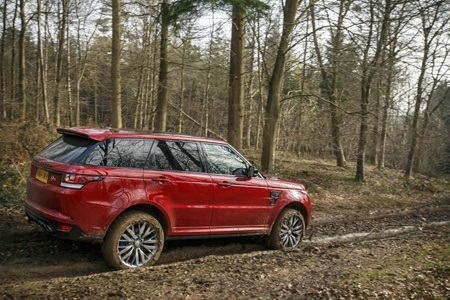 Along with an extensive range of high-quality features and equipment, the Range Rover Sport is available with a choice of three powerful engines – two diesel and one petrol – each of which produces exactly the sort of torque you'd need for formidable performance and epic adventures.
The entry-level diesel engine is the 3.0 litre LR-TDV6, which is capable of achieving 0-60mph in just 7.1 seconds. More powerful is the 3.0 litre LR-SDV6, which achieves the same acceleration in 6.8 seconds. Both diesel engines are capable of producing 600Nm torque at 2,000rpm. More powerful still is the LR-V8 Supercharged petrol engine. Producing 625Nm torque at 2,500-5,500rpm and capable of 0-60mph in as little as 5.0 seconds, it's the petrol option that puts the "sport" into Range Rover Sport.
Four wheel drive comes as standard, as well as four corner air suspension for responsive and dynamic handling both on and off-road. The new Range Rover Sport is also the first SUV to benefit from the optimum safety, stability and efficiency that comes from an all-aluminium body structure. The automatic gearbox even allows you to select a Dynamic Programme for enhanced balance and handling on corners.
Not only is the drive beautiful, but it is also comfortable with soft touch premium leathers, distinctive metal finishes, legroom for all, personal climate control and a 23 speaker Meridian Signature Reference Sound System guarantee that the cabin will always be a pleasant and invigorating place to be.
The all-new Range Rover is loaded with driver assistance technologies that serve to make life easier and your every journey more enjoyable. The range includes a surround camera system, a power tailgate with a customisable opening height, two 8" video screens for rear seat entertainment and a full navigation system that can even guide you on your off-road jaunts.
For more information on the Range Rover Sport, and some of the great leasing deals on offer, click here.

Mazda CX-5
The Mazda CX-5 is a multi-award winning compact 5-door SUV that fully embraces SKYACTIV Technology and the KODO design principles to create a driving experience that's safe, smooth, enjoyable and efficient. It's been recognised not just as an excellent SUV, but also for its astoundingly low emissions. The Mazda CX-5 is capable of up to 61.4mpg on a combined cycle with CO2 emissions as low as 119g/km. In a class of cars notorious for being fuel-guzzlers, the Mazda CX-5 leads the way as a genuine breath of fresh air.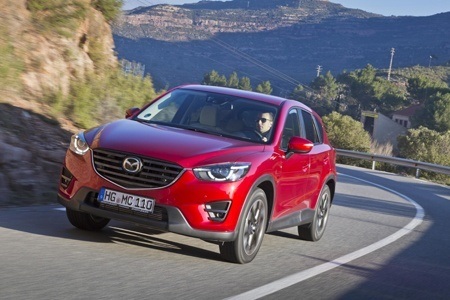 Winner of the What Car? Best SUV 2013 & Ultra-low Carbon Car of the Year 2013 awards and the Auto Express Best Crossover 2012 Award, as well as being the holder of a 5 Star Euro NCAP award for safety, the Mazda CX-5 offers a choice of powerful petrol and diesel engines including both the two-stage turbocharged 2.2 litre SKYACTIV-D diesel engine and the direct-injection 2.0 litre SKYACTIV-G petrol engine, both fitted with SKYACTIV-MT manual transmission as standard.
The Mazda CX-5 is fitted with such advanced technology as enhances safety, performance and enjoyment. Active safety features include an Adaptive Front lighting system; a Rear Vehicle Monitoring system; a Lane Departure Warning system and, perhaps most impressive of all, Smart City Brake Support (SCBS).
Meanwhile, a 5.8" colour touchscreen display grants you complete and intuitive control of your car's infotainment system; whilst the flexible seating system gives you up to 1,620 litres storage space.
For more information on the Mazda CX-5, and some of the great leasing deals on offer, click here.

Land Rover Range Rover
The all-new 5-door Range Rover combines high-end luxury with the off-road capability that has become synonymous with the Land Rover name. Tree-zone climate control and mood lighting make for an elegant and refined interior, whilst alloy wheels, xenon headlamps and LED rear lights help to ensure a striking exterior appearance. Meanwhile, with up to 2,030 litres load space, you can rest assured that your every storage need will be catered for.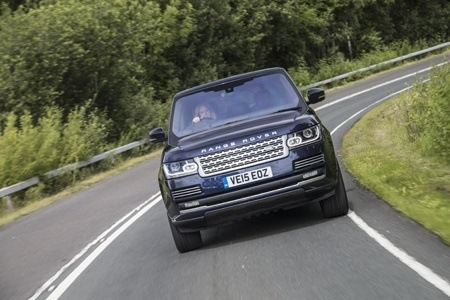 The all-new Range Rover is available in three models – the HSE, the Vogue and the Autobiography in a range of advanced petrol and diesel engines.
The Range Rover HSE comes fitted with a 3.0 litre LR-TDV6 Diesel Engine. With a maximum speed of 130mph and acceleration from 0-60mph achievable in 7.4 seconds, it certainly delivers in terms of power; whilst the automatic Stop/Start system boosts efficiency and reduces engine emissions.
The Range Rover Vogue and Autobiography models come with a choice of two powerful diesel engines – the LR-TDV 3.0 and the LR-SDV 4.4 – and the incredible LR-V8 Supercharged 5.0 Petrol Engine.
Transmission is available with the new Terrain Response 2 Auto technology, which monitors ground conditions before implementing an appropriate response to the terrain. With vehicle settings optimised automatically for pretty much every conceivable occasion, you can rely upon a safe, enjoyable, comfortable and responsive driving experience at all times.
For more information on the Range Rover, and some of the great leasing deals on offer, click here.

Skoda Yeti Outdoor
The Skoda Yeti is a fantastic family car that's perfect for everyday driving, but what if you want to wander from the beaten track? Enter the Skoda Yeti Outdoor, an even more practical version of the popular compact SUV that's been enhanced with some serious off-road potential.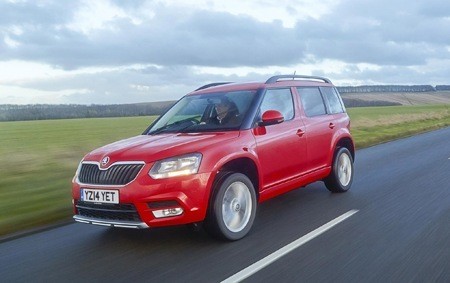 The Skoda Yeti Outdoor is prepared for anything, to any terrain, no matter how demanding. Its 180mm ground clearance allows it to take most any terrain in its stride, whilst the latest in electronically controlled four-wheel drive and Haldex coupling technology means you can depend upon good traction, control and stability on even the most demanding of surfaces.
This advanced system is able to detect exactly what's happening on each wheel before instantly transferring power or applying brakes as and when required. Meanwhile, a host of active safety systems further help to keep you on track. Fitted as standard is Electronic Stability Control (ESC), an Anti-Lock Braking System (ABS) and hill-hold control.
The engine line-up starts with the 1.2 litre 105PS TSI, available with either six speed manual transmission or the highly-responsive sequential automatic DSG. A more practical option is the 1.8 litre 160PS TSI 4x4, but for the best in off-road traction, choose a diesel engine. The 4x4 diesel range starts with the 2.0 litre 110PS TDI DPF and extends to the 2.0 litre 170PS 4x4 DSG DPF, which will give you all the power, control and responsiveness you need for your more ambitious jaunts.
For the ultimate Skoda Yeti Outdoor experience, there's also the Rough Road package. This incorporates a thermoplastic cover for the engine and transmission, a plastic cover for the fuel and brake lines and a reinforced brake fluid-distribution system and hand-brake cable.
For more information on the Skoda Yeti Outdoor, and some of the great leasing deals on offer, click here.

To see the complete range of SUV and 4x4 vehicles available to lease at some great rates from Nationwide Vehicle Leasing. click here.