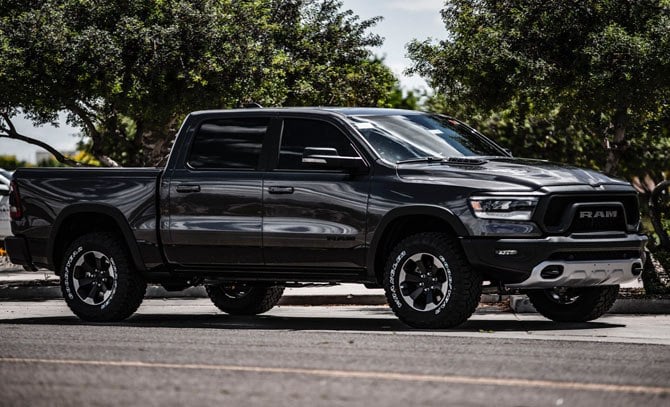 Thanks to BIK tax rules and VAT options, it seems that more and more savvy drivers are choosing double cab pickups as their company vehicles. Although popular in the USA for some time, the attraction of pickups in the UK is more recent. This is thanks in part to the aforementioned tax breaks, an option for businesses to reclaim VAT and the efforts of car manufacturers to make them more comfortable, stylish and desirable.
As pickups are on the rise, we've put together a list of our top 5 best pickups.
Mercedes Benz X Class
With a Mercedes X Class you know that you're going to be getting a premium pickup with premium equipment at a premium price. This is because it's created by Mercedes and the arrival of Mercedes into the pickup market surely tells us that car manufacturers are taking pickups seriously.
The X Class is based on the existing Nissan Navara with a Mercedes badge and some updates. The X Class offers the option of a 2.3-litre engine (in two power outputs badged the X 220 d and X 250 d, which come with manual or auto gearboxes respectively) and a 3-litre V6 diesel (the X 350 d, which features permanent 4WD and an auto box as standard), both of which are surprisingly economical.
With a tuned all-coil suspension, the Mercedes X Class rides well and the interior is comfortable and stylish. Although, it does lack adaptive cruise control and Apple CarPlay.

Toyota Hilux
The most popular pickup is probably the iconic Toyota Hilux and over the years it's transformed from a work van into a work car. The driving position is more comfortable and there's a lot more soft-touch materials – making it more car-like. Plus, you also get a 7" touchscreen with DAB and Bluetooth, cruise control, climate control and keyless start. The Hilux is surprisingly good to drive with plenty of comfort although, like any pickup, if the load bay is empty the ride can be a little bouncy.

All the Hilux models available from Nationwide Vehicle Contracts are double cab, so there's plenty of space for the family. They also feature a 148-hp, 2.4-litre engine that can tow 3.2-tonnes, this is a bit less than the Navara. It also offers a healthy torque of 400-Nm and can carry over 1-tonne on its load bay.

"An icon of toughness, dependability and reliability, the Toyota Hilux has a fantastic reputation for keeping going, no matter the situation." There's no wonder the Hilux features in our top 5 pickup list, as all the nine models available include accessories such as – a reversing camera, cruise control, tinted rear windows and Toyota's Touch 2 touchscreen infotainment system.

Isuzu D Max
The 2017 updated Isuzu D Max is the workhorse of our top 5. It's better suited to the workplace than the family trip, although that isn't to say that it can't be used for that purpose. Its 169-bhp, 1.9-litre engine gives it the power to tow 3.5-tonnes in the 4x4 version, so a day's work gets done in a jiffy. It utilisies the 400-Nm of torque to give a maximum payload of 1136-kg (depending on model).
Running costs of the D Max are low, and the ride is better than you would expect of a car more suited for work than pleasure. Having said that, air-conditioning, front electric windows and height-adjustable headrests feature on all models. There's a height-adjustable steering wheel, driver and passenger reading lights and six-speaker stereo with Bluetooth connectivity, as well as USB-iPod interface, 17" alloys, leather steering wheel and seats with electric adjustment. Plus, electronic climate control, parking sensors and roof bars are available on different models throughout the range.
Mitsubishi L200
When it comes to Asian vehicle manufacturers, it's generally considered the Mitsubishi L200 is the benchmark by which all others are judged. Unsurprisingly, this makes it one of the most popular pickups on the market when it comes to customers. The L200 is the only pickup on the market to offer a full-time 4WD setting, and its 2.4-litre diesel creates 178-bhp and plenty of muscle with 430-Nm of torque – "delivering strong performance and refinement." It has a tight turning circle, good fuel economy and a fully-earned reputation as a hardworking vehicle, its engine pulling up to 3.1-tonnes, as well as being a fine off-road 'car'.
Now in its 5th generation, the latest version L200 sees Mitsubishi increase the 'car feel' with everything from – distinctive styling, dual-zone climate control and touchscreen infotainment to lane-departure warning and leather seats. Inside the cabin there's plenty of space alongside some nice details – including the Super Select 4x4 control dial and the large touchscreen in the centre of the dash in higher spec models. Adult passengers may have to squeeze up a little bit, but there's enough space for children. By using aluminium and other lightweight materials the L200 can achieve 42.8-mpg on the combined cycle, and for the working driver the 1470-mm square load bed can take a 1,050-kg maximum payload.
Ford Ranger
The other pickup that stands out from the crowd is the "stylish in a rough, tough, rugged sort of way" Ford Ranger. It's available with a choice of a 158-bhp, 2.2-litre or 5-cylinder, 3.2-litre diesel engine, both with either a six-speed manual or automatic gearbox. The Ford Ranger has excellent off-road ability and can tow 3,500-kg in some guises as well as being the first pickup in the UK to offer modern safety features – such as lane keeping aid, adaptive cruise control, and traffic sign recognition – awarding the Ford Ranger a five-star NCAP's safety test.

This is part of Ford's attempt to promote the Ford Ranger as not only practical and useable, but also as a stylish motor to drive, so much so it's getting closer and closer to an SUV. Styling has been modernised both inside and outside with the latest technology and safety features, as well as engine and suspension upgrades that offer 43.5-mpg and 171-g/km emissions on the 2.2-litre version. The Ranger is available in single, super and double cab versions and the popular double cab body style offers four doors and five seats into which you can fit five occupants snugly. The Ford Ranger double cab offers a 1,199-kg payload and a class-leading 3,500-kg maximum towing weight, with all models getting four-wheel drive.

Test Driven, Auto Express and Car Buyer have their own ideas as to what are the best pickups, check out what they have to say by clicking the links.
Nationwide Vehicle Contracts has some great deals available on pickups – including the Nissan Navara and the Volkswagen Amarok. Contact one of our Customer Service Representatives for more information.