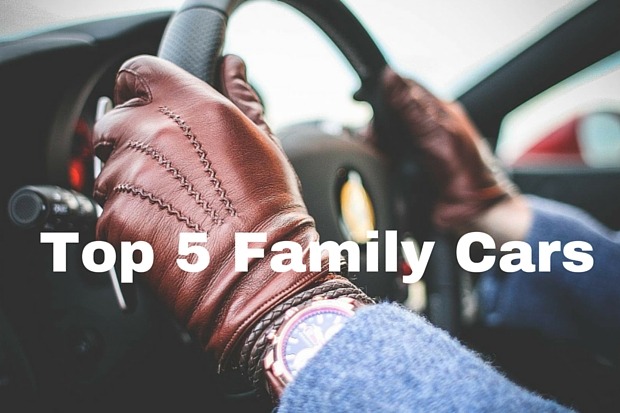 Are you in the market for a family car? You're in luck because there are plenty of options to choose from. Almost all the car brands have at least one family car with options from crossovers to MPVs. But which one is right for you?
To help you choose, Nationwide Vehicle Contracts has made a list of the top 5 family cars available in the UK.

Volkswagen Golf
Thanks to its strong performance, high quality interior cabin and great driving dynamics, the Volkswagen Golf is one of the best hatchbacks in the UK and a great lease choice for those who want a vehicle to combine family and professional life.
Equipped with a wide range of refined engines, the Volkswagen Golf promises you a strong, sharp performance, whether on busy city streets or the open road.
Inside, the Volkswagen Golf spacious cabin also promises a comfortable and practical ride thanks to its impressive, classy interior.
Find out more about the Volkswagen Golf range here.
Ford Focus
The Ford Focus has the title of the best selling family car on the last years and for good reason. The Ford Focus provides a superior interior quality with a comfortable cabin that is a perfect space for long family trips.
The best thing on the Ford Focus however is the way that drives. With a variety of strong and economical, efficient engines, you can enjoy both a comfortable and economic ride.
Check out our Ford Focus offers here.
Seat Leon
For those that are looking for a sharp, good looking family car then Seat Leon may be the car for you. Stylish on the outside, stylish on the inside, the Seat Leon boasts a spacious cabin equipped with high quality materials to for an upmarket feel.
Under the bonnet, the Seat Leon comes to life with a variety of efficient petrol and diesel engines offering smooth, strong performance making it ideal for long motorway trips or nipping in and out of busy city streets.
Want to know more about the Seat Leon range?
Skoda Octavia
With its classy hatchback style and big and practical boot, the Skoda Octavia is a perfect family car.
Thanks to its spacious cabin and the generous standard equipment list, the Octavia gives rivals such the Ford Mondeo and Volkswagen Passat a run for their money.
But it is under the bonnet where the Skoda Octavia truly comes to life with a variety of strong but fuel efficient engines offering you power, performance and economy when you need it most.
Find out more about the Skoda Octavia here.
Mazda 3
Our last but not least in the list with our favourite family cars is the Mazda 3. As one of the most stylish family cars, the Mazda 3 is a great lease alternative for the Volkswagen Golf, the Ford Focus and the Vauxhall Astra.
Mazda has a good reputation for building stylish, affordable cars, and Mazda 3 couldn't be an exception. With its spacious cabin and a excellent standard equipment such as navigation system promise you never to get lost.
When it comes to engines and performance, the Mazda 3 comes to life with powerful diesel and petrol engines promise to satisfy even the most demanding drivers.
Visit our Mazda 3 range in order to keep updated with our last offers.
To view our latest lease offers on a great range of family hatchbacks, simply follow the above links or call Nationwide Vehicle Contracts on 0345 811 9595 (local call rate).