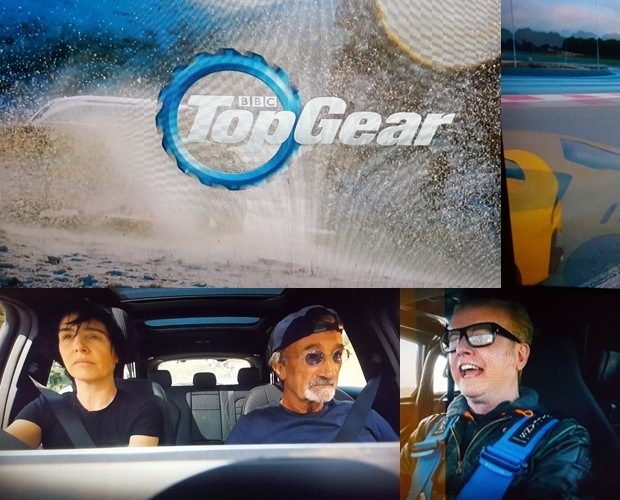 Top Gear made its re-debut last week, with no fewer than six new presenters over the series, as the BBC tried to persuade viewers that the new guard would be able to replace the old guard of Clarkson, Hammond and May. Whether it worked or not is still to be decided, but it seems that the national press weren't too impressed, and a certain amount of vitriol on social media (especially Twitter) suggested that the British public weren't prepared to give it a chance either.
But at least they watched the new and rebooted series, even though there were the inevitable comparisons between Chris Evans and Jeremy Clarkson, and that's what we thought we would do for you, just in case you missed it.
So what did you miss with Episode 2?
This week's Top Gear saw the first appearance on the show of Eddie Jordan, founder of the Jordan Racing team and Channel 4 F1 analyst. Together with regular presenters Chris Evans and Matt LeBlanc, their challenge was to take a trio of music stars - Texas's Sharleen Spiteri, blues guitarist and singer Seasick Steve and rapper and producer Tinie Tempah - to the highest pub in Africa, on the border of South Africa and Lesotho.
Obviously it wasn't a simple and easy trip because, to get to the pub, they had to go 9,436 feet up into the Drakensberg mountains along a trail populated by ruts in the road and rocks a-plenty called the Sani Pass. And with sheer drops on one side of the road into a valley and a severe lack of crash barriers, it was a ride that would test the most absorbent of nappies.
The three cars racing head-to-head to get to the pub first were Evans and Steve in a Jaguar F-Pace, Jordan and Spiteri in a Mercedes-Benz GLC and Le Blanc and Tempah in a Porsche Macan, all attempting to show that they were the best of the new breed of SUVs as happy off-road as in the city.
Having already raced on road, tested vibration with massive cocktails, and taken photos of giraffes and zebras with the reversing cameras, the race up the windy hill with plenty of switchbacks saw Eddie Jordan damage the Mercedes before even setting off as he forgot to switch the drive to off-road, and was replaced as driver by Spiteri. Whether or not this led to them losing to Le Blanc in the race is a matter of conjecture, but needless to say there was plenty of film involving close-ups of tyres, stunning scenery and a hell of a drop down into a valley.
Also on the show, the usual tests were in evidence with Chris Evans sat in the passenger seat of a McLaren 675LT driven by Jensen Button. You would expect it to be a fast ride - and it was.
Having shown of the abilities of previous McLarens, and Evans doing lots of screaming and shouting as he drive them, Jensen Button turned off all the driver aids and spun the car around the circuit with ease, enjoying himself in a way only a racing driver in a 'normal' car on an airfield circuit could. Not sure that Chris Evans boasting that he had bought the car afterwards was too necessary though.
Oh, and The Stig set a new lap record in the car too!
And finally, the "Star in a Rallycross Car" section was back too, this time with Damian Lewis behind the wheel of a Mini John Cooper Works against Spiteri, setting a new lap record, and beating last week's time-setter Gordon Ramsey.
The Verdict
Overall, viewers need to realise that the show needs time to bed in. It's not the fault of Chris Evans that the show now seems like 'The One Show' does Top Gear, but a whole new audience has to be found. Rather than 3 blokes who would bore you at a party about the inner workings of a car you have never heard of presenting, you now have enthusiastic 'amateurs' (even though you know that they aren't), and the laddishness has gone - thankfully.
I always turned off Top Gear and switched over whenever it was on, mainly due to the presence of Jeremy Clarkson, and that is my personal opinion, and there will be many who do the same because of Chris Evans.
You may be one of them, but I would suggest that you give it a chance. The BBC have tried to refresh the show, and it will have teething problems, so I suggest that maybe you could cast aside any preconceptions, ignore the snipings of the national press (especially that of Clarkson's lapdogs), and tune in next week to see what's on.
We will, and will let you know how it goes. Same blog, Same time, Same Top Gear channel.