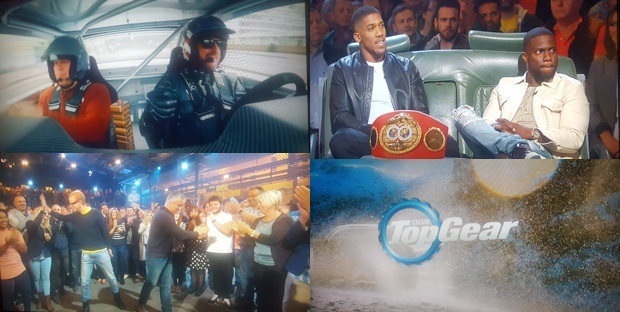 The third episode of Chris Evans's new-look Top Gear arrived on our airwaves on Sunday, buoyed by a better reception (if social media is to be believed rather than the national press) to last week's show rather than the launch episode the previous week.
Mind you, it seems that ratings dropped, so they will have to get some of those non-watchers back as well as some newbies if they are to at least claim some success when compared to the previous incarnation of the show - or should that be In Car Nation?
Maybe it will, especially on Catch Up TV as it featured two of the car slots that caused media 'outrage' earlier in the year when they were filmed: The Cenotaph Controversy and Chris Evans throwing up after a ride with German professional racing driver Sabine Schmitz.
Episode Three- What you may have missed
In the opening segment, Chris Evans was the passenger in an Audi R8 being driven by Schmitz was driving around the Laguna Seca race circuit near Monterey in California when he asked to pull over, before vomiting over the crash barrier at the side of the track.
Prior to this Evans had shown how good the car was by driving himself round an undisclosed track, showing off the 600HP V10 engine capable of 205mph and 0-60mph in just 3.2 seconds, and highlighting the fact that Audi claim that the R8 is the fastest road-going Audi of all time.
And then The Stig had a go in the car, getting a lap time near to that achieved by the Lamborghini Huracan - not bad for a road legal car!
Next up saw the new BBC Top Gear debut of journalist and general car nut Chris Harris who was filmed driving a £5 million Ferrari TDF around some pretty twisty roads in France. He gave a bit of history about the TDF name (It stands for Tour de France - but not the cycle race; the auto version more famous in the 50s) before jumping into the new Ferrari F12 TDF with V12 engine and slinging that around the Circuit Paul Ricard to demonstrate not only the power of the car, but the challenge that it takes to drive Ferrari's fastest car currently in production!

Celebrity guests have always been a feature of Top Gear, and there is no reason to change a winning formula, so British boxer (and IBF World Heavyweight champion) Anthony Joshua and American comedian Kevin Hart were this week's "Star In A Rallycross Car" challengers, with Joshua coming out top, despite Hart's obvious love for some great-looking cars, including a Pontiac GTO that he had rebuilt for his dad, but not let him drive.
This was a good section of the show; very relaxed and not forced at all, with Hart and Joshua bouncing off each other, and Joshua endearing himself to the British crowd by revealing that his first car was the 3rd best-selling car in the UK, the Vauxhall Astra, and his favourite car the one that he bought his mum (Cue crowds collective aaaaahs), the Range Rover Sport.
Oh; and Joshua ended up top of the celebrity leaderboard after racing the MINI Rallycross car around the track in the fastest time, beating last week's guest Damian Lewis.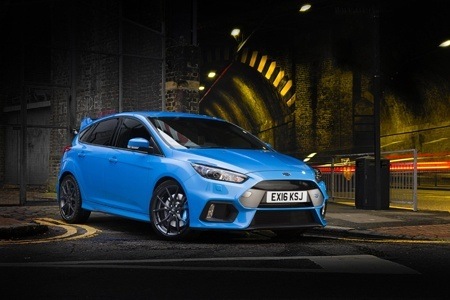 The Ford Focus RS: "Not so much a focus; more of a blur"

British journalist and television presenter specialising in motoring and technology (and, like Chris Harris a presenter of BBC's Top Gear: Extra Gear) Rory Reid then featured in a film showing just what the Ford Focus RS could do with its 4WD and 0-60MPH in 4.7 seconds, when against the Honda Civic R and the Mercedes-Benz AMG A45.

All got good reviews, with a child even getting to drive the Focus (legal age, of course) but with Reid describing the Civic as old-fashioned, and the Mercedes 'something your dad might drive', it was the Ford Focus ("Not so much a focus; more of a blur") that took the crown, showing off with lots of drifting shots and cool camera work.
This week's Top Gear finished off with will also feature the infamous film in which Matt LeBlanc passengered professional rally driver Ken Block in a high-speed blast around London's closed streets in Ken's Hoonicorn.
The film featured lots of fast-paced shots and lots of car doughnuts ('donuts' for our American readers) as they travelled through London's Canary Wharf (where Tom Odell featured a little as he must have a new album out - he does!), St. Paul's Cathedral, Tower Bridge, Westminster Bridge, Houses of Parliament and Buckingham Palace (complete with Queen lookalike wave through the window).
And it looked pretty spectacular. But I think I expected more, especially as there had been a bit of a media furore about alleged doughnuts near the Cenotaph that the BBC had been forced to apologise for. Or was that just more media hype?
Overall, a better episode than last week, and the show seems to be finding its feet. Less screaming from Chris Evans, some great footage, good guests, excellent presenters: what's not to like? It's a lot better than 3 middle-aged men being car bores at a party.