LET THE GAMES COMMENCE!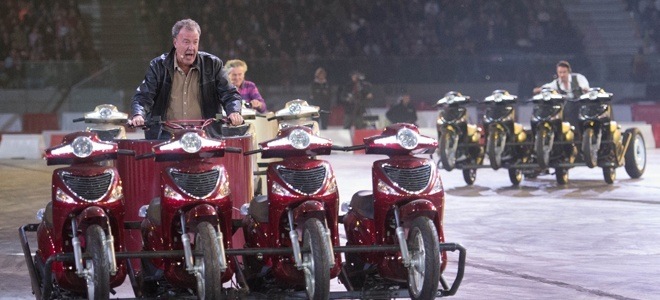 Top Gear Live makes its first ever appearance in Scotland at the SSE Hydro in Glasgow in January, making it a great start to the year for our Caledonian cousins who are also hosting the XX Commonwealth Games later on in 2014. And with that event in mind, Top Gear Live are presenting not only the high-octane show that is expected of the team but one that will feature a suitably sporting theme.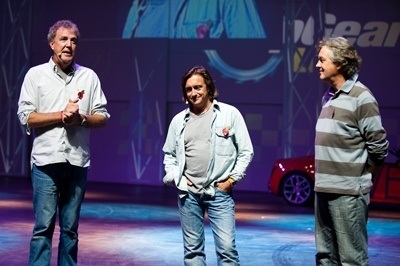 All three of the show's inimitable presenters will be present in the Top Gear Live Arena – Jeremy Clarkson, Richard Hammond and James May – along with chatty driving legend 'The Stig', and the show promises us all a "breathtaking cocktail of stunts, supercars, pyrotechnics and challenges."
The usual, then!
Later on in the year, the sparkling new SSE Hydro will be staging netball and gymnastics events when the Commonwealth Games gets underway, but in January the sporting action will be a lot more light-hearted.
We will see chaotic chariot races powered by mopeds in a show somewhat recollective of 'It's A Knockout' and a race involving three-wheeled Reliant Robins, but it looks like the highlight of the show will be a madcap automotive version of curling (a Scottish special) which will see Hammond and May sliding across the arena floor at breakneck speed with little control.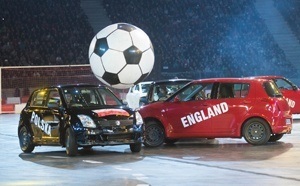 And then we will see a game of car football which will pit England against Scotland, with Jeremy Clarkson throwing down the gauntlet to the Scots. "We always represent England – and we even occasionally win," said Clarkson Mind you, this is following on from a crashing defeat for Clarkson's English team to Poland in front of a record Top Gear Live crowd of 58,000 in Warsaw.
But it's all in good jest. As Clarkson says about Top Gear Live: "It's all part of turning your favourite motoring show into the most spectacular motoring theatre show in the universe. We take all the best bits of Top Gear, and ambitiously attempt them live in the action arena. I'm sure it will work out well!"
If you haven't got a ticket for Top Gear Live in Glasgow, you are too late, as the five shows are all sold out. But we are promised that there will be events to come later in the year for you to go to around the country once the team are back from Australia and South Africa.