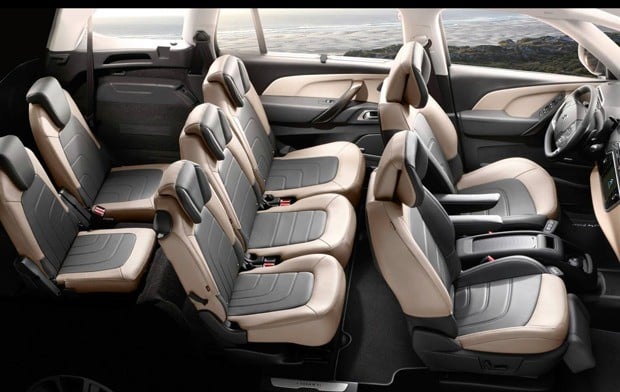 The number of family cars, MPVs, SUVs and 4x4s on UK roads is on the increase, so much so that the BBC announced that NCP are having to widen car park spaces to accommodate them.
And 7-seater cars are just one of those options that drivers are turning to to make sure that all their family can go out on a trip. And it can be done in style with days of the 'tour bus' car long gone. As Auto Express said, "Gone are the days when seven seats meant you had to settle for a boring family bus. The latest MPV's and SUV's may have three rows of seats, but they can also be stylish, good to drive, and cheap to run."
You'll need to decide first what sort of larger car you need, as each have their own strengths and weaknesses. For example, if you have a large older family, an MPV is best as its two rear seats are designed for constant use from adults, whereas an SUV is a bit more stylish, a little smaller, and has a smaller area for that third row (which is there to boost boot space really). When it comes to MPVs and SUVs, Car Buyer reports that some car manufacturers such as Peugeot are replacing their ageing MPVs with SUVs. In fact, Peugeot has already repositioned the latest Peugeot 3008 and Peugeot 5008 as SUVs rather than MPVs.
Most MPV's and seven-seat SUVs come are powered by a diesel engine as opposed to a petrol one. This is because a diesel powertrain offers greater torque and power to carry the extra weight that is to expected with 7 passengers.
So what are the best 7-seater cars out there in the UK market ready for you to drive?
1. Citroen Grand C4 Picasso
The Grand C4 Picasso is a fine example of a seven-seat people carrier being not only light, airy and hugely practical, but also modern and stylish. There is a huge 537-litre boot with the third-row seats folded down for those times when you don't need the seven seats, an optional panoramic sunroof to let in even more light, lots of storage spaces for everyone, and a highly adaptable seven-seat modular system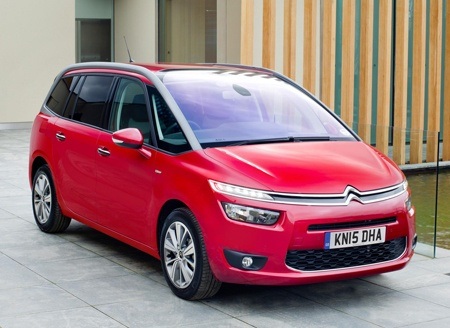 With a record 2.84m wheelbase, all passengers can enjoy first-class levels of legroom, and its elegance, dynamism and reliability make it a great family choice when it comes to leasing.
A choice of engines are available with the most economical returning around 74mpg with emissions under 99g/km. The emissions means it's currently exempt from road tax, although this will change once the new rules come into effect in April 2017.
When fitted with the e-HDi Airdream engine and the ETG6 clutchless gearbox, the Grand C4 Picasso is capable of 74.3mpg, with CO2 emissions as low as 98g/km. Even the more powerful 148bhp 2.0 litre diesel engine produces as little as 110g/km CO2. And there is also a choice of two petrol engines – a 118bhp 1.6 litre unit that's also available turbocharged with 156bhp output – and transmission is available as either six-speed manual or six-speed automatic.
Driver Assistance systems serve to make your journey as safe, convenient and peaceful as possible. 360 Vision, Park Assist, a reversing camera, a video Lane Departure Warning System (LDWS) and active cruise control put your mind at ease, leaving you free to simply enjoy your journey.
Standard equipment includes alloy wheels, Bluetooth connectivity and a six-speaker stereo with USB input. Higher trims add leather upholstery, DAB radio, a powered tailgate, keyless entry and a 12" colour HD digital information display.
For more information on the Grand C4 Picasso, check out our blog here.
2. Volvo XC90
The latest Volvo XC90 replaced the existing model that had been around for 12 years, and was an instant hit with its exceptional comfort, smarter styling, even greater practicality and a genuinely luxurious interior.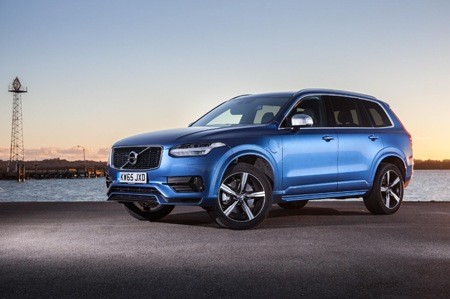 There is enough space in the third-row seats for two adults, and even with the three rows of seats up, there is a boot space of 314 litre boot that increases to 775 litres with the third row folded down.
Even as standard, the XC90 is well-equipped, and the ride is a refined one, although parking can be a bit of a task due to the overall size of the car
There are just three trim levels and three engine options – a 225PS D5 diesel, a 320PS T6 petrol and a 'Twin-Engine' T8 plug-in hybrid - with the diesel being most popular with an NEDC combined economy of 48.7mpg.
All cars have all-wheel drive and an automatic transmission as standard, and there are plenty of options available to help the already smooth ride even smoother, like air suspension, and others to make the journey easier such as an i-Pad style touchscreen.
There is more about the Volvo XC90 in our blog article here
3. Kia Sorento
The Kia Sorento is Kia's largest and most practical car, with what at first seems like a small engine range, but don't let that fool you. The 197bhp 2.2-litre diesel engine with 200PS and 440Nm of torque offers plenty of power to get a car with a very spacious interior and a 605-litre boot around with its as-standard four-wheel-drive system.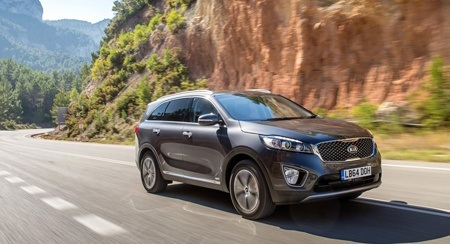 It also offers official economy of 49.5mpg and emissions of 149g/km in the manual with 17" wheels, with emissions increasing with larger wheels and the smooth automatic transmissions even further to 177g/km.
Comfortable, safe and easy to drive, the Kia Sorento offers a whole host of equipment as standard that includes Bluetooth, air-conditioning, DAB radio, three ISOFIX child-seat mounting points across the second row, rear parking sensors, and the maximum five-star Euro NCAP safety rating
Honest John tells us that "the Sorento has a very spacious, comfortable cabin with space for seven. The middle row of seats is more than capable of seating three adults and, while the two flip up seats in the third row are best suited to children, you could seat adults in them at a push."
For more information on the Kia Sorento, check out our blog article here.
4. Land Rover Discovery Sport
The Land Rover Discovery Sport is the stylish and luxurious replacement for the Freelander, and comes complete with a new, British-built 2.0-litre four-cylinder Ingenium diesel engine with lower emissions, better economy and notably less noise than its initial 2.2-litre SD4 engine.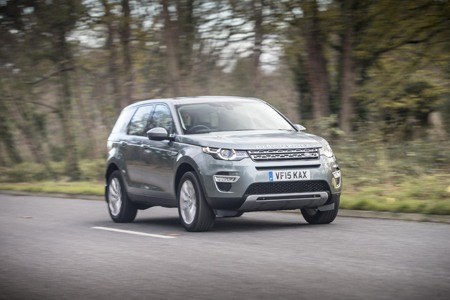 The Discovery Sport is based on the award-winning Range Rover Evoque and offers plenty of space inside with a 5+2 seating configuration and around 1700 litres of maximum boot space - the +2 being perfect for young children, with adults fitting quite (quite literally) at a squeeze.
Both the interior and standard equipment on offer are impressive, with climate control for the first two row of seats, cruise control, a heated windscreen and partial leather seats as highlights.
Honest John describes the Discovery Sport as "capable and fun, with plenty of grip in the corners and plenty of torque," and, thanks to the four-wheel drive system and Land Rover's excellent Terrain Response system, it is also "more than capable off road."
Check out more information on the Land Rover Discovery Sport in our blog article here, and take a look at the very latest Land Rover Discovery here for a slightly smaller alternative.
5. Ford S-MAX
The Ford S-MAX offers, besides the obvious people carrying abilities, an "engaging and rewarding driving experience" according to Car Buyer.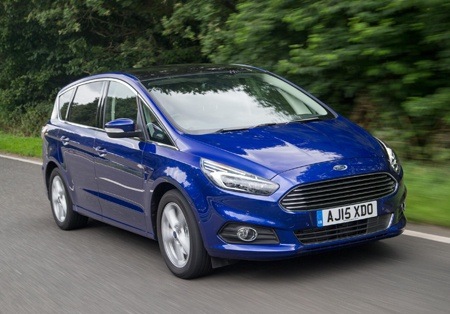 So for those drivers needing space, it ticks the boxes there with a 285-litre boot with all seats in place - accessible via a wide, electronically operated tailgate and low boot floor - and 700 litres with the third row down. Third row seating space is more for the younger passenger, but the second row offers three ISOFIX child seat fittings, so for the 5-child family it is exceptional!
Honest John describes the S-MAX with a glowing comparison to the latest Mondeo, "with a neat and upmarket dashboard along with an easy-to-use centre console, featuring the SYNC 2 touchscreen infotainment as standard," as the S-Max offers "a more saloon-like driving experience than you'd expect from a people carrier."
There are six engine choices, both petrol (1.5-litre with 150PS and a 2.0-litre with 240PS) and diesel (2.0-litre TDCi with power outputs of 120PS, 150PS, 180PS and 210PS) as they blend economy with performance.
For more information on the Ford S-Max, check out our blog article here.
6. Nissan X-Trail
The Nissan X-Trail in its 'normal' form comes with five seats, but "by adding in another 2 seats as an option, and moving up from the basic trim level, you get a seven-seat SUV with a generous boot and 'staggered' seating, meaning each row sits slightly higher than the one ahead of it, improving visibility and passenger space."
Boasting 4WD, a very impressive 1.6-litre diesel engine, a modern look and a spacious 550-litre boot with a two-part adjustable load floor, it's practicality that leaps out at you when you consider it.
There's more than enough space for adults in the back row, and that extra row is well enough for the kids to fit in, and if Honest John describes it as "a comfortable, easy-to-drive car with plenty of space," who are we to argue?
For more information on the Nissan X-Trail, check out our blog article here.
7. SEAT Alhambra MPV
The SEAT Alhambra has won many awards in its time on the road, and has always been a firm favourite in the 7-seater stakes.
With plenty of room available inside, and with sliding rear doors at the back to help getting into the car when parking in tight spaces, there's also a 267 litre boot for carrying when fully loaded with passengers.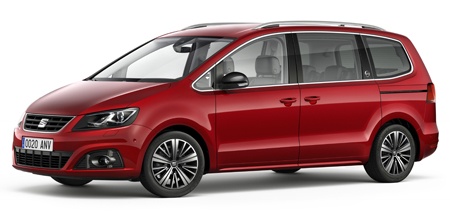 The three second-row seats slide and recline individually, allowing a multitude of seating configurations, and there's also an array of storage spaces throughout the car.
The SEAT Alhambra comes with a choice of direct fuel injection and turbo charging 1.4 TSI petrol engines at 150PS or powerful 2.0 TDI CR diesel engines which can deliver up to 170PS, as well as a choice of automatic or manual transmission, all of which help give the car high-end performance with unrivalled economy, aided and abetted by Start/Stop technology and brake energy recovering systems.
For example, the SEAT Alhambra 2.0 TDI CR Ecomotive, with its selective catalytic reduction, offers a combined fuel consumption of just 50.4 mpg, with CO2 emissions as low as146 g/km. This makes it one of the world's cleanest MPVs.
Extensive technological innovations, such as Park Assist and Tiredness Detection System, give the SEAT Alhambra a level of comfort, safety and versatility which guarantees good times for you and your family.
For great deals on 7-Seater cars talk to one of our Customer Service Representatives today.