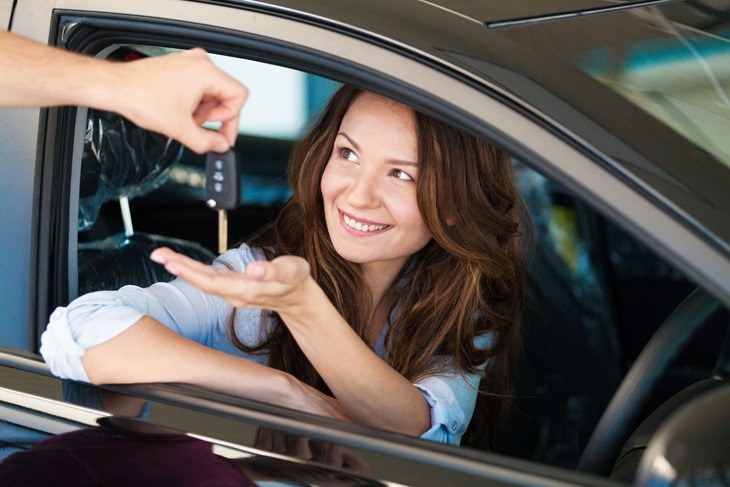 Nationwide Vehicle Contracts has 10 top tips for test driving a family car to help you make the right choice

Back in September, we gave you some tips as to what you should be considering when it comes to leasing a family car but what should you be looking out for when taking it for a test drive?
From testing out the drive and performance to checking out the interior space, there are lots of things to consider when test driving a family car. To make things a little easier, Nationwide Vehicle Contracts has put together 10 top tips for test driving a family car to help you make the right choice.
1. Book an appointment
Once you have decided what make and model you want to test drive, it is worth contacting the dealer to ensure that they have the exact model you want on site. Dealers often have a number of demo cars on site but they may not have the exact specification you are interested in. If they don't have it at your local dealership, consider visiting another site or the manufacturer's main site.
Ideally, you want to test drive the exact vehicle you are interested in because this will give you a better idea of what you like/dislike on the vehicle. This is particular important when it comes to the engine because a car with a different engine size or fuel type will feel different in terms of drive and performance.
The same can also be said for the interior. If the exact model is not available, ask to see a car with the same interior trim. You want to check you are happy with the feel of the material as well as the colour. All those handy features (such as storage drawers and cup holders) may be appealing when taking the car for a test drive but you could end up disappointed if you find them missing from your car when it gets delivered because the demo you test drove had them as additional extras.
That said, when you ring to arrange a test drive, the dealer may suggest other cars and other models that you had either not considered. Don't dismiss the idea of these out-of-hand. As long as your preferred vehicle is available, you have nothing to lose by looking at others and there may even be a special offer on, or other technologies or specifications that you had not even thought about.
2. Take child car seats with you
If you have children who are required to travel in a car seat or booster seat, ensure you take these with you on the test drive to make sure you can easily fit them into the vehicle. Check if the vehicle comes with ISOFIX mounting points - a big plus when choosing a family car - as these anchor the seat into place.
If you need to fit more than one car seat in the vehicle, ensure you can easily fit them side-by-side if required and consider the space that is left in the back in case you ever need to carry an extra passenger, such as an older relative or a child's friend.
3. Take the kids too
As much as it may seem like a bad idea, taking the children with you will give you an idea of what they will be like in the car, how much space there is and how they feel about the car itself. Some of their opinions ("I like the pink one!!") can be discarded while others ("It's really comfortable" and "I can plug my tablet in") can be important.
Another important reason for taking the family out on a test drive is to see just how much room there is when it is full. Are the children on top of each other and likely to fight and elbow each other? How about the adults? Is there enough leg and head room? Check that the interior is as roomy as the brochure promised and that you estimated. We can all make mistakes with measurements and an actual inspection and test is a necessity.
4. Test out the boot space
If you have very young children, or are planning to have them at some point, take a pram or buggy with you to make sure it fits into the car's boot along with all the other paraphernalia that comes with having a family. While the interior space may be great, drivers often forget to check boot space and it's only when they come to add the pram AND the weekly family shop that they realise it isn't big enough.
Check out our handy guide on the Best Cars for Prams, Buggies and Pushchairs for help choosing the right family car for you.
5. Door openings
Don't forget to look at the size and shape of the door openings, how they operate and how wide the doors open. Consider how far down you'll have to bend to put in a heavy child and do up their seat straps - and whether or not elderly adults will have to struggle to enter the rear of the car.
6. Think about how practical the car is going to be in a couple of years
Look ahead (if you can) and consider how practical the car is going to be in a couple of years. It doesn't take long for a newborn to become a toddler in a forward-facing seat. Add in the arrival of a second baby and suddenly you'll have a lot of extra equipment to carry in your boot. A crystal ball may be useful, but common sense is acceptable.
7. Try it out on city roads and motorway to test performance and handling
When you do drive the car, make sure that you test it on both city roads and motorways to fully test its performance and handling. How powerful does the engine feel? How noisy is the cabin at high speed? How good does the suspension feel? Don't forget to ask other passengers what they think as their experience also counts.
8. Try parking and manoeuvring
If this your first family car, you may not be used to the size of it when it comes to parking and carrying out three-point turns. How big is the turning circle on the vehicle? Does it fit into a standard parking space? Can you see outside of the rear window easily? Is there enough room to get in and out of the vehicle once parked? When driving, test the car and yourself with these manoeuvres.
9. Pick the best day to have your test drive
Where possible, book a day where all the family can attend but also one where you can have the dealer's full attention. Weekends are, unsurprisingly, the busiest time for dealers and viewings so you may want to consider a weekday or a week night. You want to be able to take your time, so choose your appointment carefully.
10. Shop around for the best deal (including leasing)
Finally, once you've decided on the best family car for you, don't just sign up there and then with the dealer. Take the time to look for deals elsewhere, including car leasing, to ensure you get the best deal for you and your family.
Interested in leasing a new family car? Nationwide Vehicle Contracts has a large number of family cars available to lease at great prices. Check out our latest family car leasing offers or call Nationwide Vehicle Contracts on 0345 811 9595 to speak to one of our friendly advisers on the best family car to suit your needs.