AND UPDATE THE AURIS WHILE THEY ARE AT IT!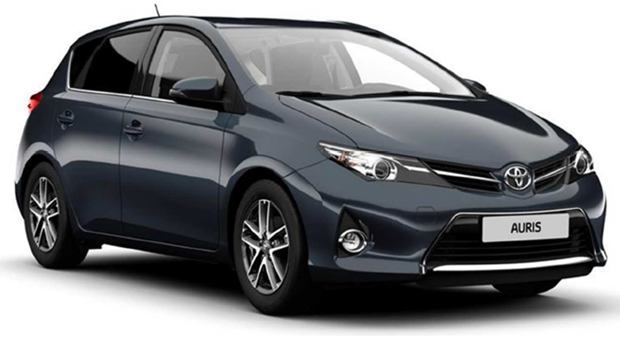 As Toyota make subtle yet substantial changes to their line-up of popular British-built hatchbacks and wagons in the Auris range, they've also found time to create a new version: the Icon Plus.
The new Auris Icon Plus
No prizes for guessing which of the Auris range the new Icon Plus is based on (It's the Toyota Auris Icon, if you need telling) and certainly no prizes for guessing that it is a step up from that model.
Taking the Auris Icon as a base (and it's a very good place to start) Toyota have added in some new-design 16-inch alloy wheels, some rear privacy glass and a folding function for the electrically adjustable door mirrors just for starters – and that's before we add in the new Tungsten Blue metallic paint finish.
And not only are there those smashing little outside changes, but there are amendments inside too with heated sports front seats with electric lumbar support control, the improved Toyota Touch 2 with Go multimedia and navigation package and cruise control on the petrol and hybrid models.
And the Auris Icon Plus also benefits from the other Toyota Auris changes that have been made
For starters there is a hybrid version available in the new format. In the Auris range, the hybrid models are comfortably outselling their petrol and diesel counterparts thanks to its ultra-efficient and smooth powertrain, so Toyota has extended the Icon Plus options to include both the hatchback and Touring Sports hybrids in the new Icon Plus grade, in addition to the Icon and Excel trims.
We've already mentioned the second generation of Toyota's touchscreen-controlled multimedia system, the Toyota Touch 2 which is now standard on the Auris Icon grade, with the more sophisticated Toyota Touch 2 with Go standard on Icon Plus and Excel models.
And then there's a whole host of other accessories that they've added to the 2014Toyota Auris in an attempt to increase the already high standard of style and practicality.
Inside the Auris, a Icon, Icon Plus and Excel customer can specify a full leather interior that includes seat upholstery, centre armrest and door panels; all in black with either white or blue contrast stitching.
There is also a Parking Pack available for the Icon and Icon Plus with colour-matched front and rear parking sensors, and a Protection Pack for the Icon, Icon Plus and Excel that consists of front and rear mud flaps, scuff plate, a boot liner and a bumper protection plate.
And finally there is a new Chrome Pack for the Icon, Icon Plus and Excel that adds chrome side sills and boot trim with four custom alloy wheel designs to choose from to make you and the Auris look even better.