TOYOTA STEPS UP THE FUN FACTOR FOR ITS ALL-NEW CITY CAR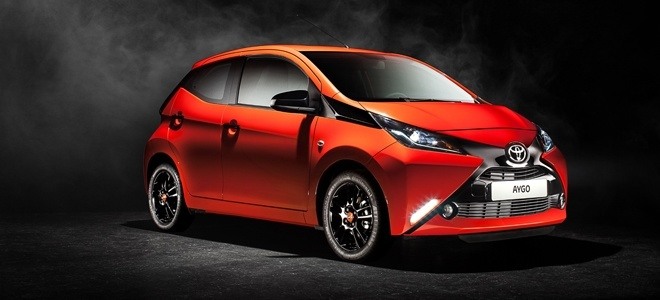 As you would expect from a manufacturer based in one of the world's most populated country, the new Toyota Aygo is a city car, aimed at those drivers who have to negotiate the urban jungle on a regular basis. But what Toyota have tried to do with the new Aygo is to make it not only look good and be a car that people would WANT to be seen in, but also make it genuinely fun to drive.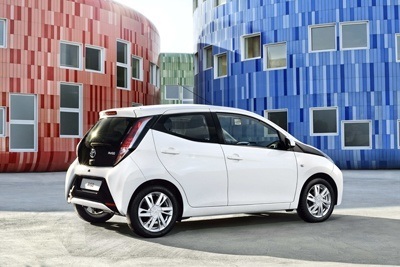 And they may just have managed to do it with this model. Amongst the hip youth culture of the Japanese society, the Aygo's distinctive and characterful design has already been dubbed J-Playful and in the making of the car Toyota have added in a wealth of customisation options that can be used to show just how playful you are.
There are no changes to any of the qualities that have made the Toyota Aygo a lifetime success already, keeping the car compact, nimble and reliable, with genuinely low running costs. In fact the latter is even better following revisions to the award-winning three-cylinder 1.0-litre VVT-i petrol engine that powers the Aygo.
Powertrain
The engine has been re-engineered with an improved combustion chamber design for better efficiency, something that has also benefitted from a new low-friction timing chain and a low-weight cylinder head with a built-in exhaust manifold. This has lead to the engine creating more power and torque - 68bhp (51kW) at 6,000rpm and 95Nm at 4,300rpm – all without losing the Aygo engine sprightliness and character.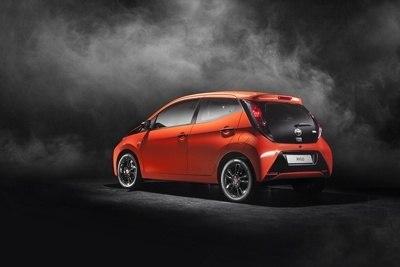 Thanks to improved aerodynamics, the combined cycle fuel consumption has been reduced from 64.2 to 68.8mpg and CO2 emissions to 95g/km, below the 100g/km threshold for annual road tax (VED) exemption.
The new Aygo is available in a standard five-speed manual transmission with the option of new x-shift, "a much-improved automated manual transmission that can be used in fully automatic mode, or with manual gear selection using paddle shifts or the shift lever itself."
Exterior design
The new Toyota Aygo is still as compact as ever with overall height reduced by 5mm, even though headroom has increased. But this doesn't mean that it is small in character, presence and robustness. According to the boys and girls at Toyota, "the designers used the concept of a soft object breaking through the hard shell of the design" which gives the Aygo its distinctive frontal X-graphic that continues right across the car taking in upper and lower grilles, headlamps, foglamps, and even mirrors and side glazing.
Interior design
The interior of the new Aygo has been determined by the shape of the centre console, which is trapezoidal, and this is reflected in the air vents, door trims and gear shift surround; and when it comes to the dashboard, the matt, anti-glare finish houses new instrumentation that features a meter made of up permanently lit concentric rings that incorporate an easy-to-read central multi-information display.
There is more room inside in comparison to the previous model with the cabin longer by 9mm, wider armrests improving comfort and an extra 29 litres of room for luggage – that can be loaded easier by wider boot width.
Technology
Amongst the expected and standard technological features that you expect from a Toyota Aygo, the new model sports a new x-touch multimedia system, for the first time with a rear view camera as standard. Operated via a 7" fully integrated touchscreen, the system uses a five-function main menu that allows ease of control of audio, phone (including sending and receipt of texts), connectivity, vehicle and journey information functions well as access to navigation and social media applications.
Customisation
And finally, to make the Toyota Aygo your very own, there is a whole host of customisation options that a driver can use to make the car truly their very own.
Individuality can be created on the exterior with suited specifications when it comes to the X-shaped front grille, rear bumper insert, enhanced front bumper and alloy wheels, while in the interior the instrument panel, centre console, air vents, shift knob and gear lever surround are all easily changed - even after years of ownership.
Currently on show at the 2014 Geneva Motor Show, the Toyota Aygo seems set to continue to be the car to be seen in in the City.