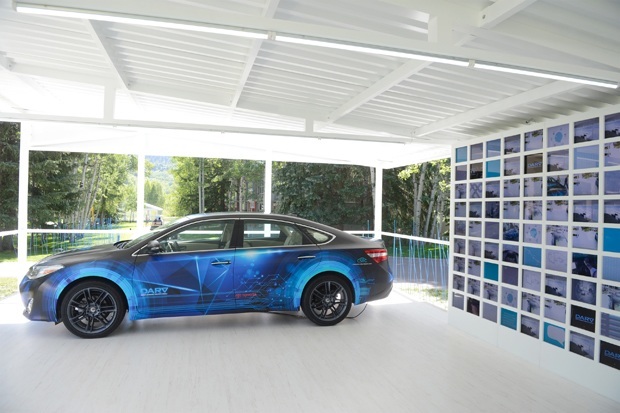 The latest generation of Toyota's Driver Awareness Research Vehicle – DARV 1.5 – has just been revealed at the Aspen Ideas Festival in Colorado.

Having started out as a mere conceptual idea shown off at last year's Los Angeles motor show, the DARV 1.5 was engineered at the company's Collaborative Safety Research Centre in Ann Arbor and previewed recently at the Aspen Ideas Festival in Colorado; a result of Toyota's work with Microsoft and Infosys as its partners..


IT'S AN INTERESTING CONCEPT
It wasn't so long ago that when you were driving a car not much could take your mind off the road. Back then all you had to worry about was your speed, what you could see in your mirrors and whether the windows were up or down; then came music and 8-tracks, cassettes, CDs and the radio. And now the smallest of cars has a range of technology that can distract you from the road with a whole host of buttons, displays, controls, meters and connections to all sorts of infotainment that you could almost be forgiven for not noticing what is going on in the road ahead – especially as cars can now do that for you! (I say "almost" in jest: I don't really mean that not concentrating on the road is OK; but you get my point hopefully!)
The risk of driver distraction is something that many safety campaigners see as one of the biggest dangers on today's roads, which is why Toyota is researching how best to keep the driver focused when faced with the amount of (supposed) benefits offered by sophisticated on-board information systems.
The whole concept of DARV 1.5 can be summed up in the following Toyota statement about what they see as the idea behind their Driver Awareness Research Vehicle.
"Think of a car that can work like a tablet, recognising you and automatically presenting an information menu on its side window as you approach. Touch and swipe the glass and you are up to speed on your route, your personal schedule, weather conditions and where to stop for more fuel en route, even before you've sat behind the wheel. This means that once on your way, there are fewer issues needing your attention other than the road ahead and traffic conditions around you."
DARV 1.5 is a fully functioning car equipped with Microsoft's Surface tablet and Kinect motion-sensing technologies and custom-designed Infosys biometric software that Toyota are using as a working platform to help with their research into all the dynamics involved in driver distraction. The car contains what Toyota have called a driver "lock-in" function that can identify just who is at the wheel by tracking their body frame and, having established this, it can set automatically enabling or disabling control features depending on what it discovers. There is also the possibility of using smart watches to help control certain functions in the car, and (bad news for bad drivers) it may even be able to measure driver behaviour and give the driver a "score" based on how they have driven. (Personally I already have one of those; it's my wife!)
Speaking at the Aspen Ideas Festival, where Toyota also showed off their production-ready Fuel Cell Sedan in the US for the first time, Osamu Nagata, President and CEO of Toyota Motor Engineering and Manufacturing North America, said:
"Our society is on the cusp of a revolution in personal mobility. Slowly but surely, new technologies are changing how we think about automobiles and transportation, from intelligent automated systems that team up with drivers to improve safety, to zero-emissions vehicles that emit nothing but water vapour. These technologies will help save lives, improve the environment, create jobs and help us maintain technical leadership in a field that is an important contributor to economic growth."