Two decades on from the first ever Toyota RAV4 launch as the original compact recreational SUV, having been a benchmark for cars that deliver performance, specification and choice, the new 2014 RAV4 hits the with a new powertrain and even higher equipment specifications.
New 2.0 D-4D with all-wheel drive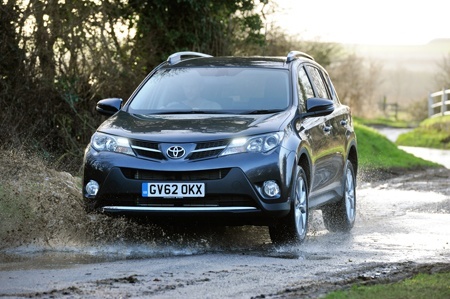 Since the start, discerning customers making the perfect choice of Toyota's efficient 2.0-litre D-4D diesel engine for their RAV4 have only had two-wheel drive as an option – but not any more! Now the 2014 RAV4 is available with all-wheel drive, which means that lovers of low emissions, high fuel economy  and low running costs now have access to 4×4 motoring.
The new RAV4 2.0 D-4D AWD is available in the RAV4 Icon and Invincible grades with the 122bhp (91kW) engine generating 310Nm so the new version is equally at home in the town as in (or on) the country – and when teamed up with the six-speed manual transmission it gives its owners emissions of 137g/km on the official combined cycle and fuel economy of 53.3mpg.
Toyota Touch 2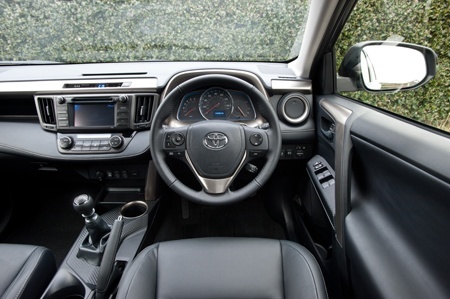 It has taken Toyota a good while to create the very own touchscreen-operated multimedia system – the Toyota Touch – and it's no surprise to find that all versions of  the new RAV4 (except for the entry level Active model) come with the latest version, Toyota Touch 2, as standard, complete with a new high-resolution screen with four times as many pixels as the original system, so that all images are brighter and sharper than ever before.
Included in the Toyota Touch package is: Bluetooth for hands-free phone calls and sending and receipt of text messages; a rear-view camera; vehicle information, including trip data, climate control profile; management of settings for door locking and lighting; iPod and MPs player connection (via USB or Bluetooth); and control (via touchscreen) of radio and CD player amongst so much more.
As an option on the Icon and Invincible models, the Toyota Touch is improved even further with Go; a whole host of extra functions and advanced connectivity, once again controlled with clarity and simplicity via the touchscreen, the main feature being full map navigation, complete with a new screen design that provides clear display of signposts, junctions and lane guidance. There's even a new intuitive detour function that does exactly as it says on the tin by utilising real-time traffic information to warn of any traffic congestion up ahead, before working out the possible/probable delay and suggesting a suitable alternative route.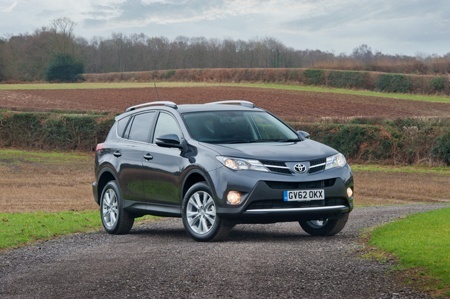 So that you don't get caught out by speed cameras (not that drivers won't be doing more than the speed limit, surely) the Go system advises of speed limits in real-time and warns of safety cameras – and even gives the driver direct access to the AA or emergency services in the event of an emergency, automatically providing exact vehicle location details on the display screen.
The Toyota system is the first - and currently the only one of its kind - to feature Google Street View™ and Panoramio™, with on-screen imagery of both current and chosen location to help pinpoint and recognise destinations; and also features  a whole host of other applications when it comes to petrol stations, parking information and the (apparently) all-important social media network.
New equipment
When you look at the higher echelons of the 2014 RAV4 Model you'll see that both Icon and Invincible are the welcome recipients of some equipment and styling features that you would expect to see on more illustrious names; features such as keyless entry and easy push-button start as standard, with new two-tone 18" alloy wheels and a new equipment list that includes dual-zone climate control automatic headlights and wipers, cruise control, DAB digital tuner, heated retractable door mirrors and an auto-dimming rear-view mirror.
And Invincibility is achieved (after a fashion) by the RAV4 Invincible and its black or a new beige leather seat upholstery options, front & back parking sensors, heated front seats, power slide and lumbar adjustment for the driver's seat and roof rails.
Of course there are Options Available (mainly) on the Icon and Invincible.
And check these out!
"New features for 2014 include a Blind Spot Monitor with Rear Cross Traffic Alert which uses a radar system to detect vehicles moving alongside in the driver's blind spot, or approaching from either side when reversing, for example out of a car parking space; a Style Pack that includes front guard and underguard, side and rear chrome trim and scuff plates; a Protection Pack with front and rear parking sensors, rear bumper protection plate (for the Icon grade); Powered docks for holding tablets and DVD players and a sunroof."
RAV4 is out there now and available from us here at Nationwide Vehicle Contracts.