The motorsport season fast approaches as is customary, with drivers still not fully secure in what they will be racing and where this season. One such person is Kings Lynn's very own race ace, Alex Brundle. Yes, the surname will remind you of his famous father, Martin, who commentates alongside David Croft for Sky Sports F1, but this young hopeful is really making a name in his own right in racing.
Last season saw Alex debut in the FIA World Endurance Championship in the LMP2 category, having made the move up from the European Le Mans Series in 2012. The 23-year-old has impressed many with his performance in a very competitive series, especially with the fact that a lot of drivers are now making the transition to sportscars.
Alex is just a part of some great young driving talent really being able to stretch their legs in sportscars, and goes to the Daytona 24 Hours this coming weekend, looking to make a name for himself stateside. But before he headed back across the pond, he took time out of a busy schedule at the Autosport International Show to talk to us about his rookie season in the WEC, his thoughts of Daytona itself, as well as a brief commentary spell with NBC Sports' Will Buxton.
Nationwide Vehicle Contracts: Thanks for your time, Alex and a very Happy New Year.
Alex Brundle: Happy New Year to you as well. I'm just feeling a bit jet-lagged at the moment, having only just gotten back from the ROAR before the 24 test at Daytona, before I fly out again for the race in a couple of weeks. I'm feeling a bit tired but optimistic.
NVC: You have had extensive ties with Nissan from your time with Greaves in ELMS, before moving to OAK Racing in the LMP2 category in the WEC this season. It's been a great debut season for you, having finished P2 overall and with second in class at Le Mans. It all started on the right foot by securing P2 at the 6 Hours of Silverstone. It must have been a good feeling to get onto the podium after what was a difficult race?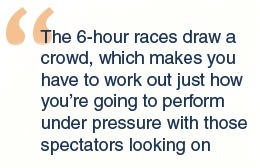 Alex: I think we've had five second places this year. We were aching for the top step by the end of the year, but it has been good results and consistency from the team. We finished up as you said, second in the championship, so it was a good performance, but it was a little bit away from what we needed.
I can't complain a lot about this year, as I've learnt a lot and moved forward accordingly. My reputation as what people think of me as a driver has moved forward as well, so I'm happy with how things went.
NVC: Your speed and determination has clearly shown through your driving, having made the move to sportscars from a heavy single-seater background with Formula Palmer Audi, Formula 2 and GP3. How has the transition been from ELMS to WEC? How do the strategies differ and is it in a way a similar concept?
Alex: Well, the cars that you are racing against are very similar, but the environment is completely different. You've obviously got the manufacturer teams and not the quickest on track, but you are in an ELMS race, which makes a big difference, especially with the way that you have to go about the weekend.
There is the pressure of the big event, especially with the Le Mans 24 Hours. The 6-hour races draw a crowd, which makes you have to work out just how you're going to perform under pressure with those spectators looking on. Apart from that, you're just hooking up the apexes and it's not so much of a big deal when you get out there.
NVC: In the Prototype category for the Daytona 24 Hours, where you're driving with the Muscle Milk sponsored Pickett Racing team; it must have been a pretty heady experience going into Turn 1 after sampling the banking at around 170mph?
AB: Massive experience for me. The inclination on that banking is incredible. When you stand on the banking at Monza, you think that you're going to fall off. You daren't even slow down on the banking at Daytona, as you need speed, otherwise it feels more dangerous at low speed that when you're going flat out.
It's a well-known piece of racetrack and I've felt privileged to drive on it and will feel exactly the same when I go back there to race later on in the month.
NVC: 2014 is here, and we are that usual time where a lot of drivers are announcing where they are racing and who for. What's on the cards for you, such as a return to the WEC in the LMP2 class?
AB: I hopefully am going to get some stuff done over in America. I'd like to be in WEC again, and there are options again for me to do that. It is just a case of working through those options, as I am talking to three parties regarding LMP2 this year, driving good cars, with the plan being to go out there and win the WEC in that category, before moving onto a manufacturer team in 2015.
NVC: Your dad, Martin, won with Jaguar back in 1990 at the Daytona 24 Hours. What kind of pointers has he given to you, as he will have a wealth of knowledge to provide you with?
AB: Yes, definitely, he has. He's talked to me regarding traffic and the circuit, especially where the bumps are. It has changed a lot since he was there, but some of the main pitfalls remain the same. It's tough race, actually, when it comes to darkness, hours of darkness and some of the traffic does some exciting stuff out there.
It's definitely been an interesting one, and he has been helping me to get my head around it.
NVC: As we all know, racing is a business, especially when it comes to the economic climate dictating where drivers end up, including yourself making the move to sportscars from single-seaters. Harry Tincknell has recently tried out for JOTA during a test, so it seems like there is more chance of younger drivers going where they can make their careers?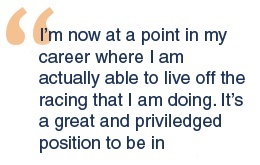 AB: Yes, of course, as there are options now. I'm now at a point in my career, where I am actually able to live off the racing that I am doing. It's a great and privileged position to be in, and there are youngsters out there that are taking notice of this.
The way to Formula One is expensive and crowded and a lot of drivers are seeing the light somewhere else, as well as the reality of their situation and deciding to go another route. I can't speak for anyone else, as they all have to make their own journeys and for their own reasons. For me, this transition has worked very well and it's left me in a place that I am happy with.
NVC: And finally, you've also been in the commentary box with Will Buxton at some of the GP2 and GP3 series world feeds this season. How was the experience overall for you?
AB: It was surreal, because I've watched the races from home after I was participating in GP3 in 2012. To be a part of the commentary team is a bit strange, as it is like an out-of-body experience for myself, but I really enjoyed working with Will and we had a massive amount of fun together. If you keep it entertaining and light, then people appreciate that, I also try to keep it respectful, especially with the great racing we've seen this year.
NVC: Thanks, Alex and all the very best for 2014, and we look forward to hearing where else you'll be competing this year.
AB: Thank you.
The name Brundle is recognisable in one way, but Alex is making sure that he gets his fair share of the limelight as well. His path is yet to be full chartered, but with an increasing determination to get to the top, he will go full throttle to achieve it.
We would like to thank Alex for his time, and wish him and the team all the best of luck at Daytona, as well as hearing about his plans on where he will be racing this year.  (For more of our Track Talk series you can read more interviews in the series here)
Muscle Milk Pickett Racing Testing At Daytona